UC Art Collection History
With a history of collecting for the past 200 years, the University of Cincinnati houses a vast repository of cultural heritage and creative research. Including dozens of unique collections, and archives that preserve, collect, and exhibit materials from a wide variety of professional fields. Within this tradition, the University of Cincinnati Art Collection houses works ranging from Greek and Roman antiquities, to local icons, and modern photography. Similarly, the university is home to a number of large-scale sculptural works, many of which are a part of the art collection, with the opportunity to be displayed publicly throughout campus.  
Our commitment to introducing the University's Art Collection to you goes hand in hand with our sincere belief that art plays a crucial role in our lives and brings us to a more meaningful understanding of who we are as human beings. For this reason, we invite you to join us for a hybrid sculpture tour of the University of Cincinnati campus which can be experienced virtually or used as a guide for your in person walking experiences. Virtual participants receive 360° views of the artwork while in person participants can take note of the vibrant structures by notable architects such as Frank Gehry, Michael Graves, and Peter Eisenman.

Begin at the Corry Garage to experience pieces such as Crystal Garden and Tower of light. Upon reaching the corner of main campus, the tour provides the opportunity to venture to West Medical Campus to see works by Alice Aycock and Albert Paley or  continue toward university icons such as the Triceracopter found in Langsam Library. Each sculpture along the way accentuates the stories of community and growth that can be found within the past and present of the campus.

Bearcat by Jon Hair, 2011
The University of Cincinnati's Art Committee selected Jon's Bearcat design as the winning entry in their national mascot sculpture competition. The Sigma Sigma men's honorary fraternity supplemented fundraising efforts of UC senior classes starting in 2005 to give UC its own bearcat statue that December. Measuring more than 15 feet tall, the bronze bearcat lurks at the end of Champions Avenue between Sheakley Athletic Complex and Fifth Third Arena. It gives the university a tenacious gatekeeper that reminds students and athletes alike what it means to be a Bearcat.
Oscar Robinson "Big O" by Blair Buswell, 1994, Bronze and Concrete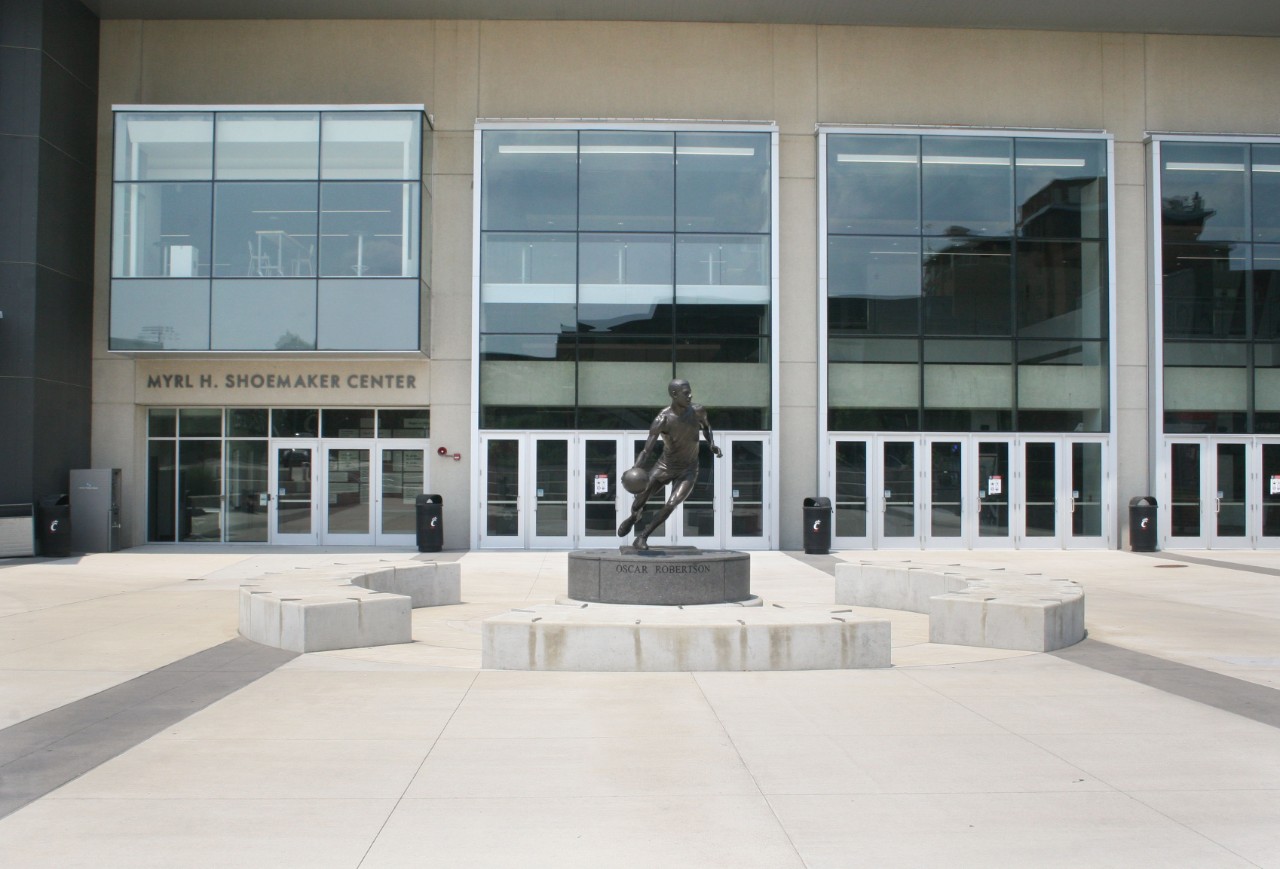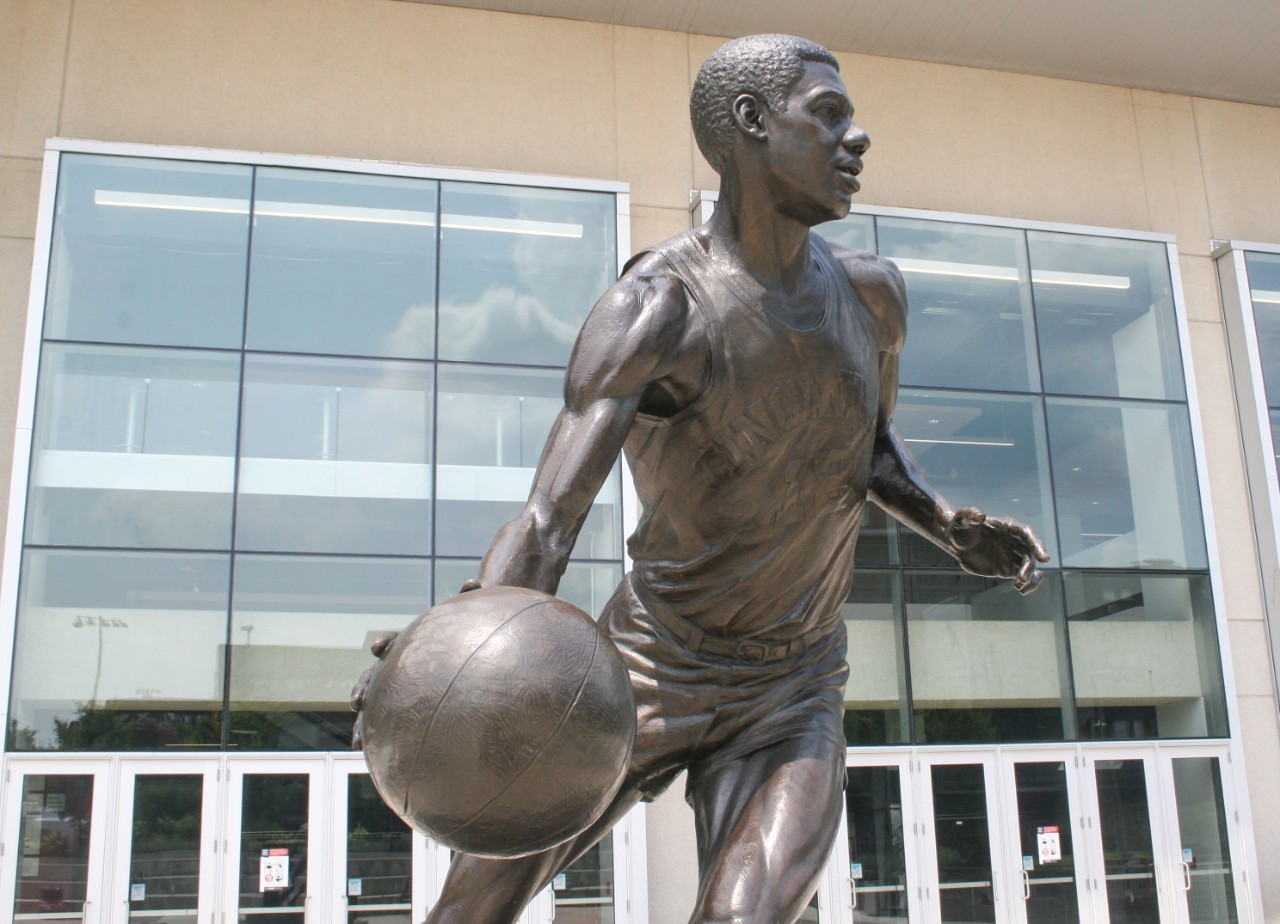 Blair Buswell is known for sculpting portraits of prominent athletic figures. In this highly detailed portrait of Oscar Robertson, Buswell has captured the University of Cincinnati's most famous basketball star. While on the UC team from 1957 to 1960, he led the nation in scoring. He was a member of the U.S. Olympic Basketball Team in 1960 which won a gold medal in Rome.
Crystal Garden by Dennis Oppenheim, 2003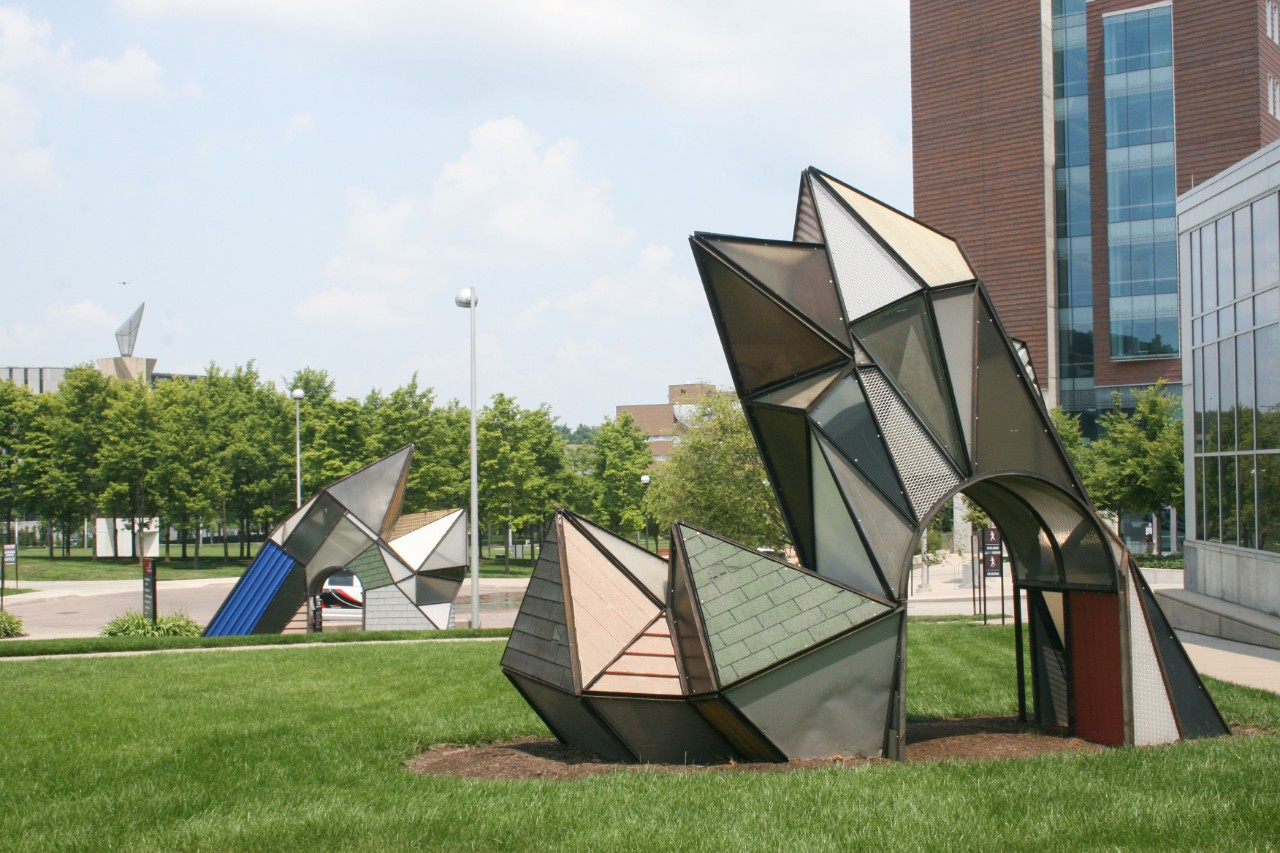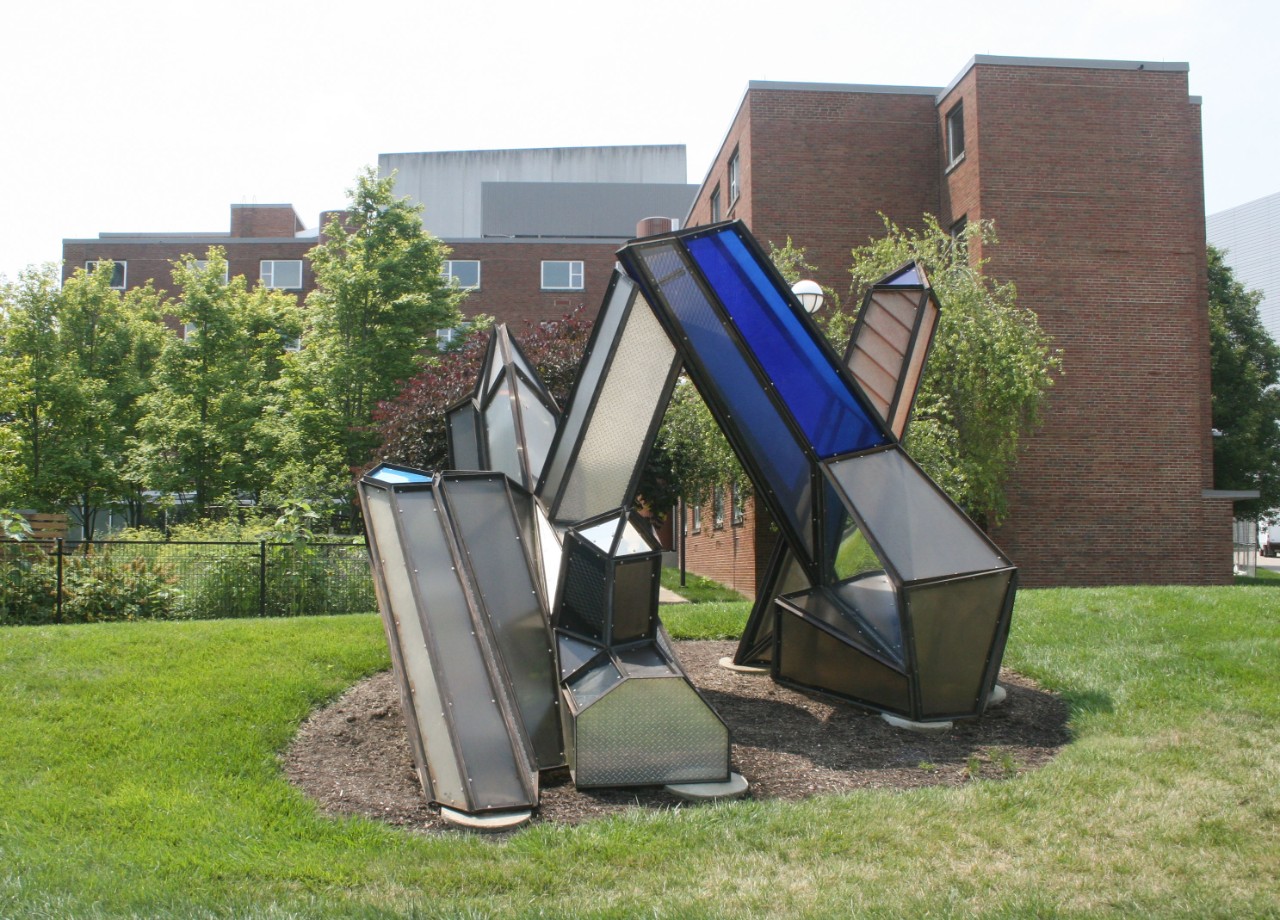 This work recalls America's roadside attractions of the 1930s and 40s where motorists could drive through the art. The sculptures form an arc structure, a fragmented structure and a tunnel, playful responses to the angular architecture that surrounds them.
Ronald Walker Tower of Light, Machado and Silvetto Asoc., 1998, Mixed Media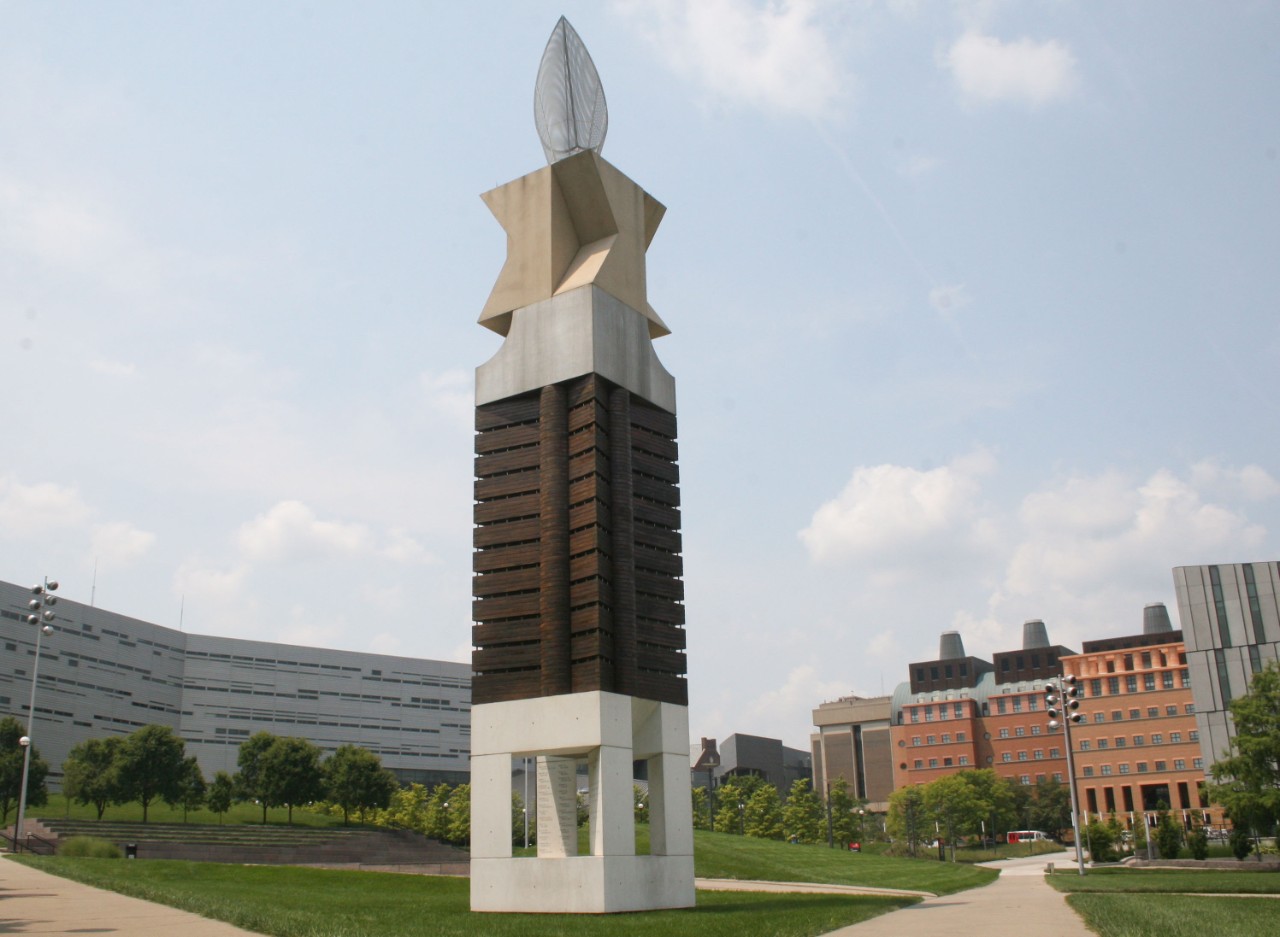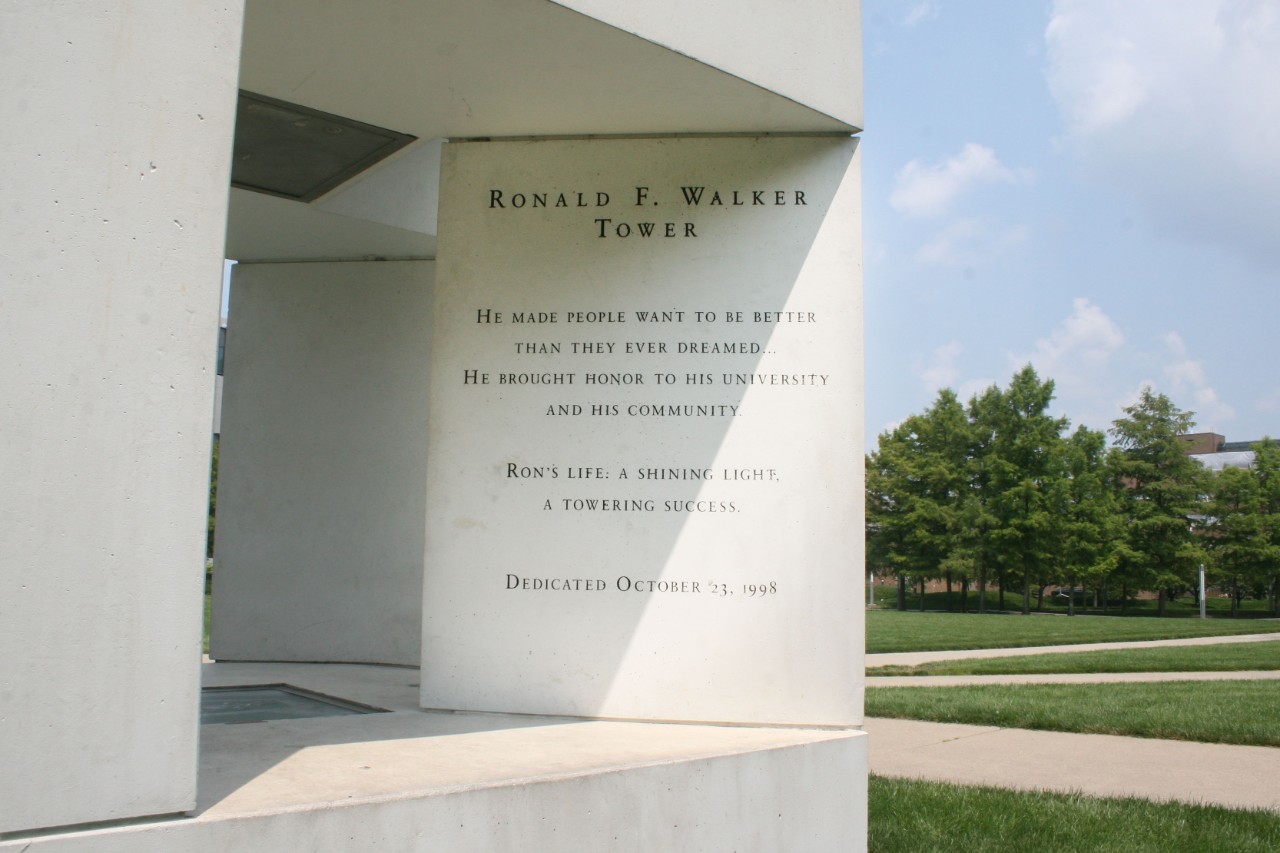 Celebrating the 100th anniversary of the Sigma Sigma Fraternity, the tower incorporates symbolism reinforcing the fraternity's commitment to the university. The 65 foot tower emits brilliant LED light from the torch that can be programmed to change color.
Castle of Air by Peter Haimerl, 2004, Polished Steel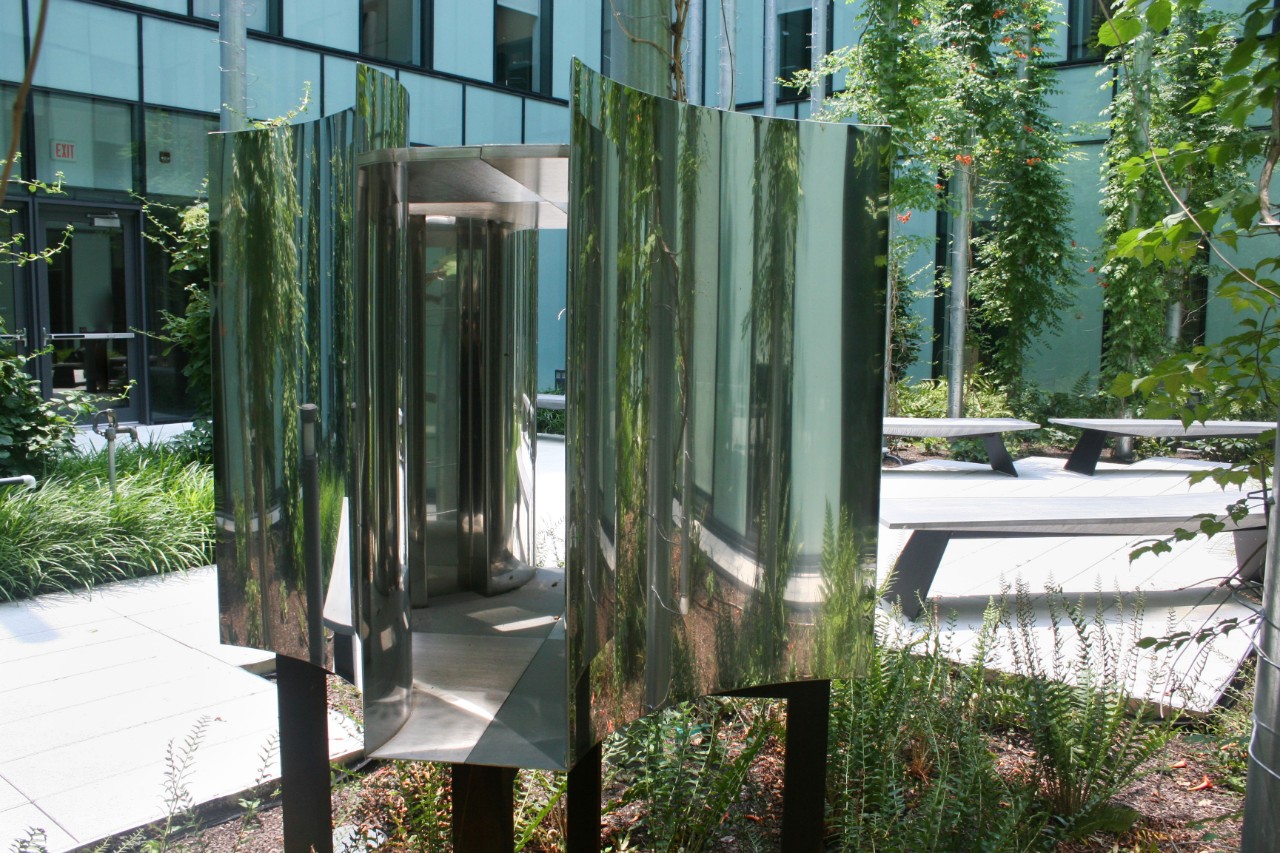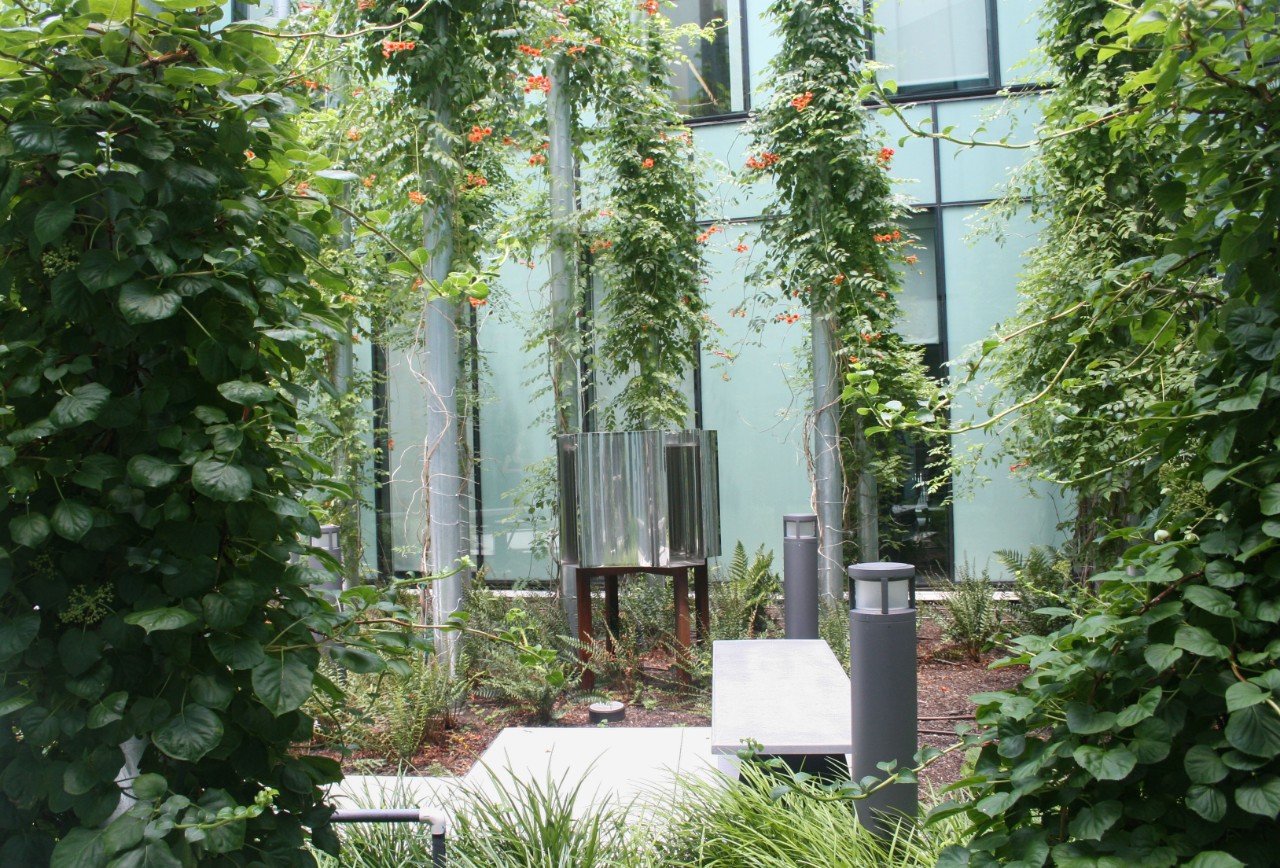 This model serves for the full-scale sculpture located in Cincinnati's Friendship Park. Based on the European hunting lodge and summer palace of the 18th-century castle park of Nymphenburg, Peter Pagodenburg and Amalienburg created a structure provided with a system of mirrors outside as well as inside. Four walls with an arched facade of polished steel are forming a crosswise layout. The polished material distortes the environment inside, outside, and appears to be completely dissolving the pavilion.
Tricericopter: the Hope for the Obsolescence of War by Patricia Renick, 1977 (installed 2010)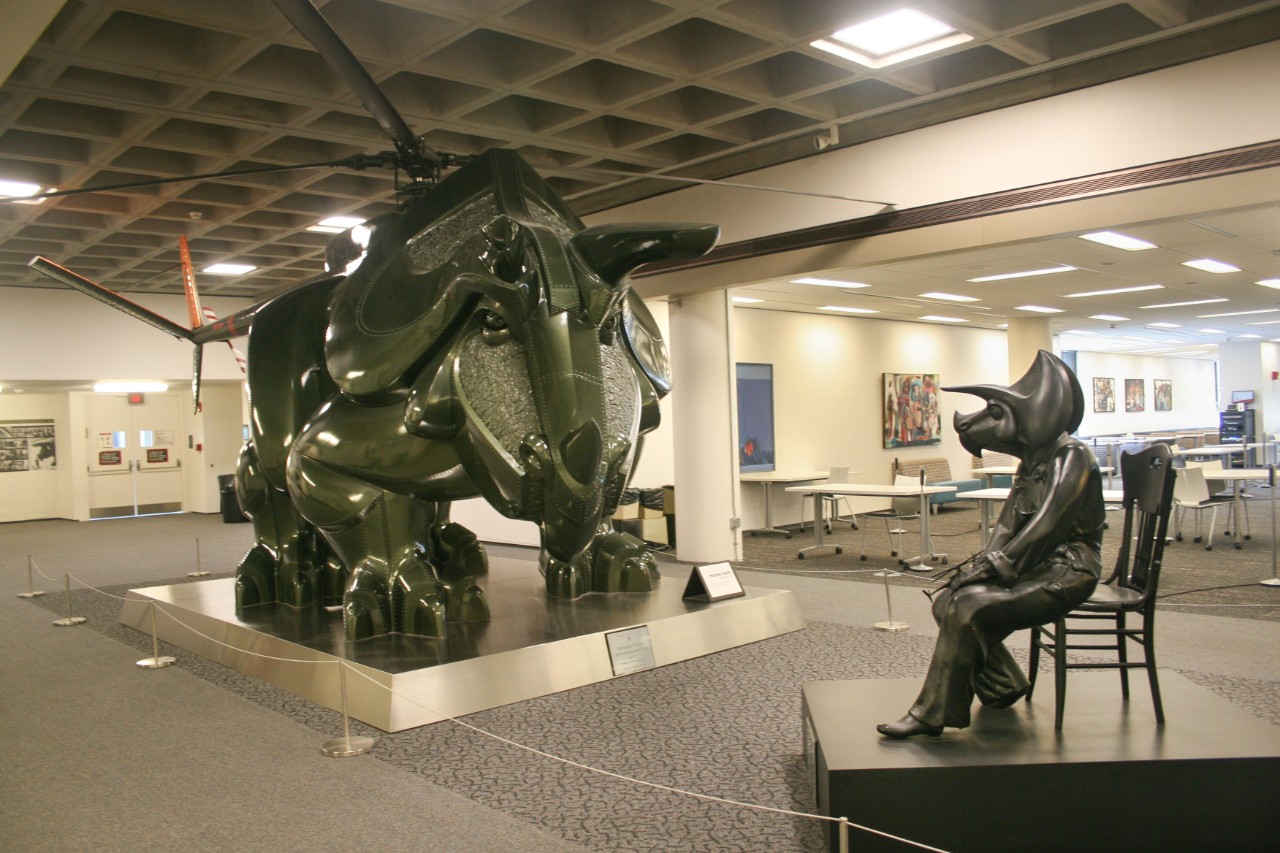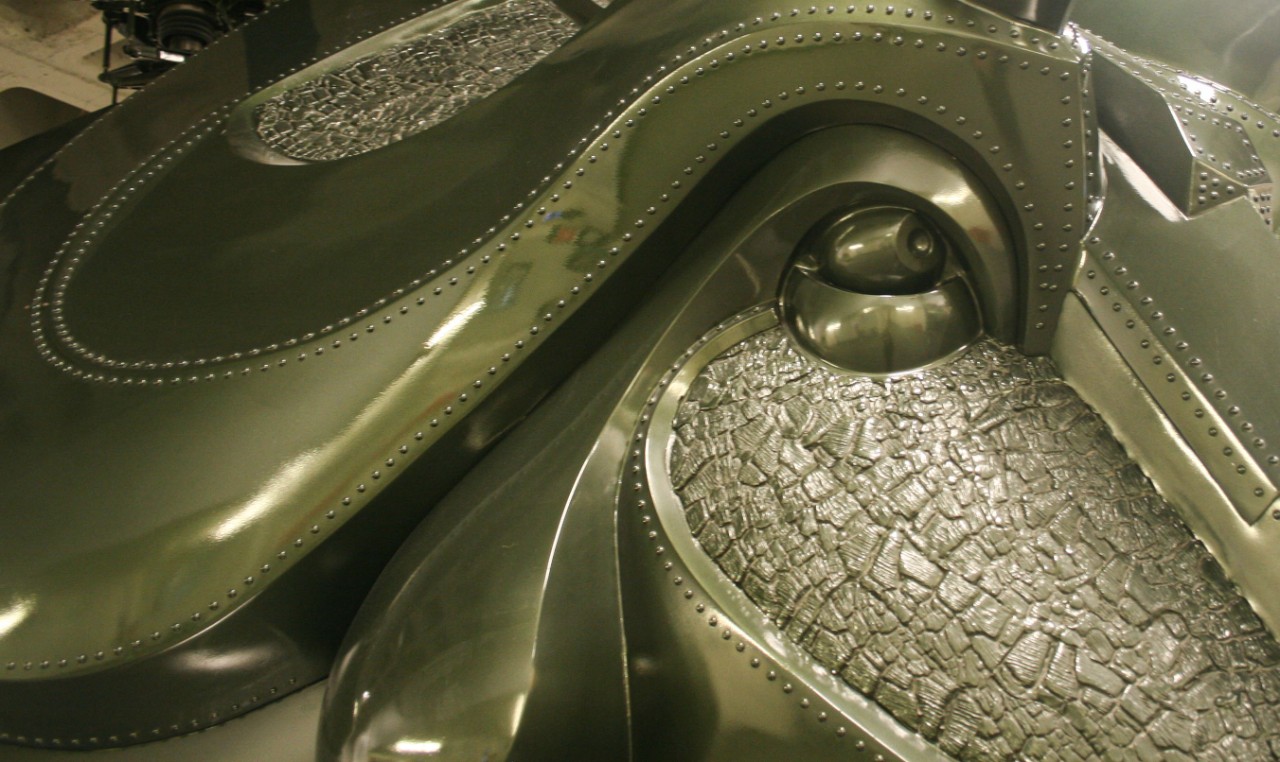 The sculpture combines a triceratops with a combat helicopter that was flown in Vietnam. "War is a dichotomy," wrote the late artist Pat Renick. "It seduces our dream self through heroic fantasy while threatening our physical self with extinction."
Skybird by Peter Reginato, 1989, Painted Steel with Insl-tron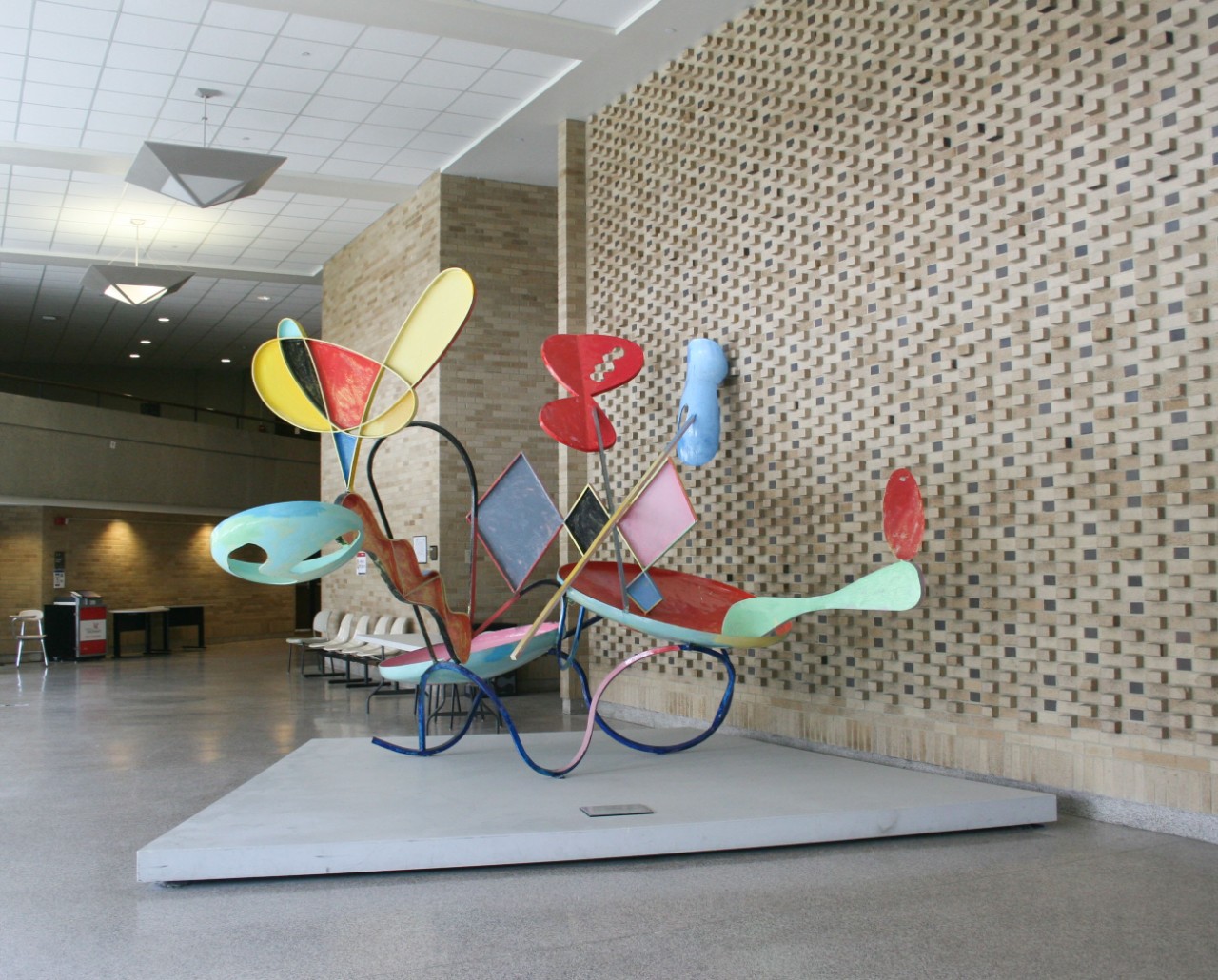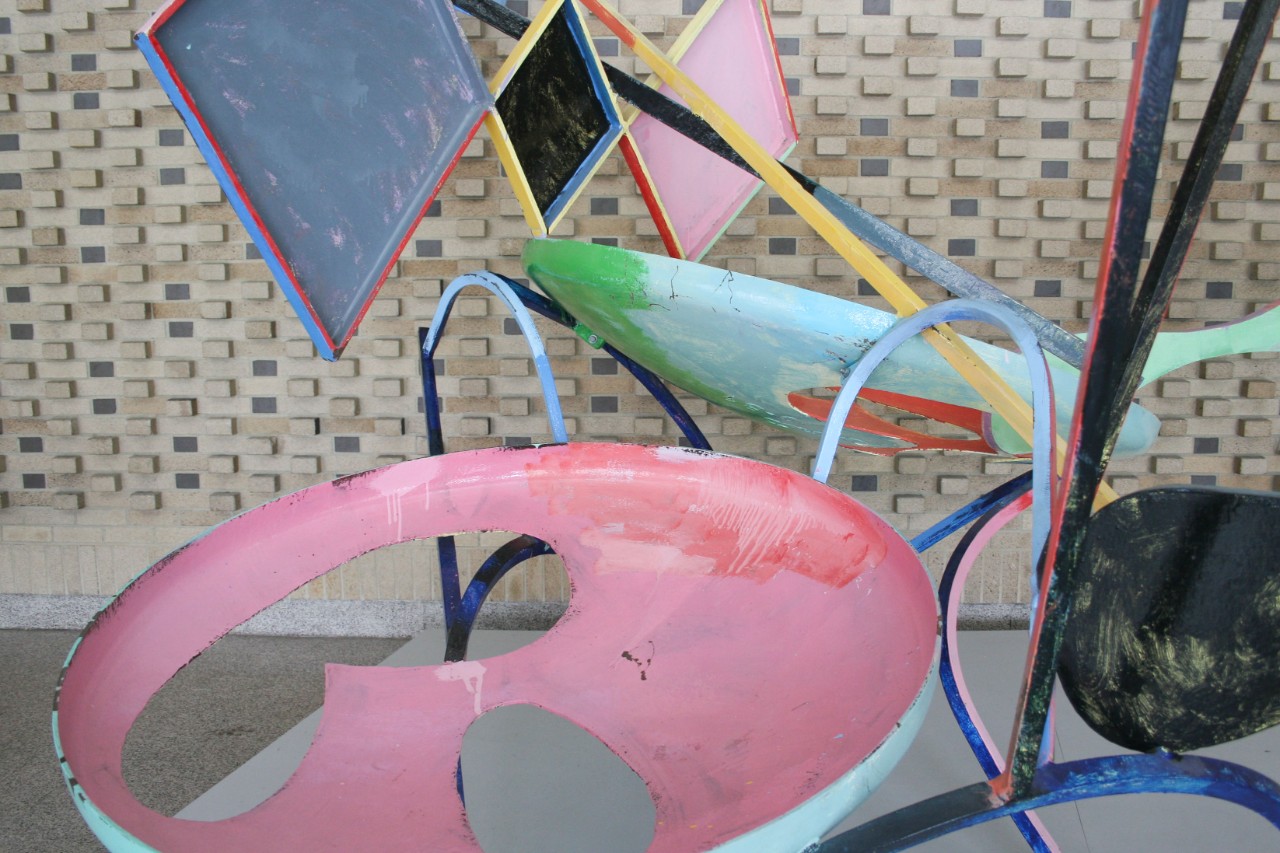 This whimsical Miro-esque sculpture can be found in the entry of Zimmer Hall. Skybird was generously donated to the university by John and Ronnie Shore. 
Forest Devil by Kenneth Snelson, 1975, Aluminum and Stainless Steel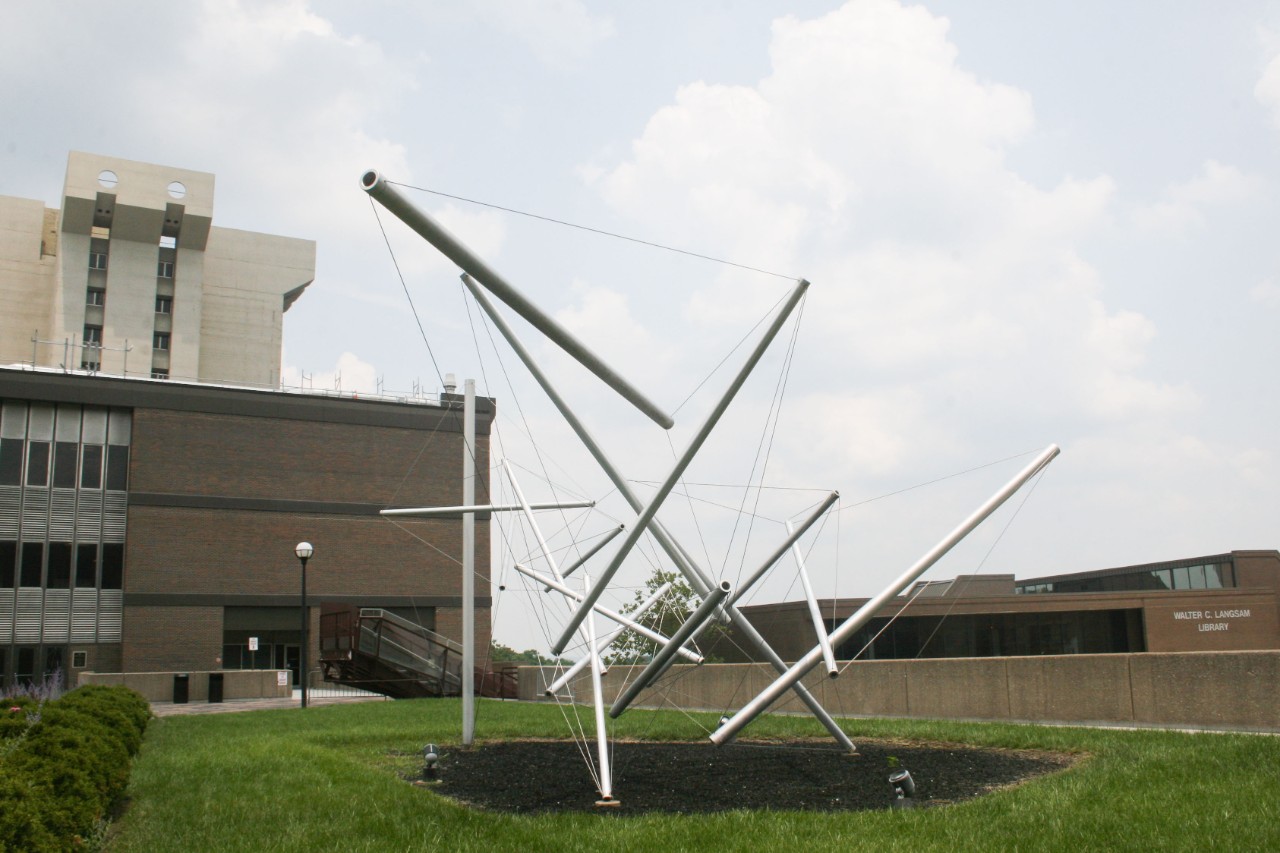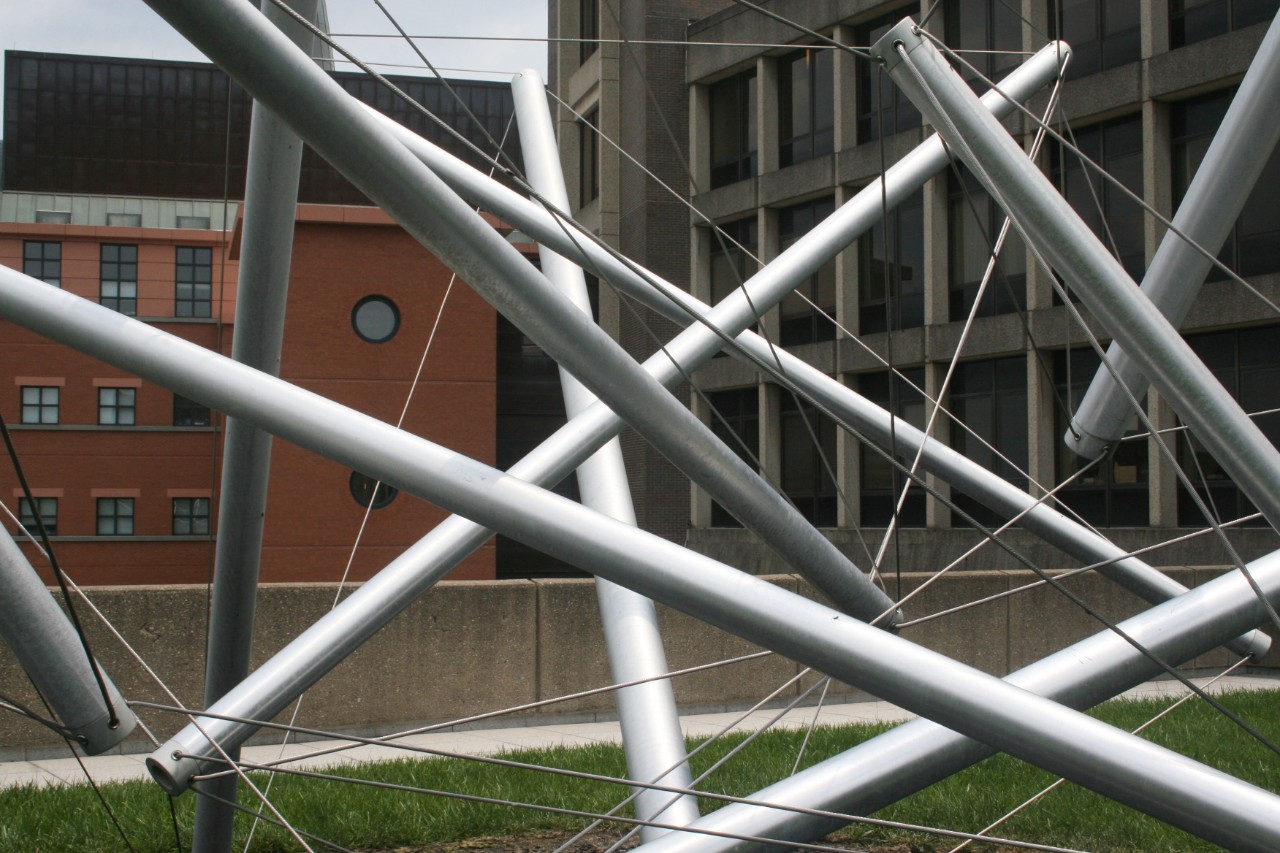 The Forest Devil is an example of exquisite engineering in a simple, structural sculpture. The highly tensioned aluminum tubes and stainless steel cables form a complex matrix of balanced forces that allows the sculpture to stand. 
Herman Schneider Statue by Anna Christoforidis, 2007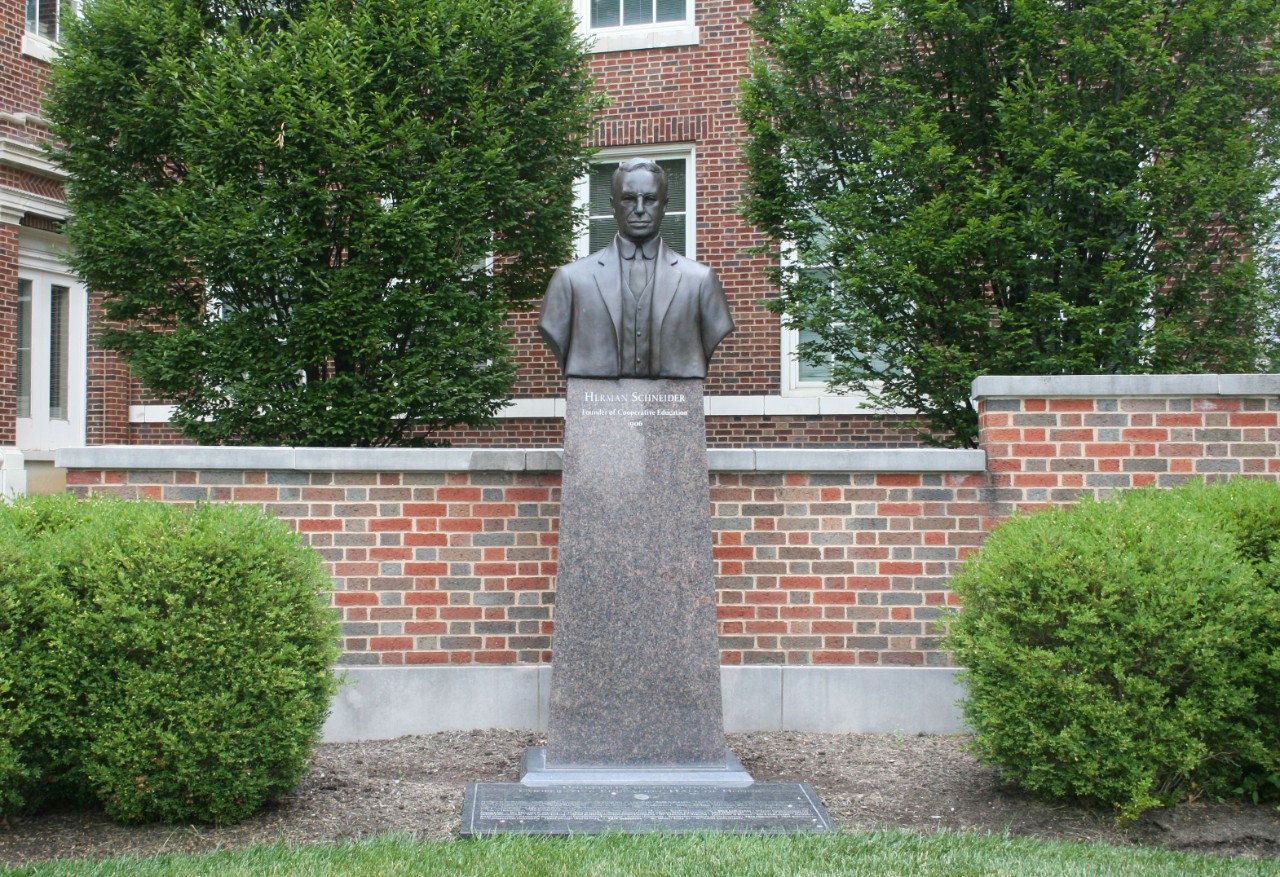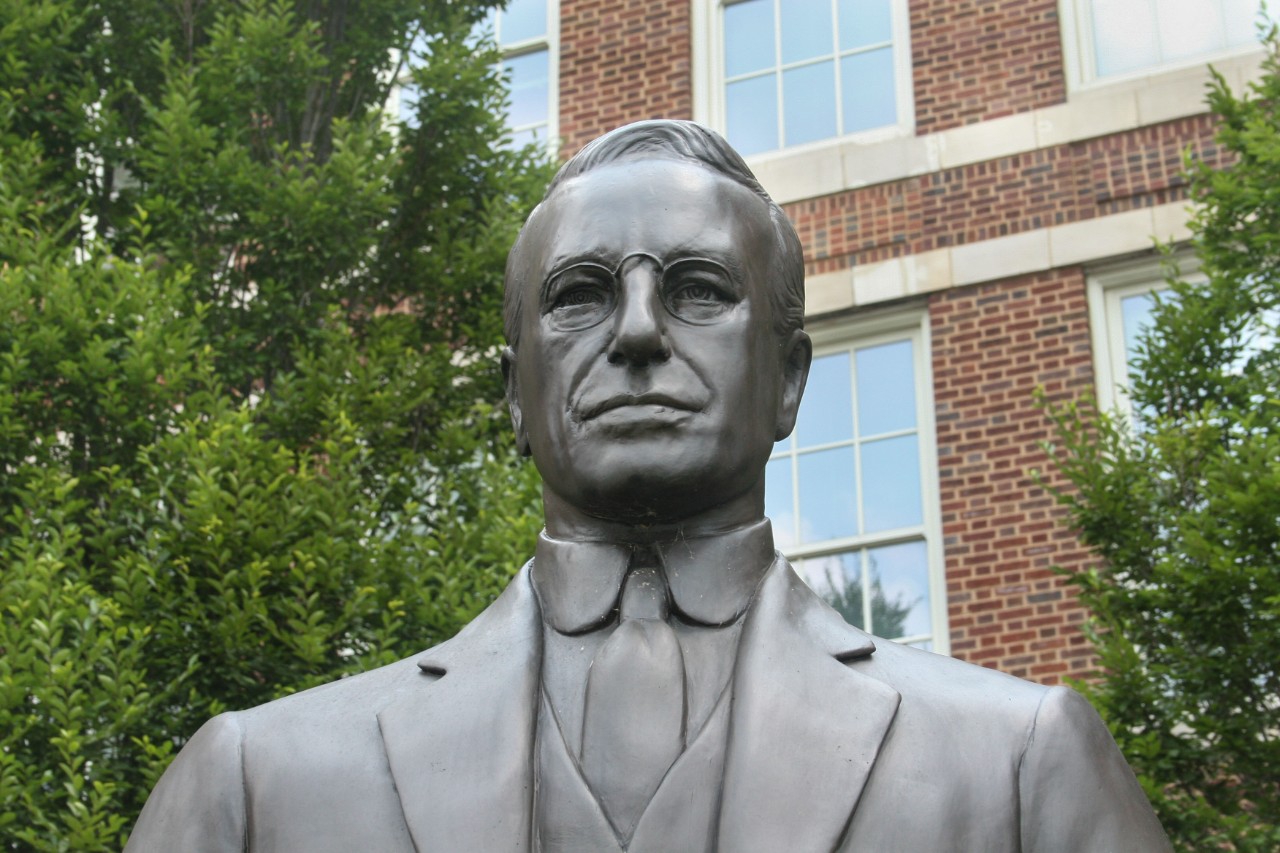 Herman Schneider, engineer, architect, and educator, was the main founder of cooperative education in the United States and president of the University of Cincinnati from 1929-1932. 
The sculpture is about 8-feet-tall and is mounted on a granite base overlooking the Herman Schneider Quadrangle. The quadrangle is located in front of Baldwin Hall, outside the former dean's office window. Anna Christoforidis, the sculptor, studied photographs of Schneider in order to get his appearance correct, but also took into consideration his vision and legacy.
Ethan and Violet by Alan P. Marrero, 2005, Mixed Media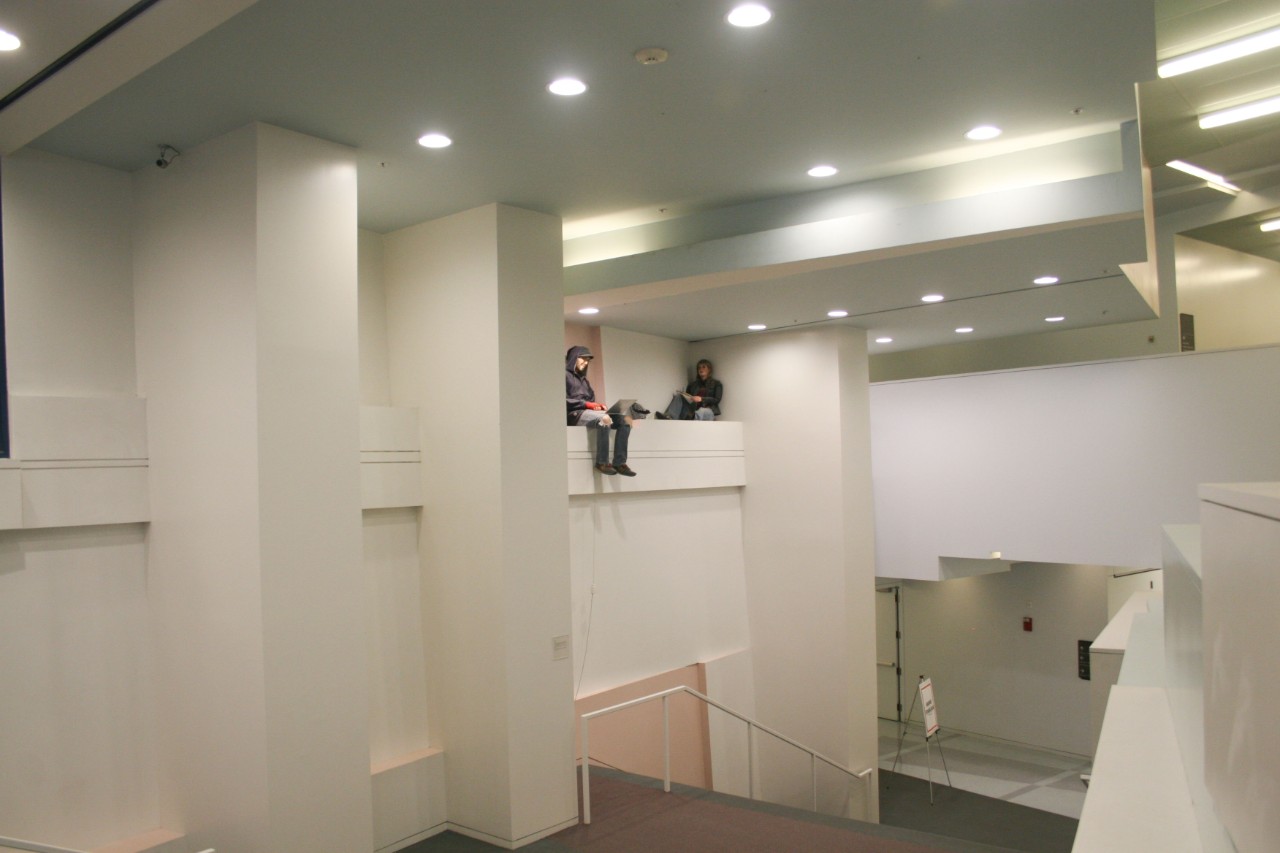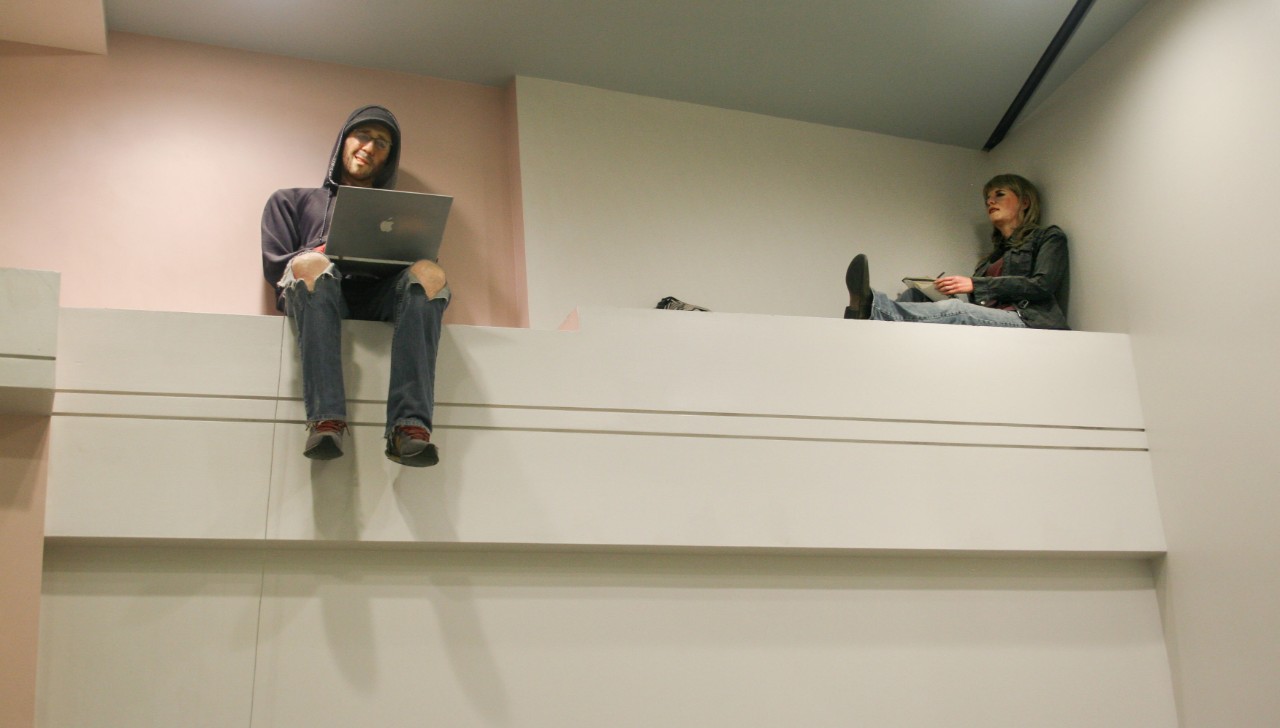 Ethan symbolizes DAAP students' need to find their own small niche in the building, private or public and is a self-portrait of the artist. His location can be viewed from many points throughout the building, and catches the attention of passersby. Ethan is easily confused for a contemporary student. He sits in his spot, hard at work, as a representation of the technology of our social and academic culture. Violet, a portrait of his later wife and also DAAP grad Mary Fialko, was installed in 2016.
Life Boats: Boats About Life by Patricia Renick, 1979, Wood and Mixed Media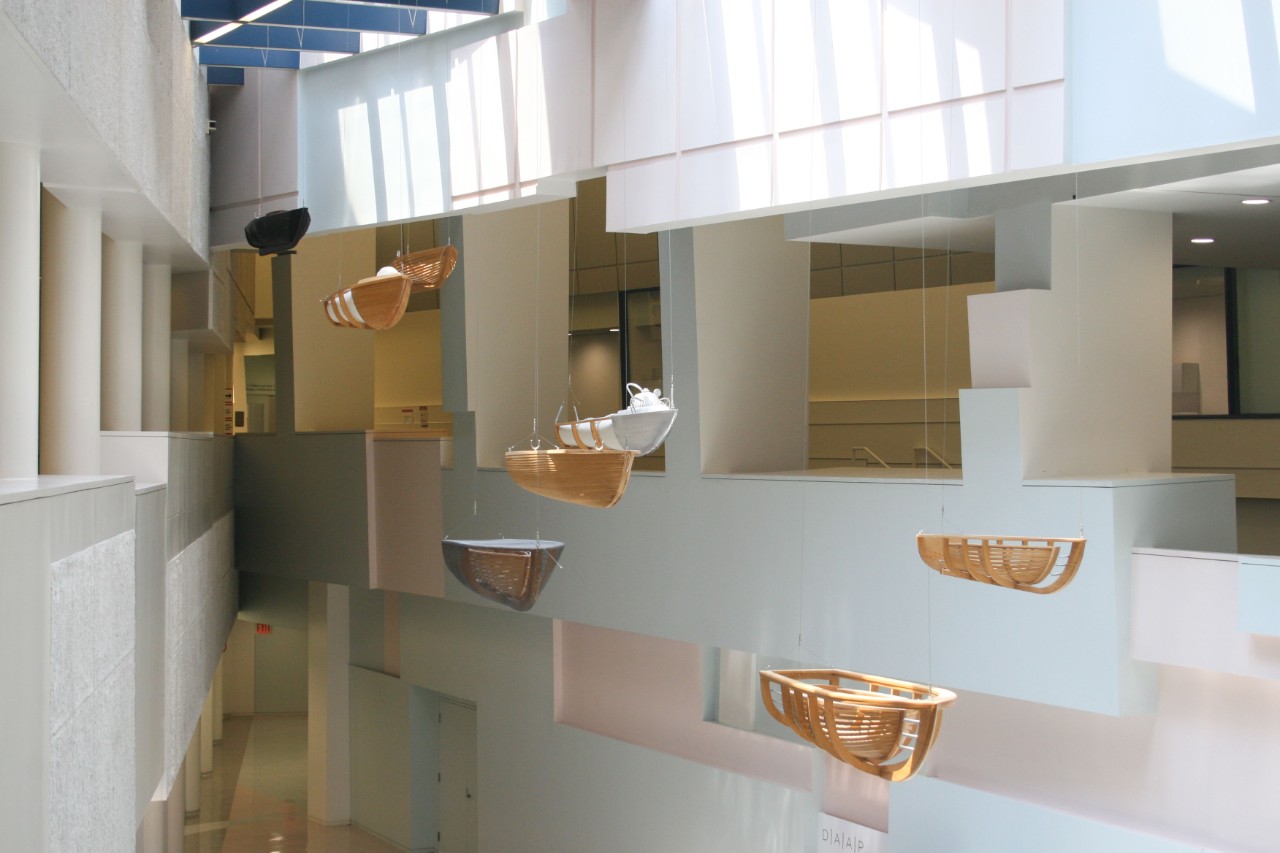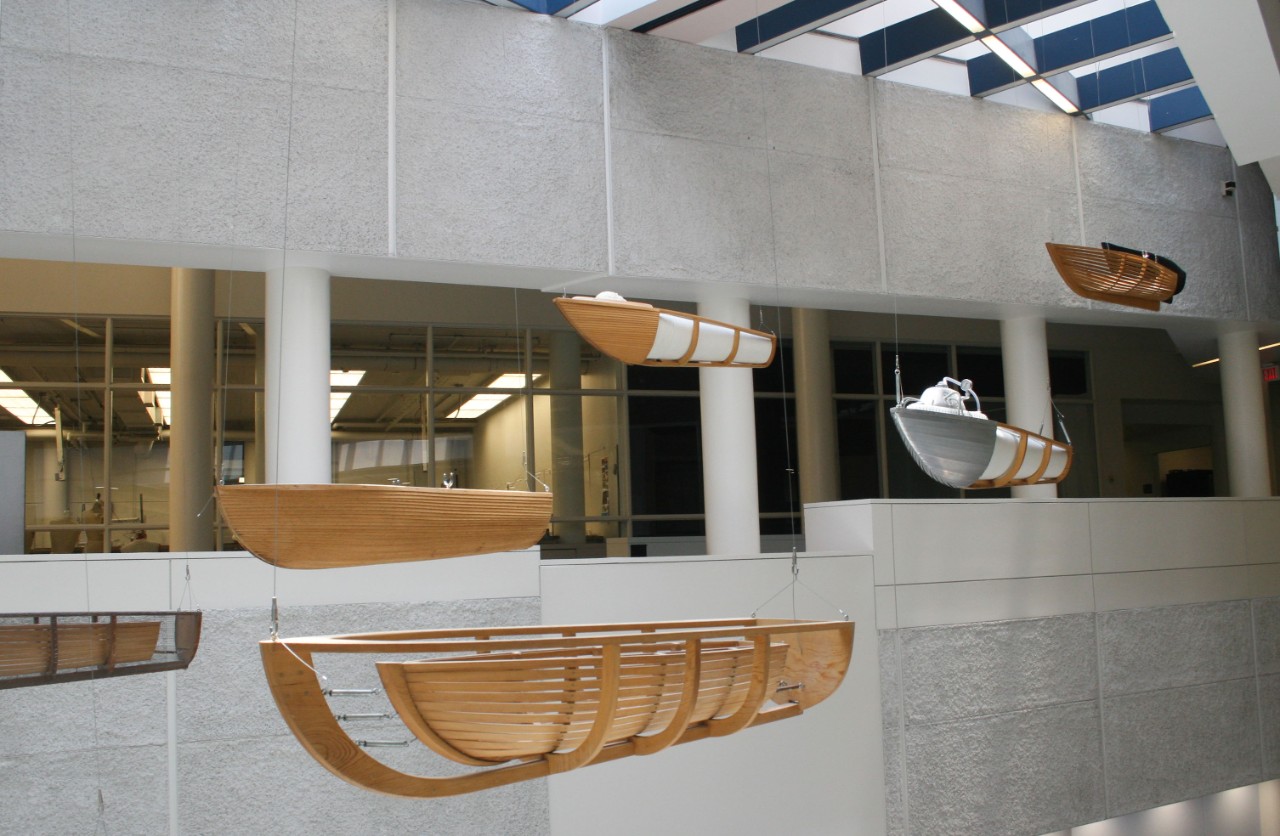 This boat series was created in 1978, fashioned by Renick as a metaphor for human life cycles. Rich with allusions to voyage and exploration, the boats literally and figuratively act as vehicles to discuss the experiences of a life span, including parent/child relationships, freedom and restraint, innocence and the loss of innocence.
Moire Pentagon by Derrick Woodham, 2012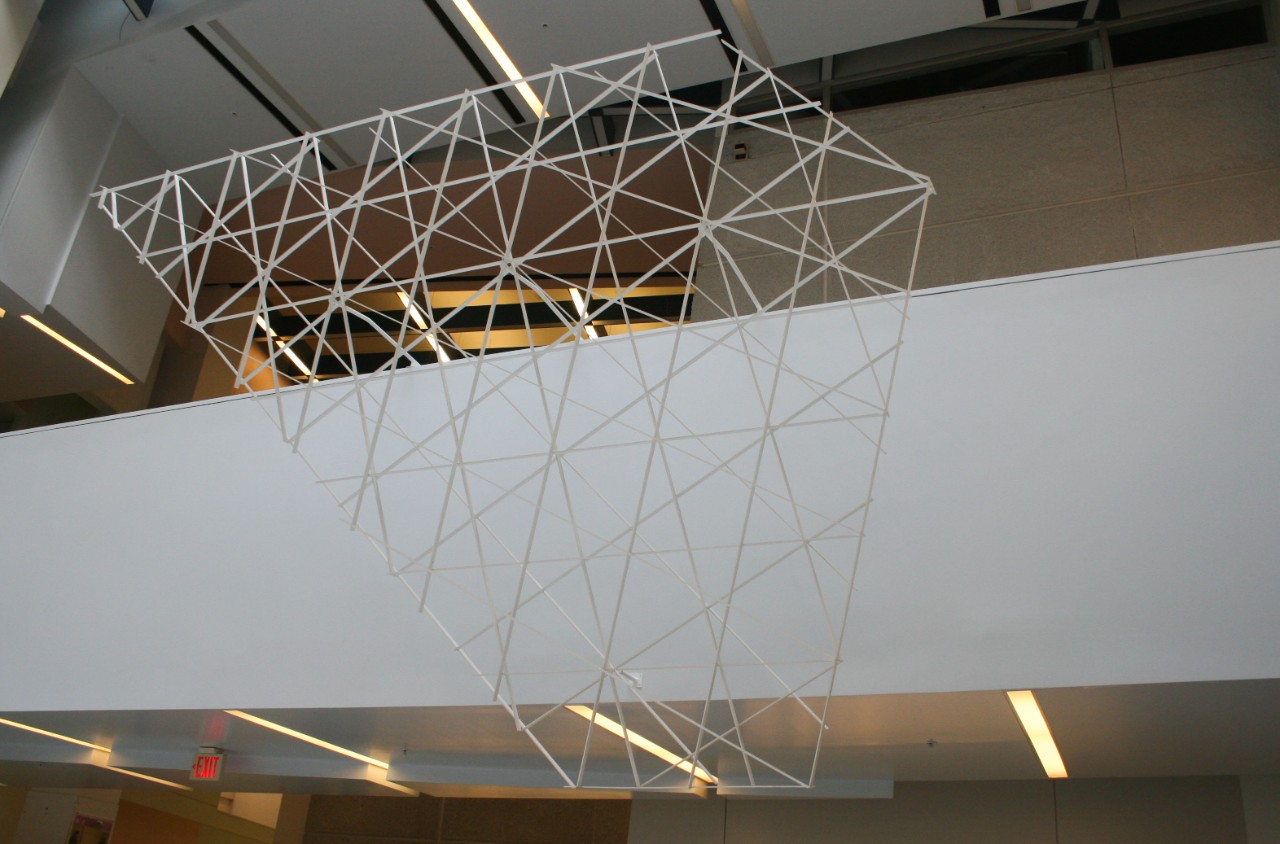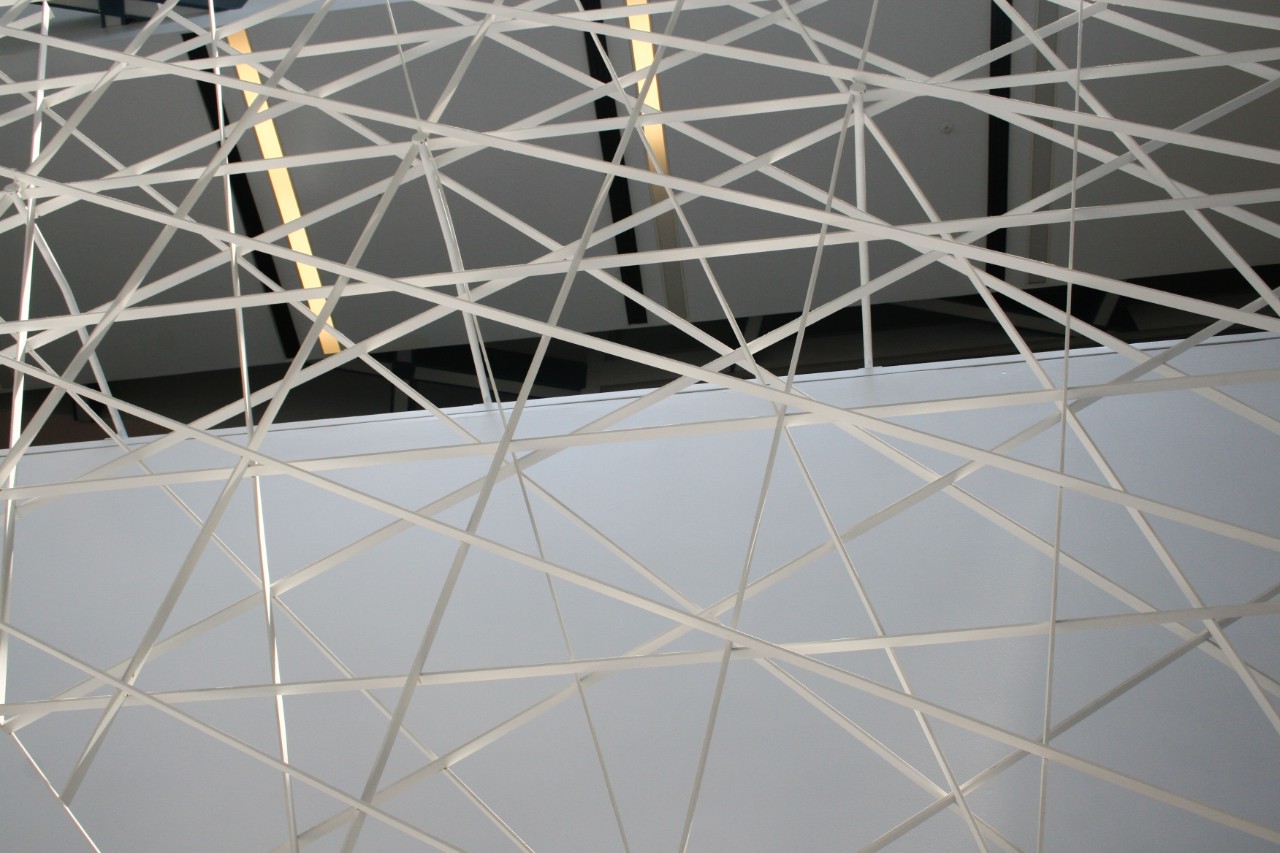 The moiré screen series began as a set of silkscreen prints produced while teaching a printmaking class at The University of Victoria during the Summer of 1976. Two screens were made on which a square set of parallel lines were stencilled onto the silk. The print images were built by rotating the paper 75.5º beneath the screen each time the ink was applied for a maximum of six colors. This resulted in a series of three dimensional, large scale, planar pieces. 
Fields V by Derrick Woodham, 2016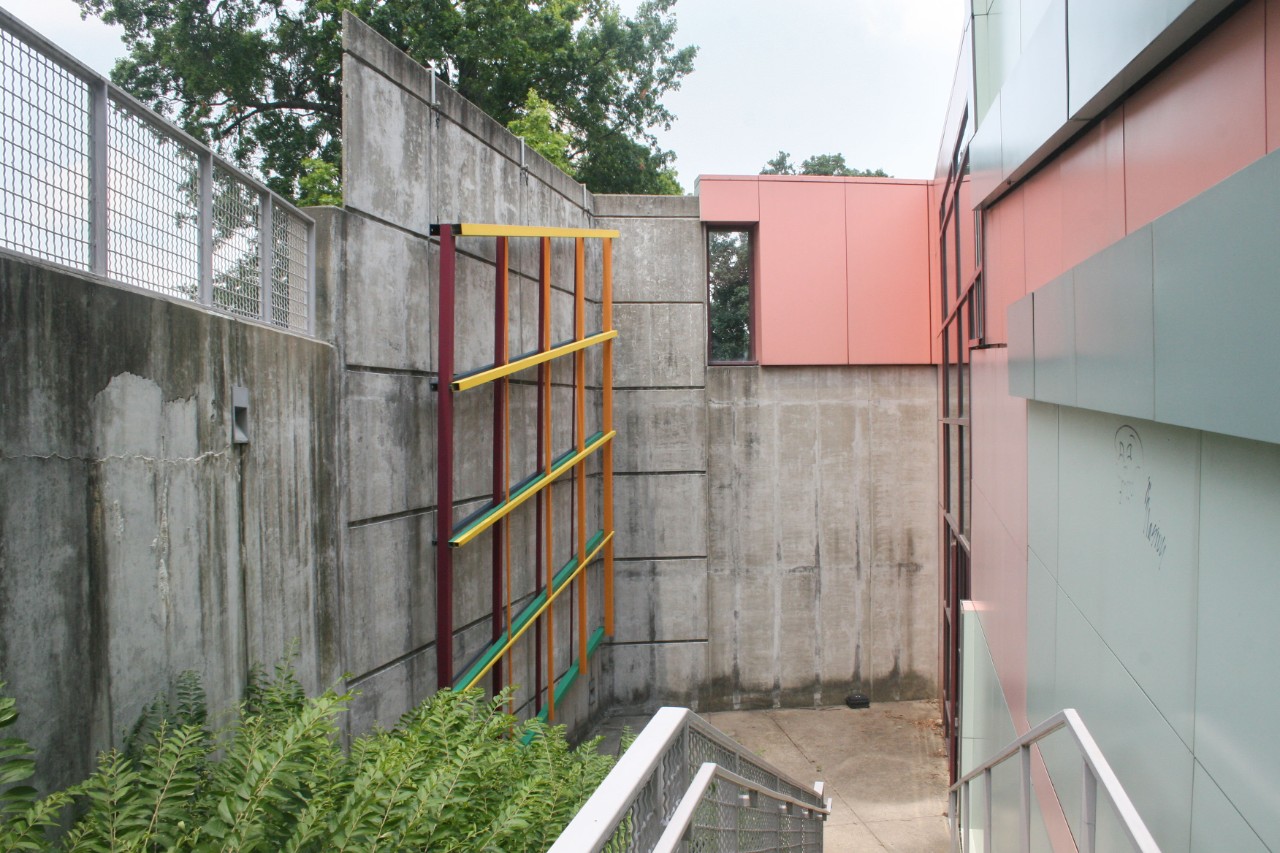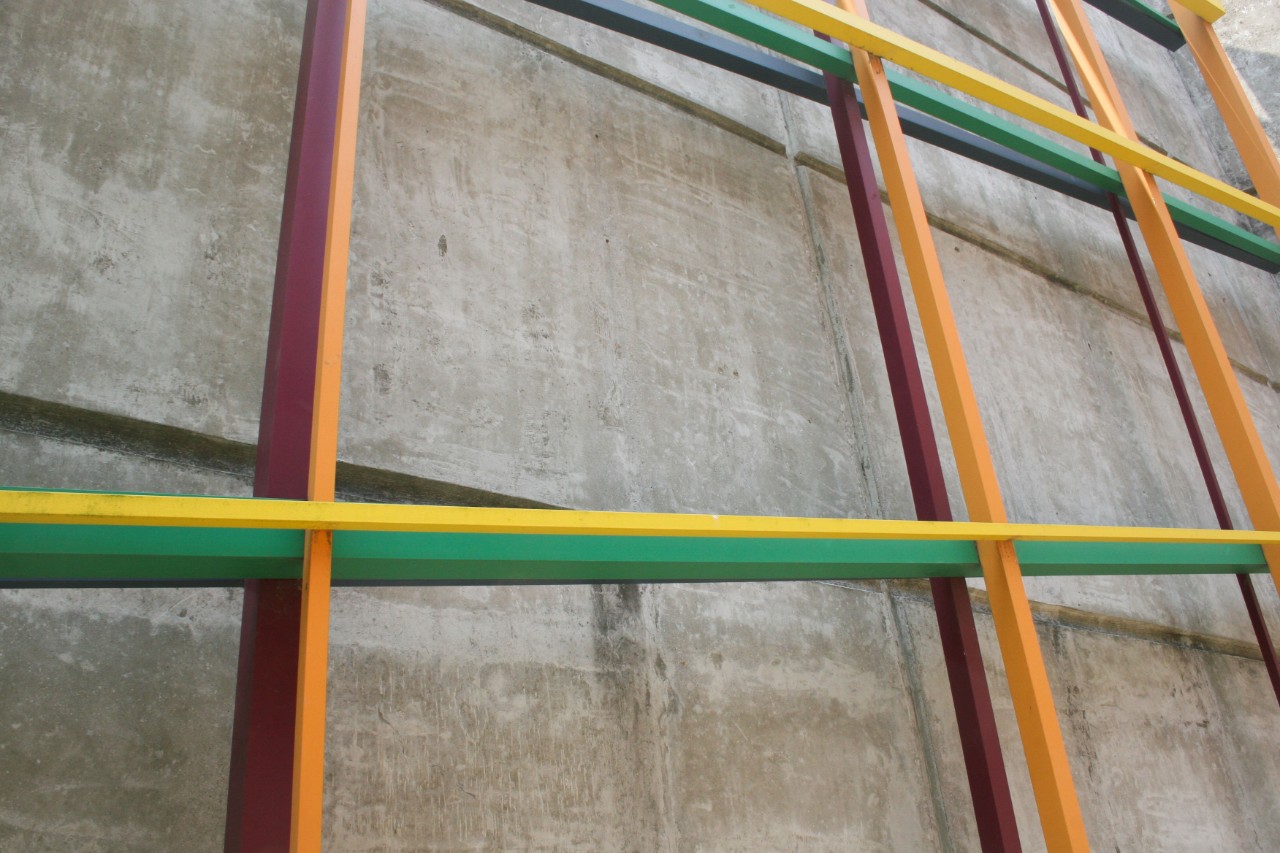 Fields V is the fifth installation of a set and can be seen hanging on the external wall of the west light well of the library in the Arnoff building in the College of DAAP. One axis of the parallelogram is aligned with the vertical arrangement of the defining panels of the retaining wall behind the sculpture. 
Jezebel by Bret Price, 2003, Steel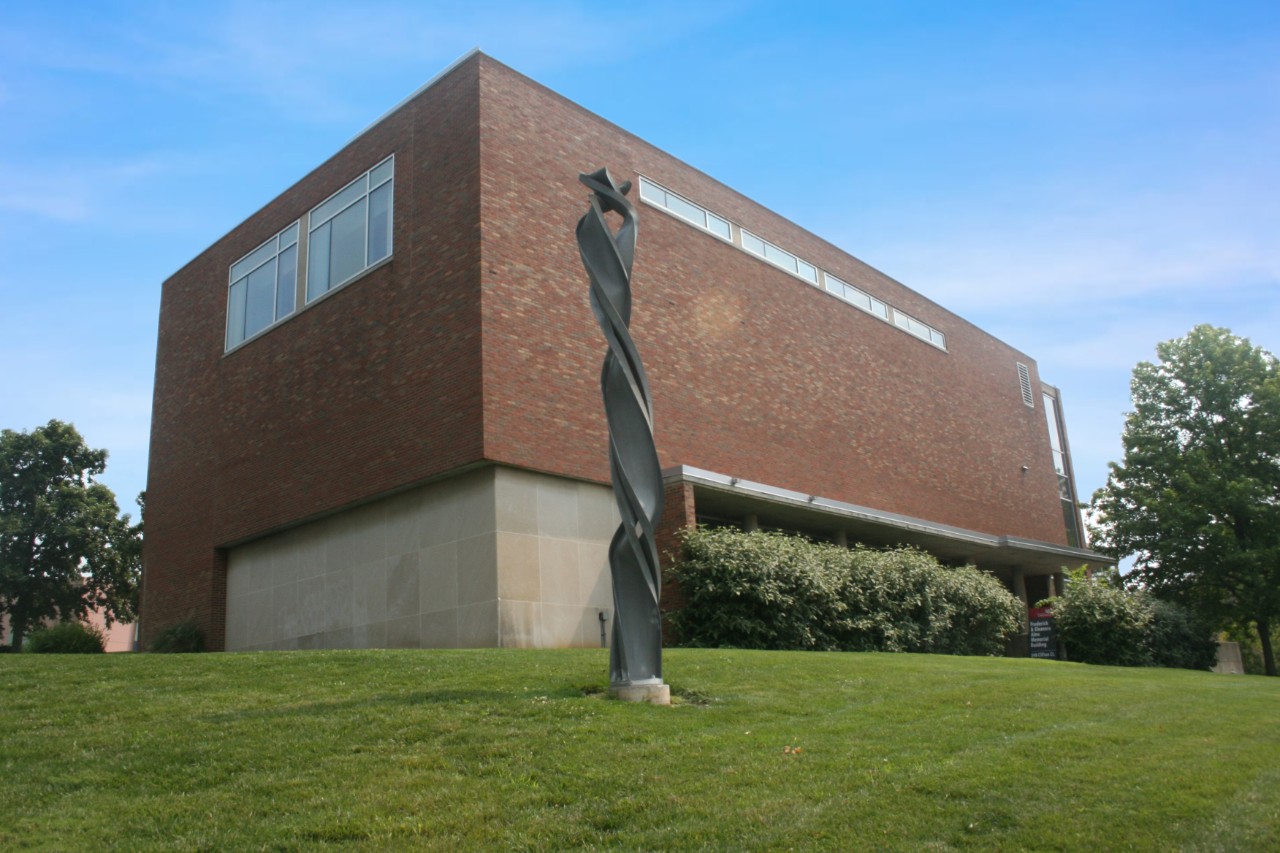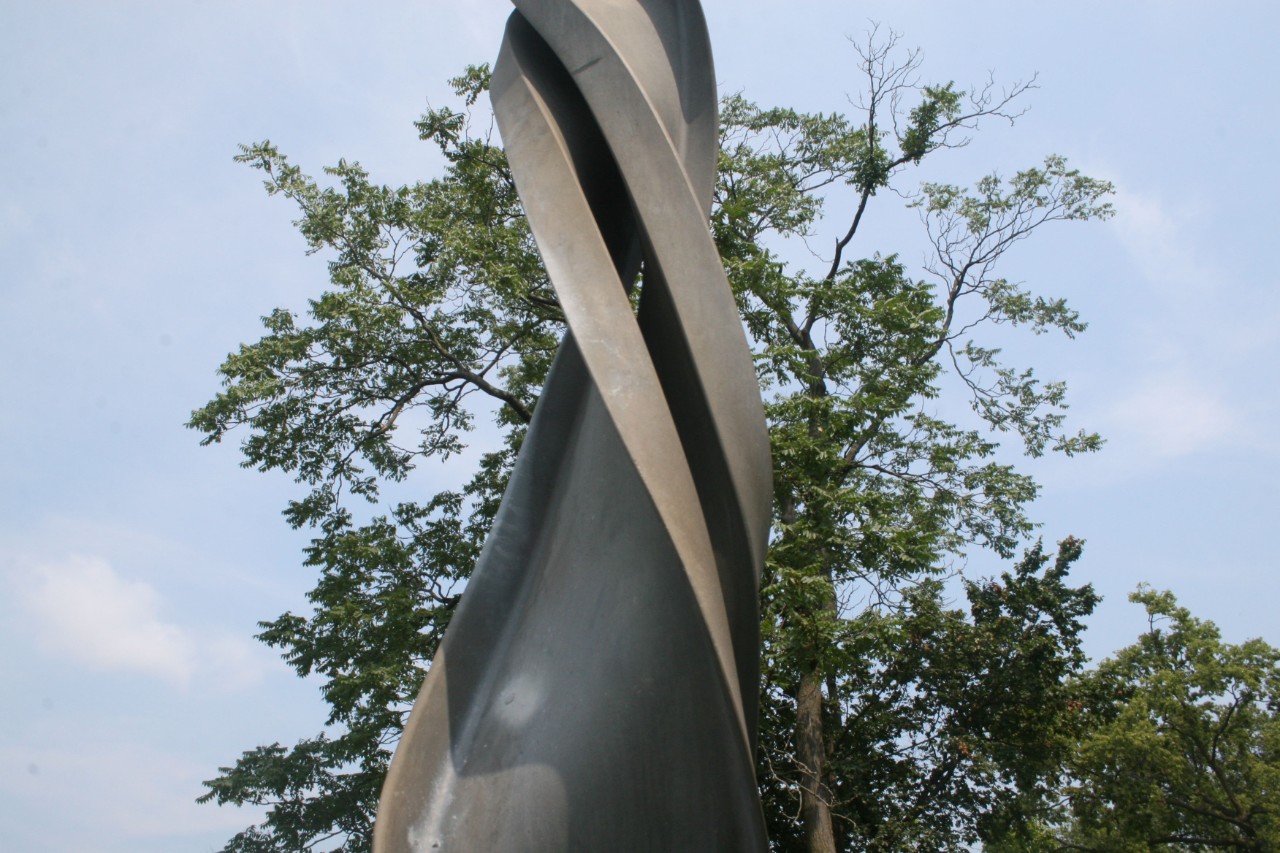 Donated in 2012, Price created the corkscrew-like structure back in 2003 and said the name was inspired by its shape. "When I first made the piece, the sculpture seemed almost flirty to me," said Price. "That's how I came across the name."
Core Couple II by Stuart Fink, 1980, Aluminum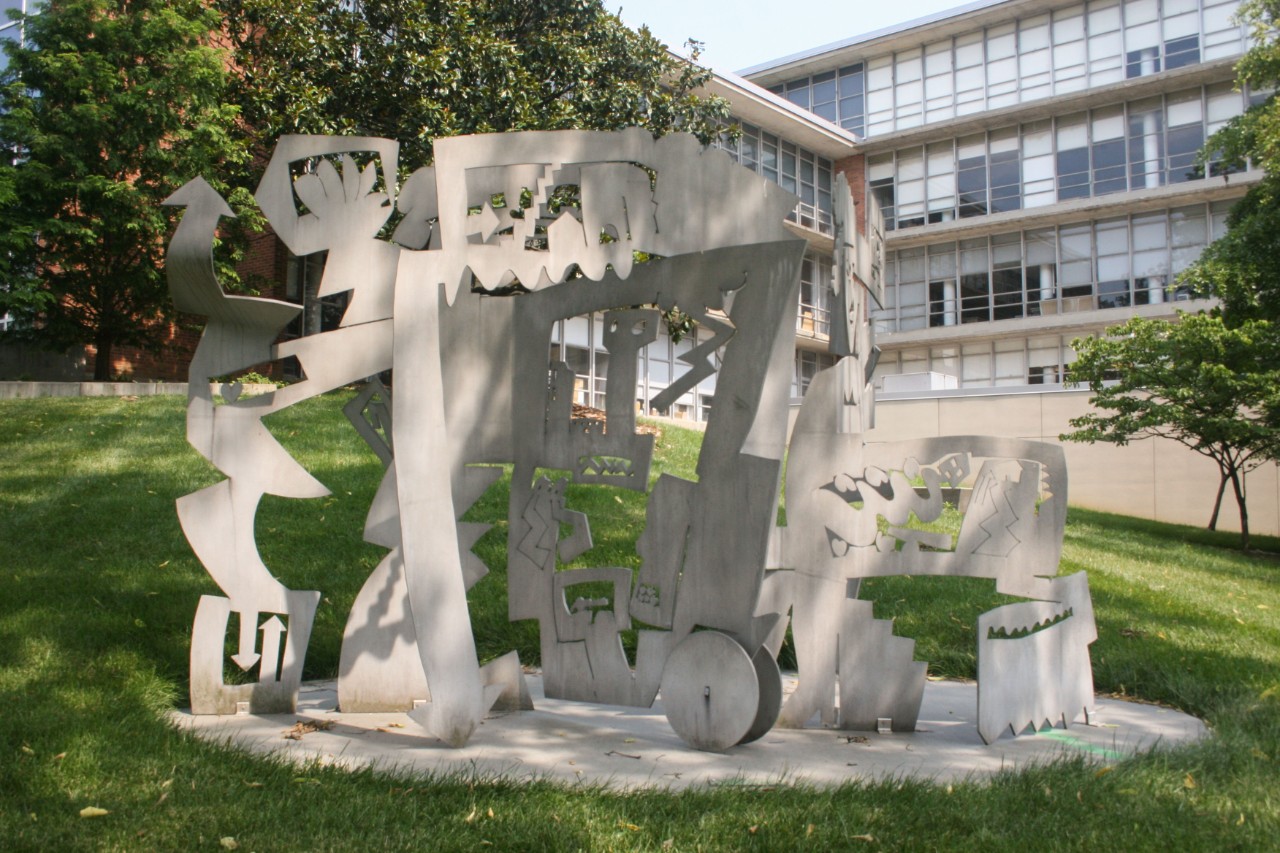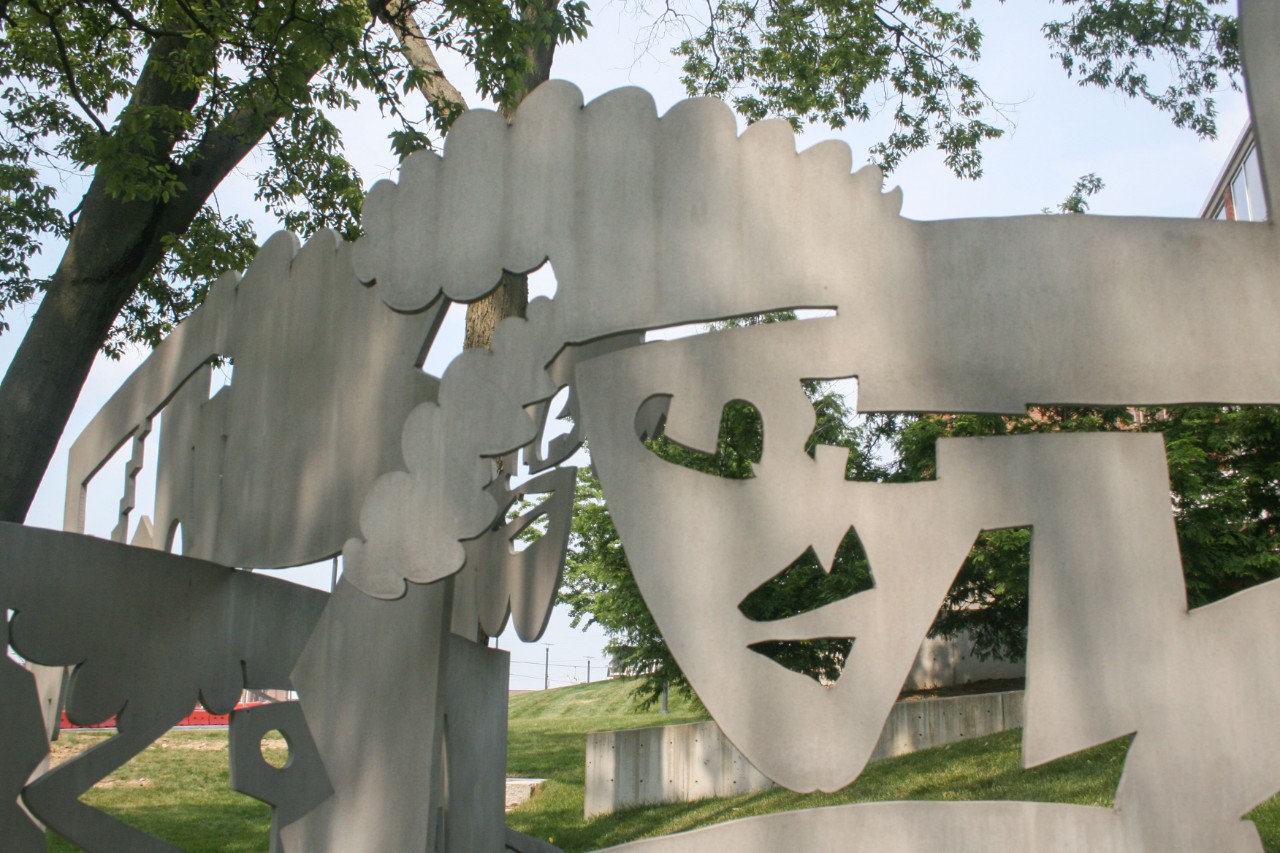 In Core Couple II, the artist created a hybrid sculpture, part abstract and part figurative, animating the two central figures. The cut-outs form symbols such as hearts and houses in negative and positive shapes.
Mick and Mack, donated to the University of Cincinnati in 1904, Stone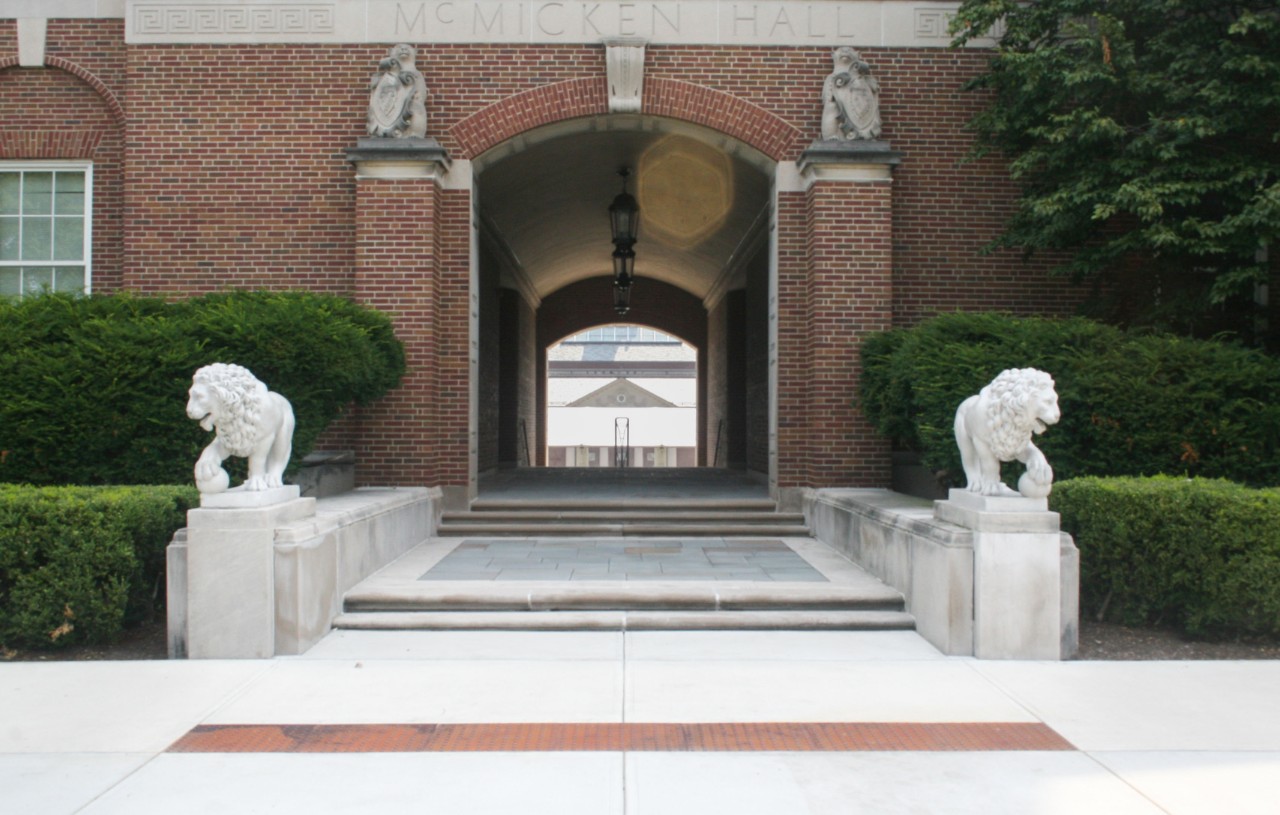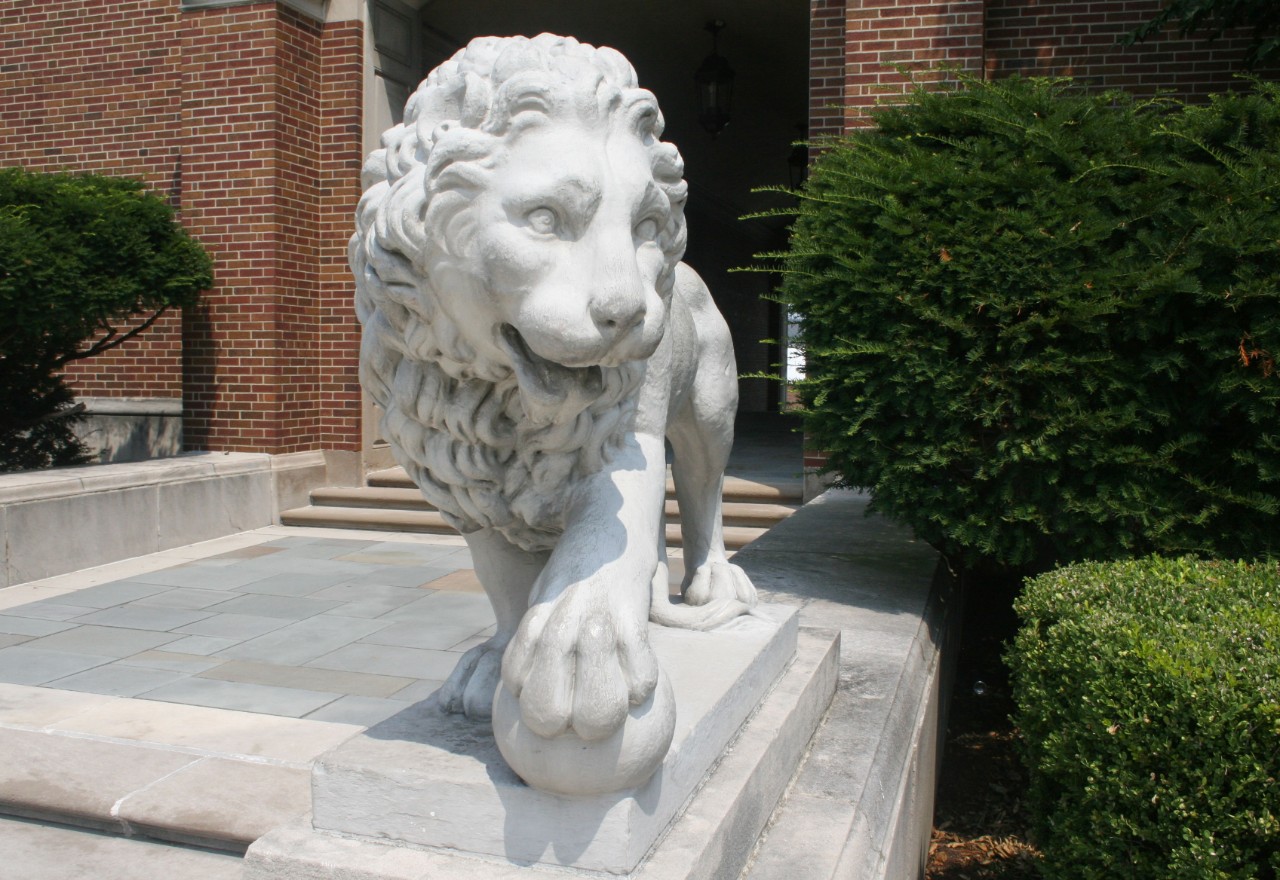 Acquired by the University of Cincinnati in 1904, the pair of lions previously graced the estate of Jacob Hoffner, a real estate developer known for his gardens and home adorned with statuary. These sculptures were commissioned as small copies of an Italian pair in Florence's Loggia dei Lanzi, after Hoffners travels to Italy. Replace with your text
Female Bust By Pietro Barzanti (name variants: Pietro Bazzanti), 1940,  Marble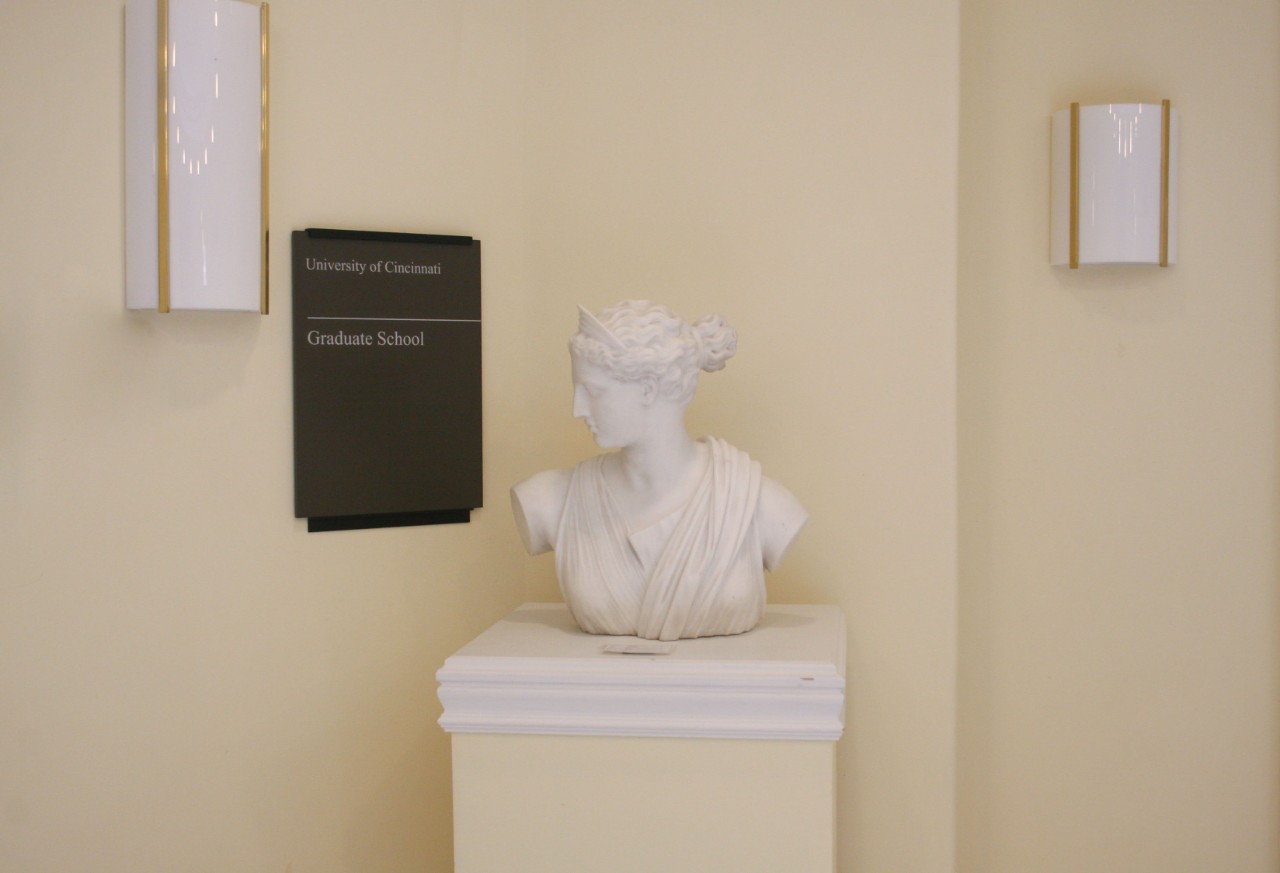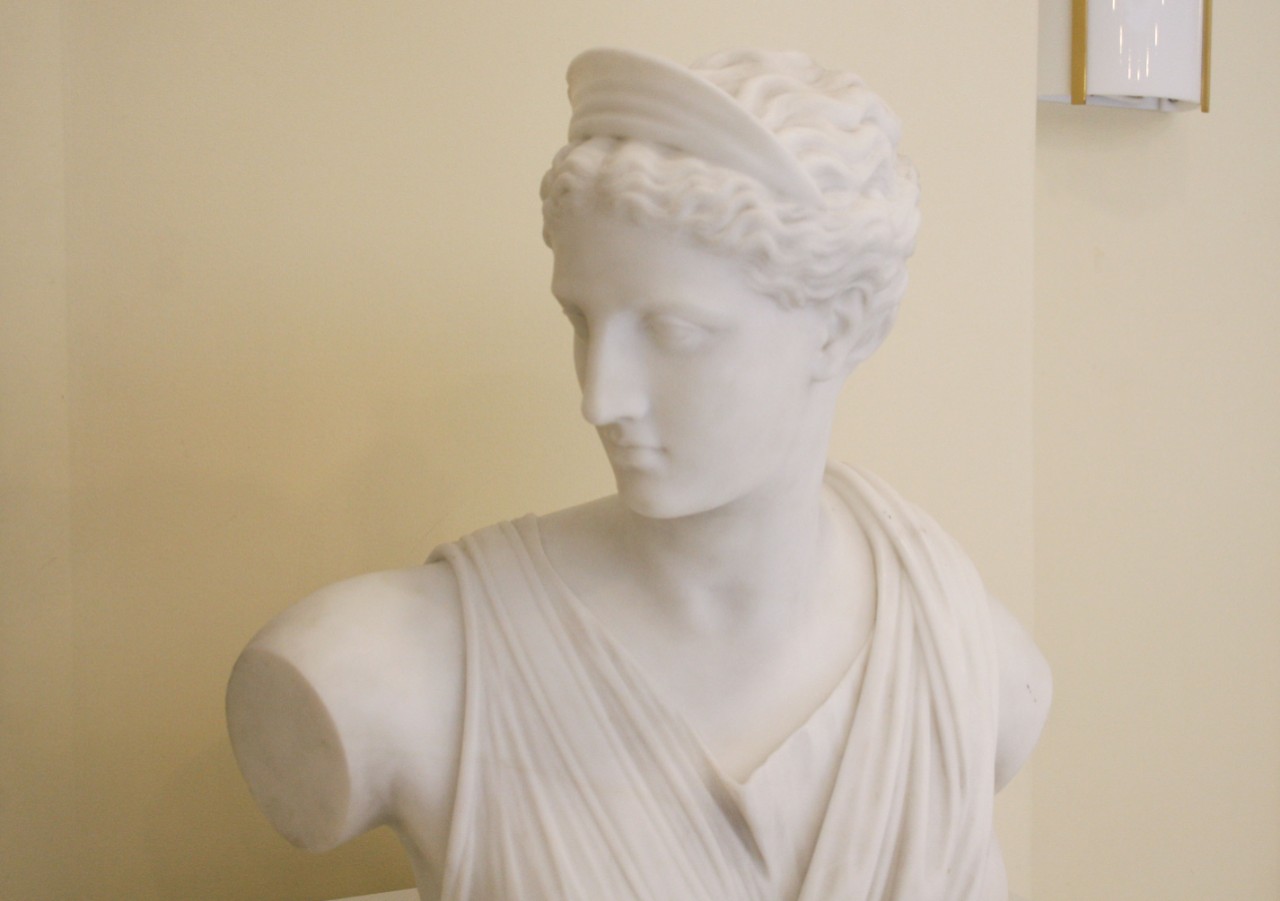 Pietro Barzanti was an Italian 19th century sculptor who was born in 1842. Pietro was a central figure in the production of Florentine sculpture at the end of the nineteenth century. He is associated with such sculptors as Cesare Lapini, Ferdinando Vichi and G.Pugi, all of whom executed works bearing the inscription Galleria Bazzanti. These sculptors produced accomplished copies after the Antique and well known models by many of the greatest Italian sculptors including Donatello, Giambologna, Canova and Bartolini.
Mrs. Miles Greenwood by Randolph Rogers, c. 1863, Marble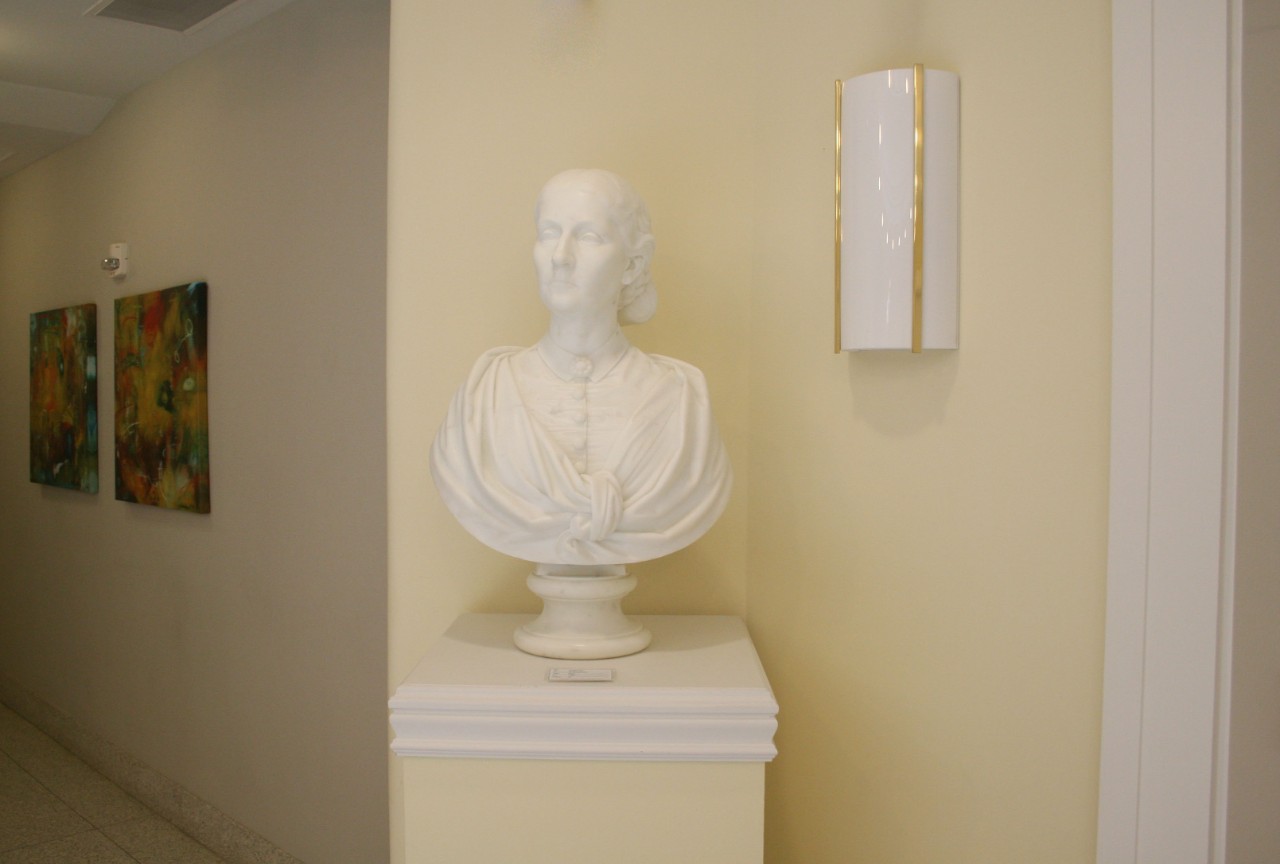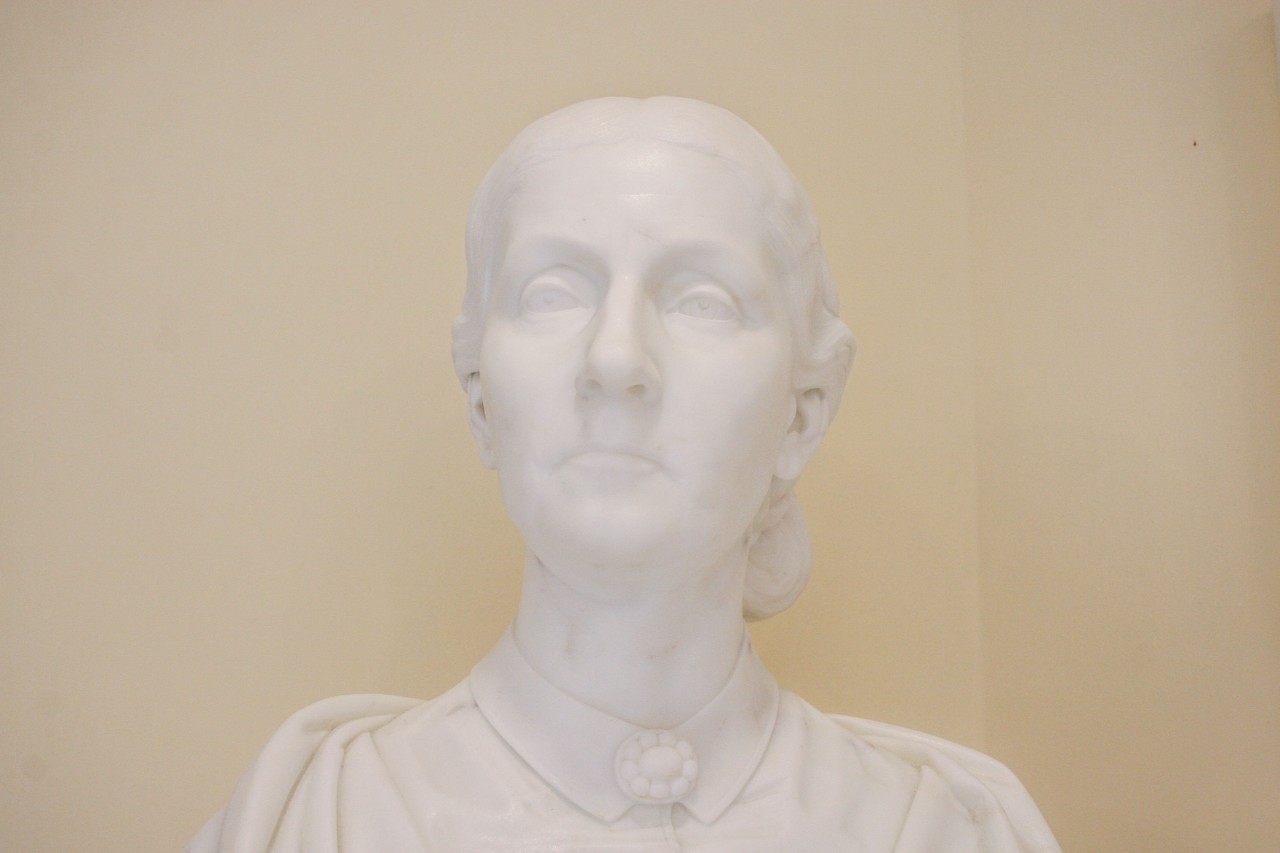 This bust is a portrait of Phoebe Greenwood, a Cincinnati civic leader and director of the Ohio Mechanics Institute, which later became the Ohio College of Applied Science at the University of Cincinnati. Executed in marble, this bust includes the shoulders and chest, which is typical of Roger's approach. Greenwood is represented with a realistic style, attributed to the influence of Roman portrait busts. The sculpture also demonstrates Roger's ability to capture the likeness and personality of his subjects.
Flanking Eagles by Lee Lawrie, Sandstone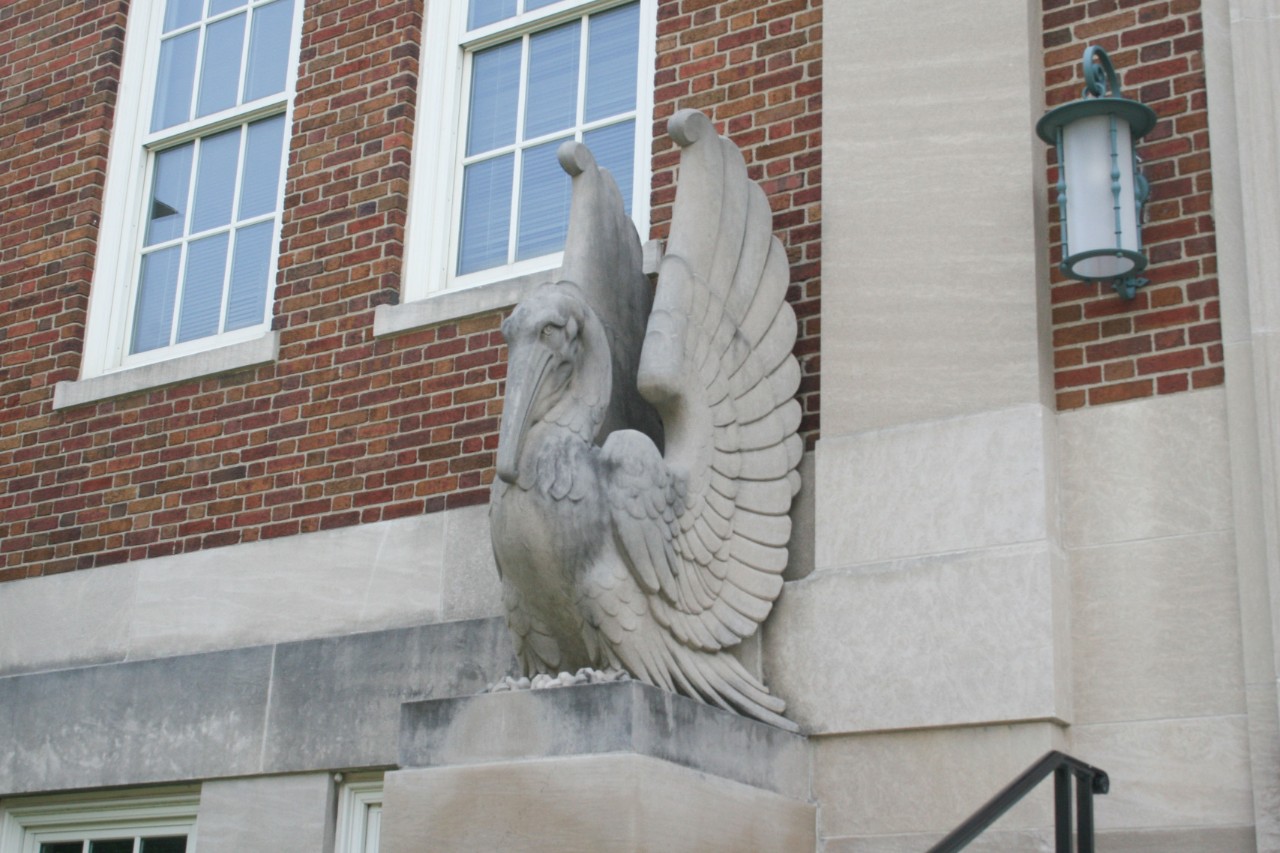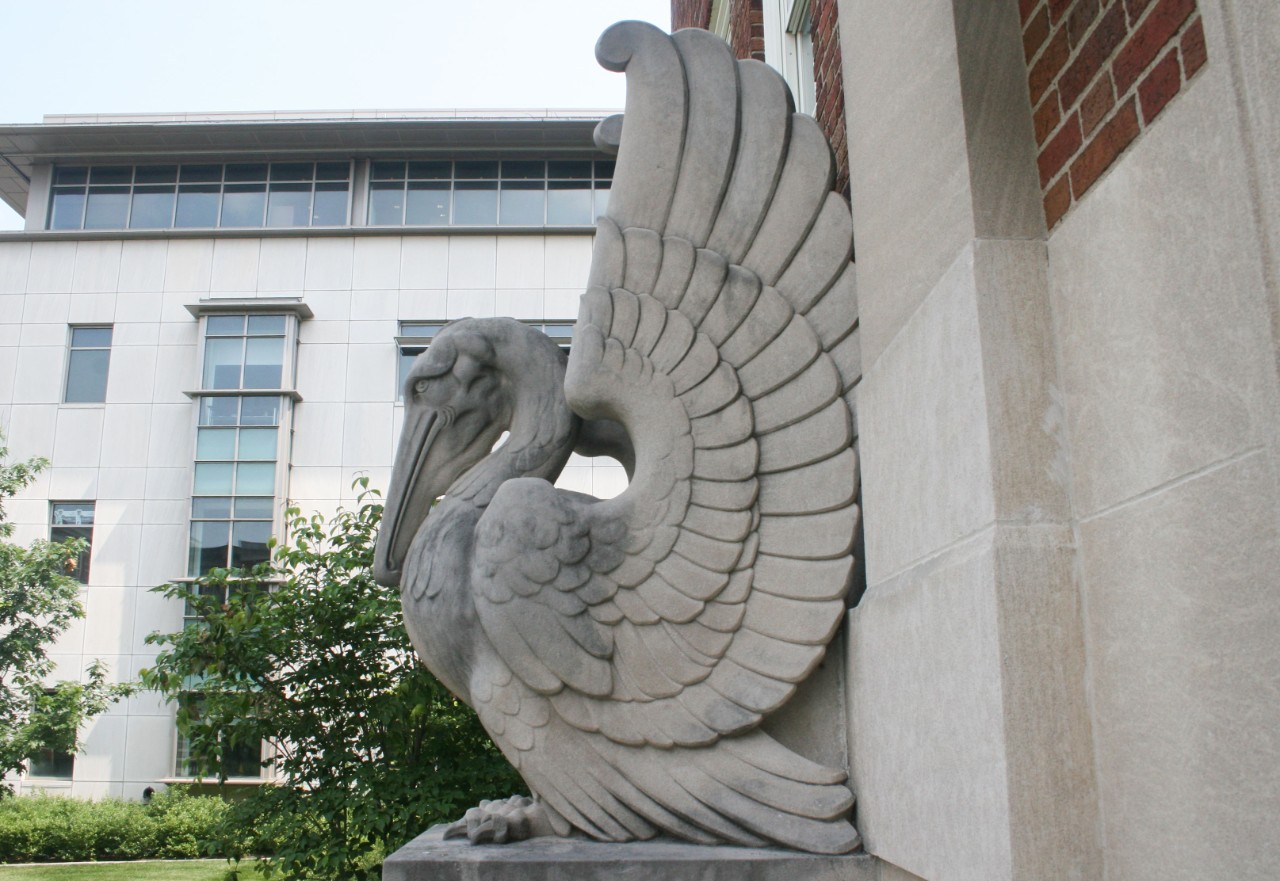 Lee Lawrie was a notable Cincinnati sculptor and a key figure in the American art scene preceding World War II. Over his long career of more than 300 commissions, Lawrie's style evolved through Modern Gothic, to Beaux-Arts, Classicism, and, finally, into Moderne or Art Deco. The birds contrast with the buildings' Roman motifs, Art Deco detailings, and Neoclassical features. 
Flanking Owls by Lee Lawrie, Sandstone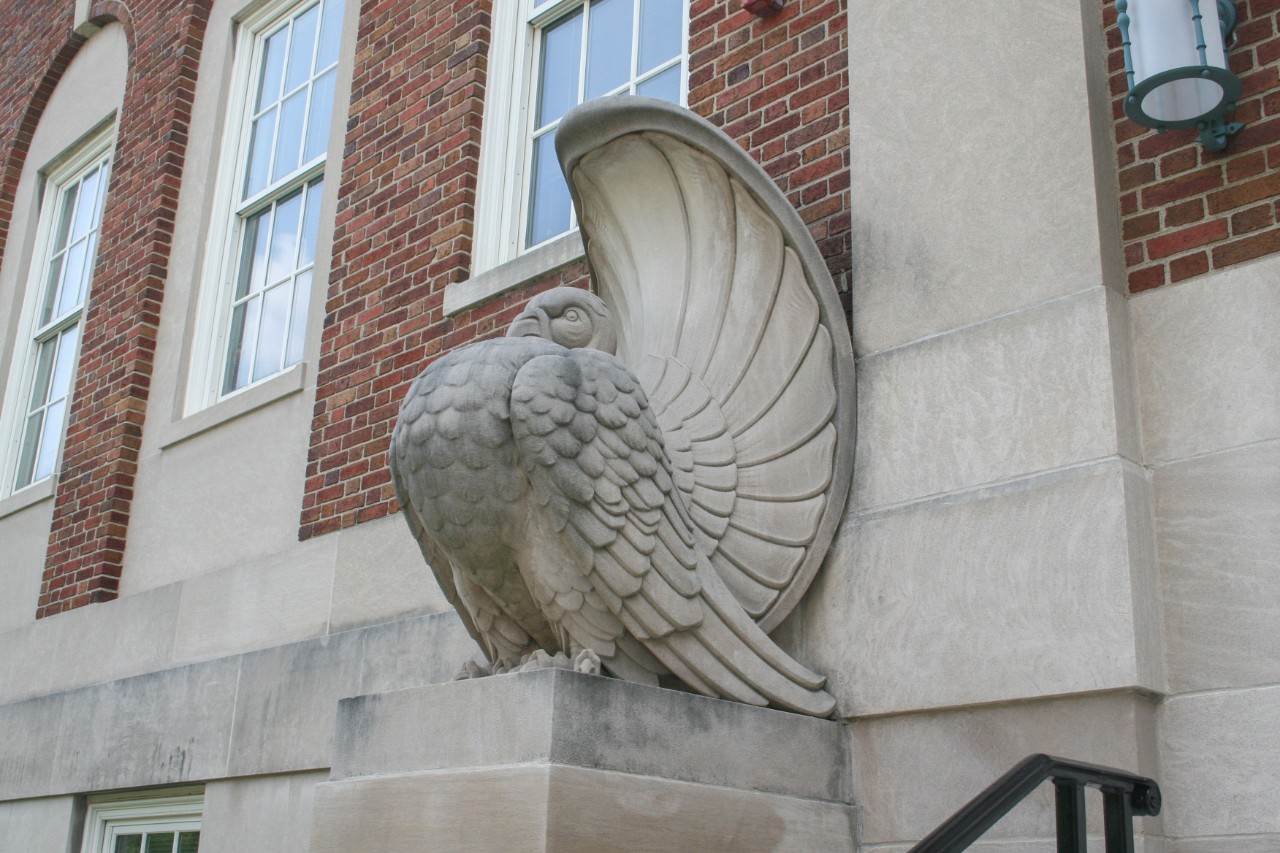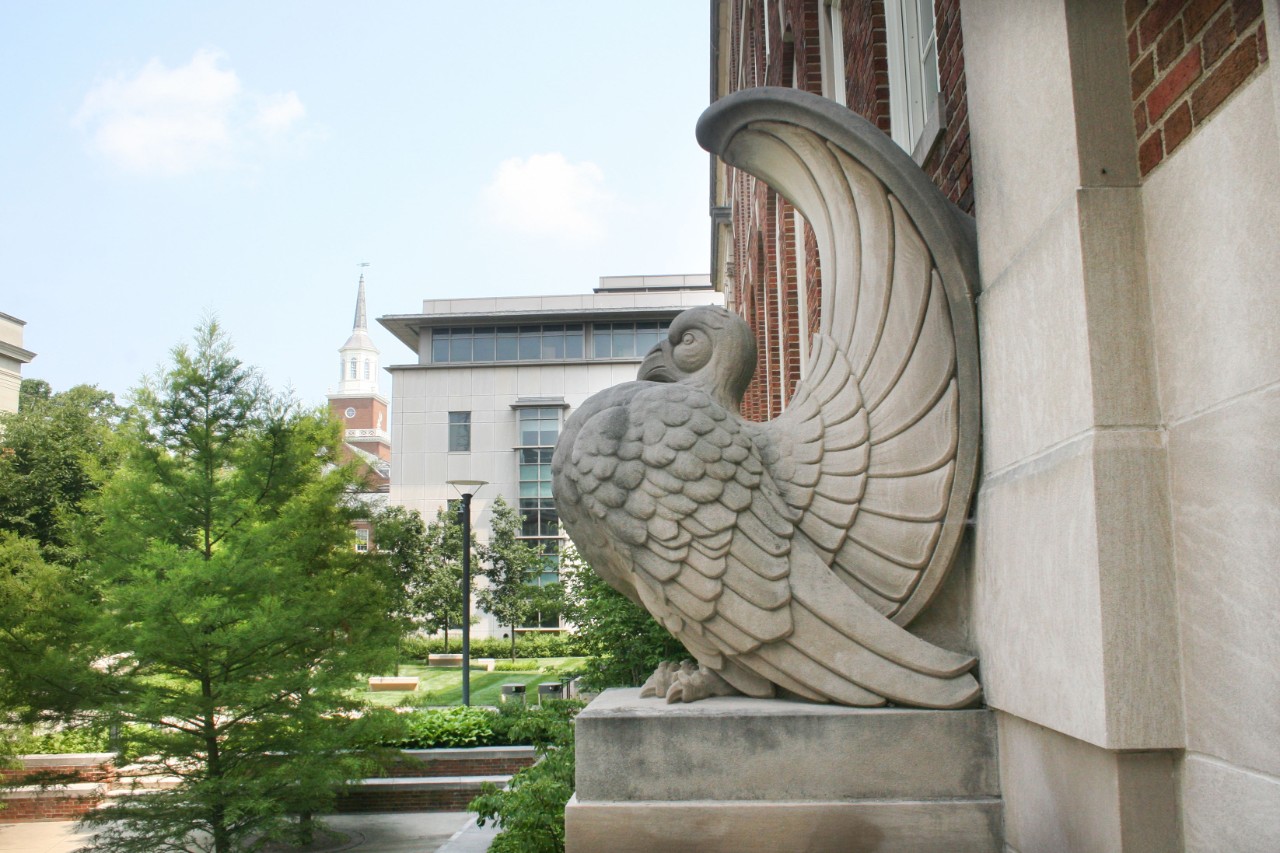 Lee Lawrie was a notable Cincinnati sculptor and a key figure in the American art scene preceding World War II. Over his long career of more than 300 commissions, Lawrie's style evolved through Modern Gothic, to Beaux-Arts, Classicism, and, finally, into Moderne or Art Deco. The birds contrast with the buildings' Roman motifs, Art Deco detailings, and Neoclassical features.
Chief Justice William Howard Taft by William T. Moore, III, 1991, Bronze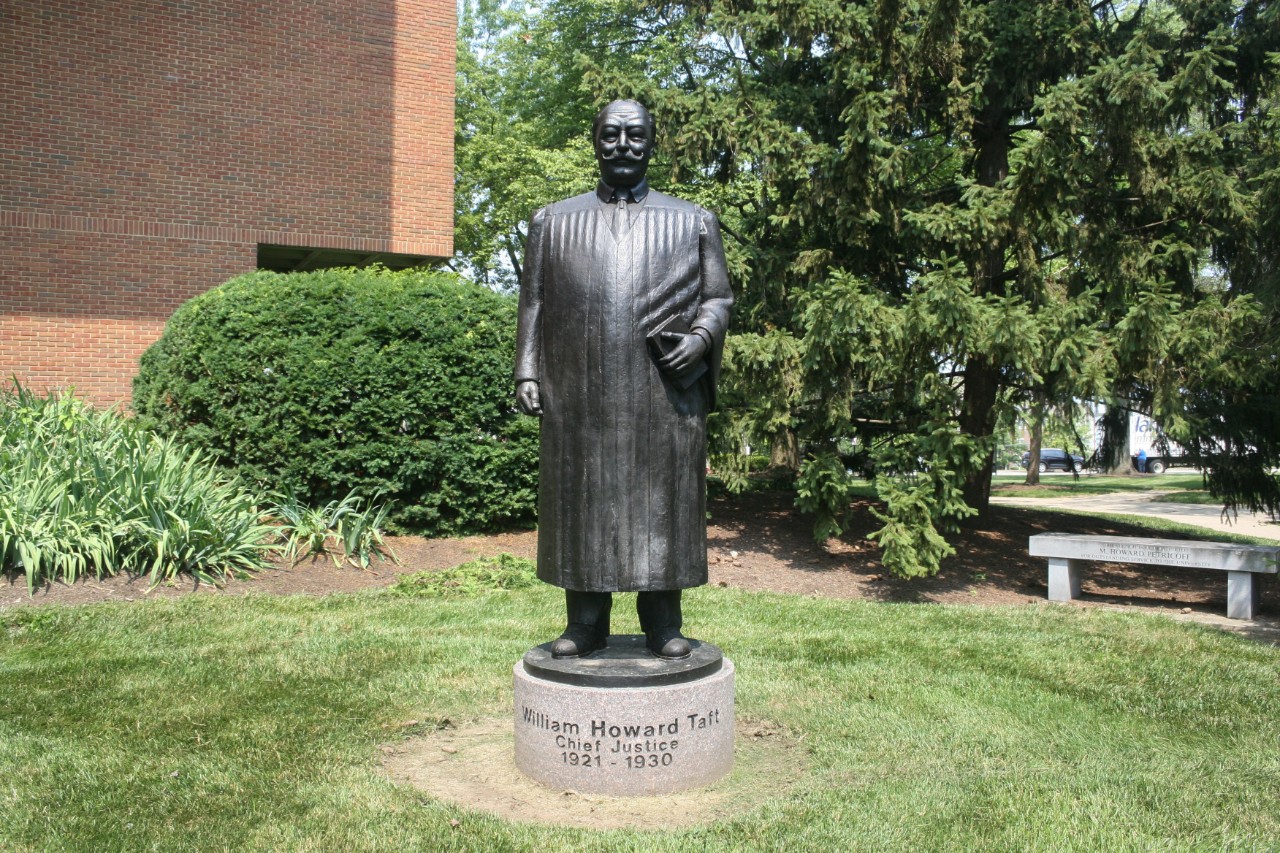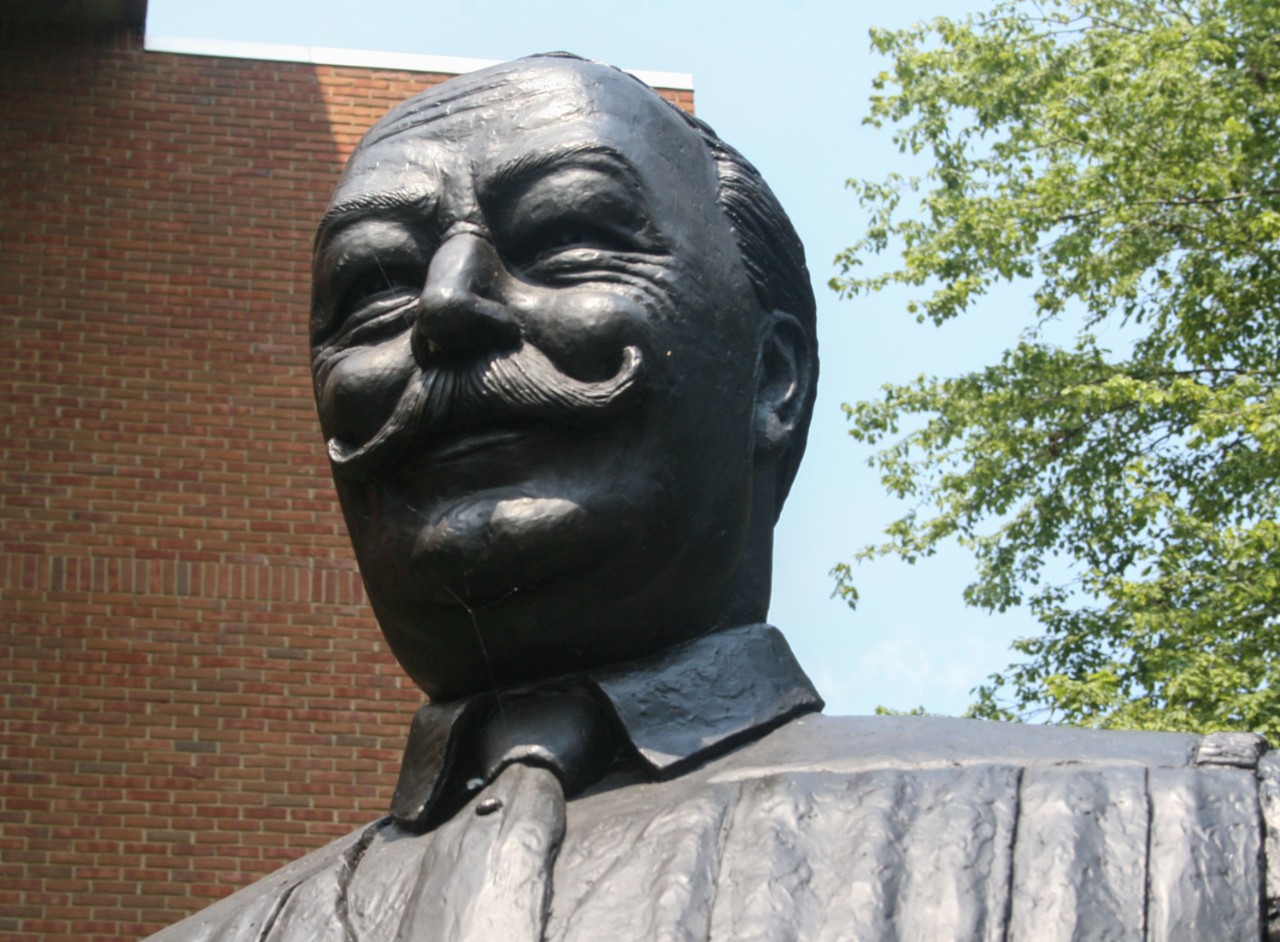 William Howard Taft, a Cincinnati native and UC alum, was the only US citizen to serve as president of the United States (1909-13) and a chief justice of the US Supreme Court (1921-30).
On Sept. 15, 1992, Taft's 135th birthday, the University of Cincinnati College of Law dedicated an 8-foot bronze statue of Taft, dean of the law school from 1896 to 1900, dressed in judicial robes. 
Memorial Fountain to Clara Baur by Clement Barnhorn, 1914, fountain: bronze, base: granite and cement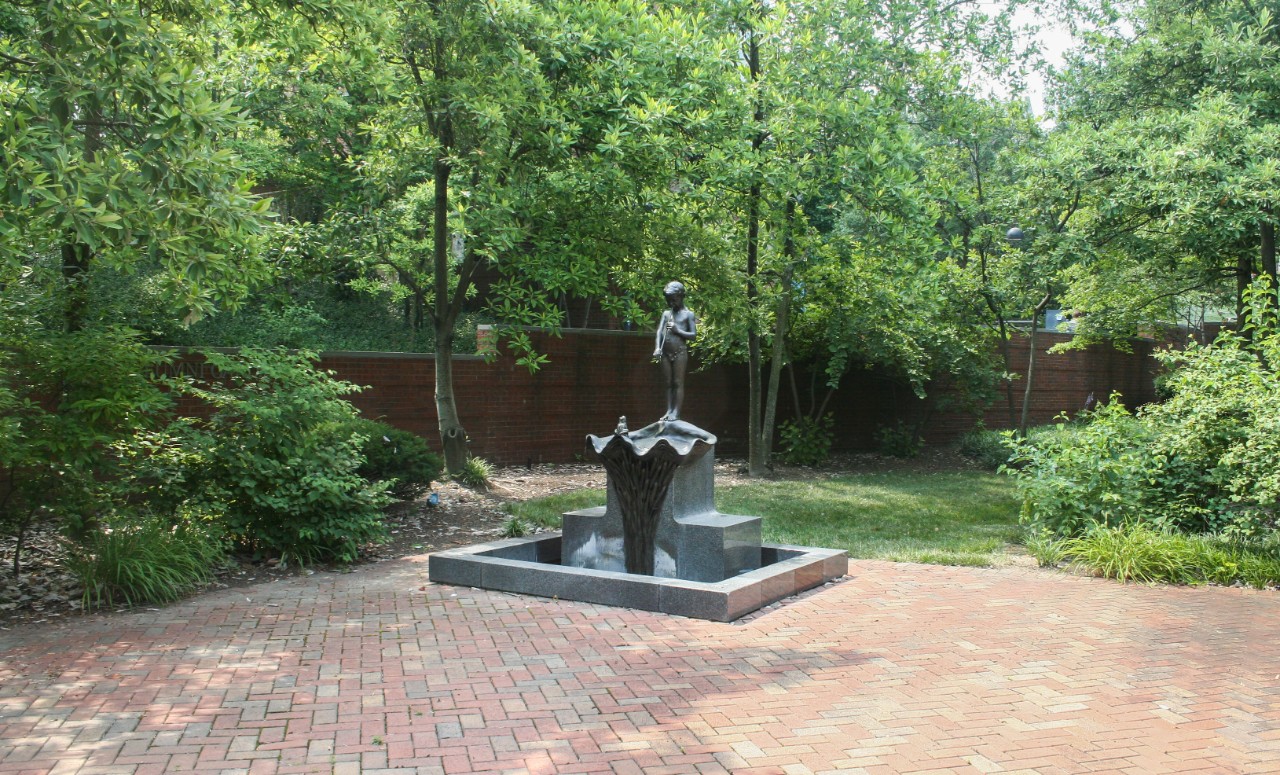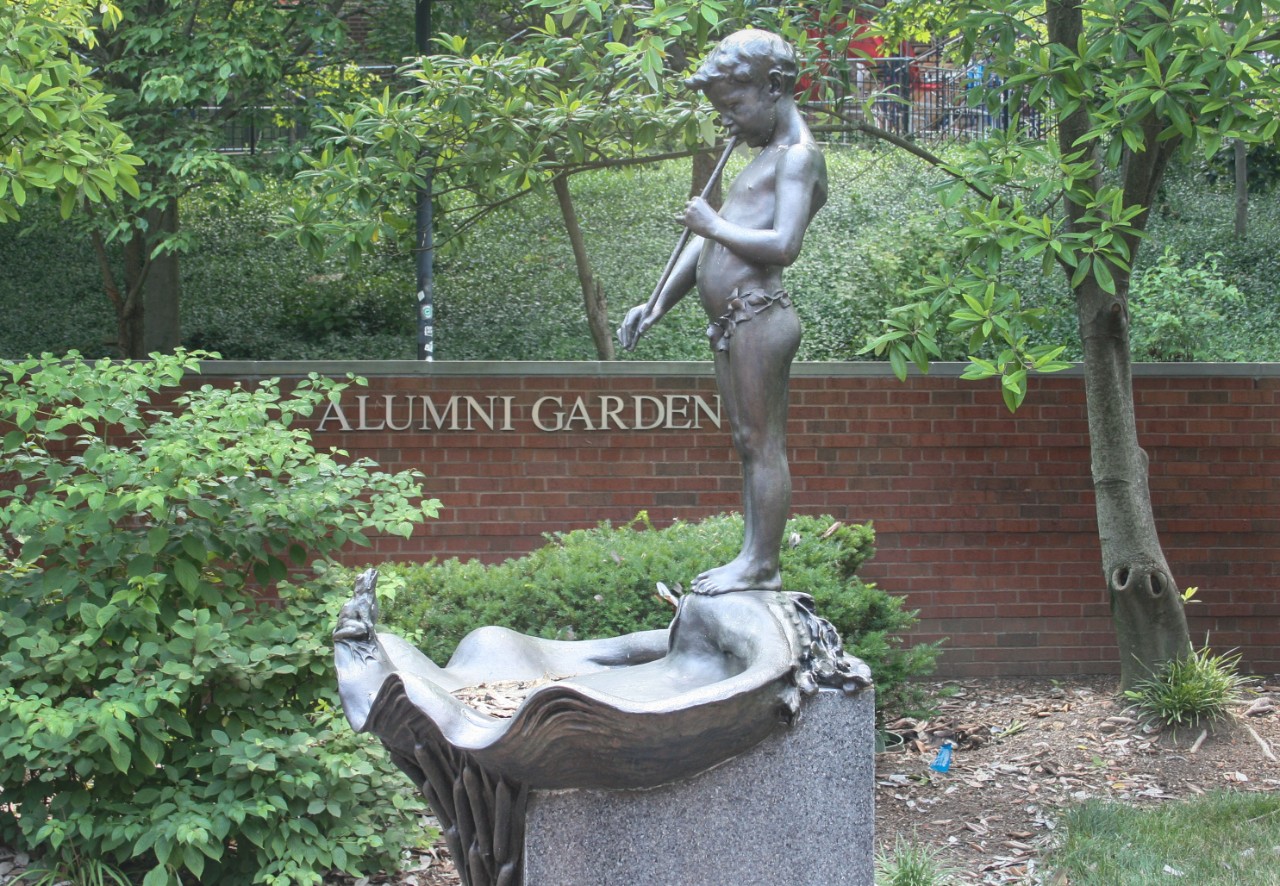 Clement Barnhorn's memorial to Clara Baur displays the graceful form typical of turn-of-the-century figurative sculpture. Clara Baur founded the Cincinnati Conservatory of Music in 1867.
The Three Muses by Sam Gilliam, 2001, Mixed Media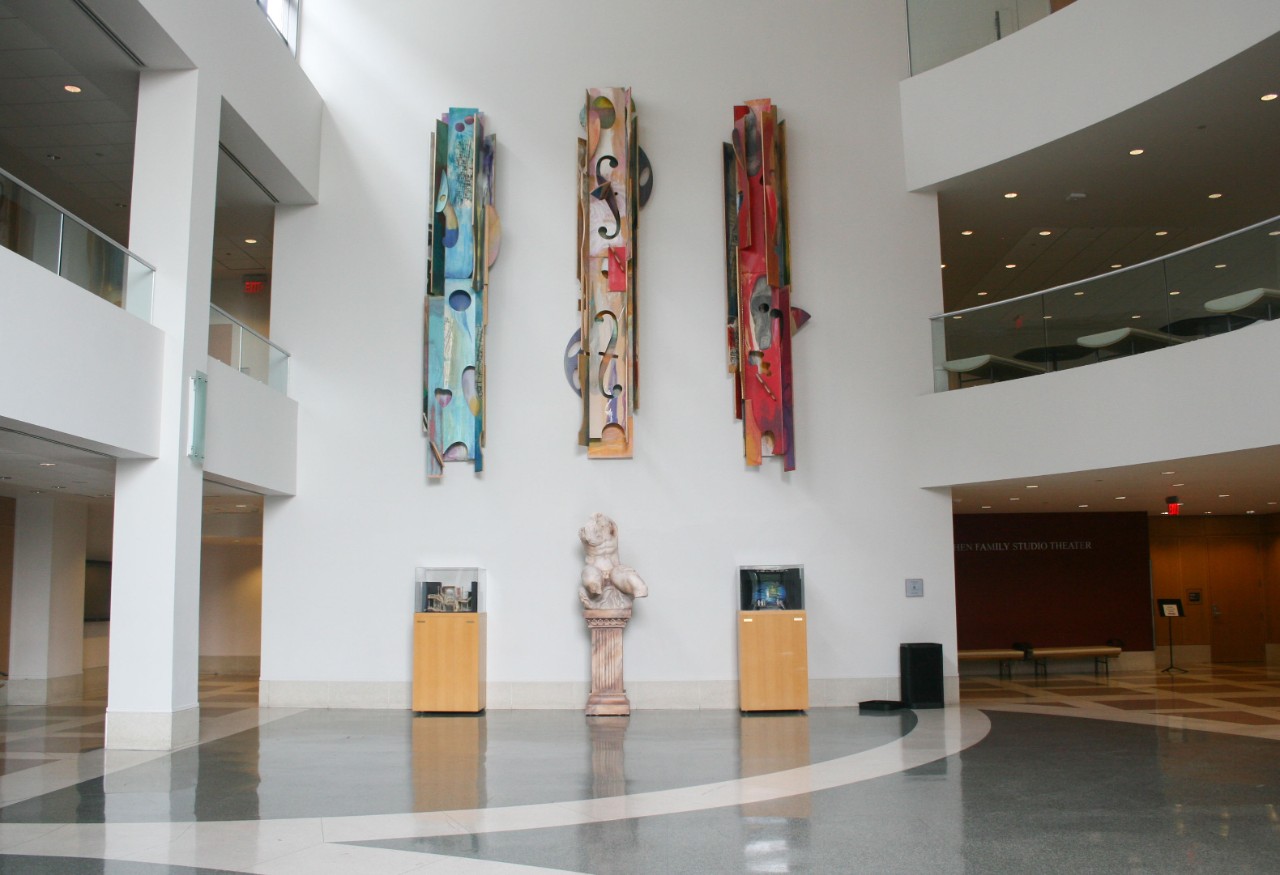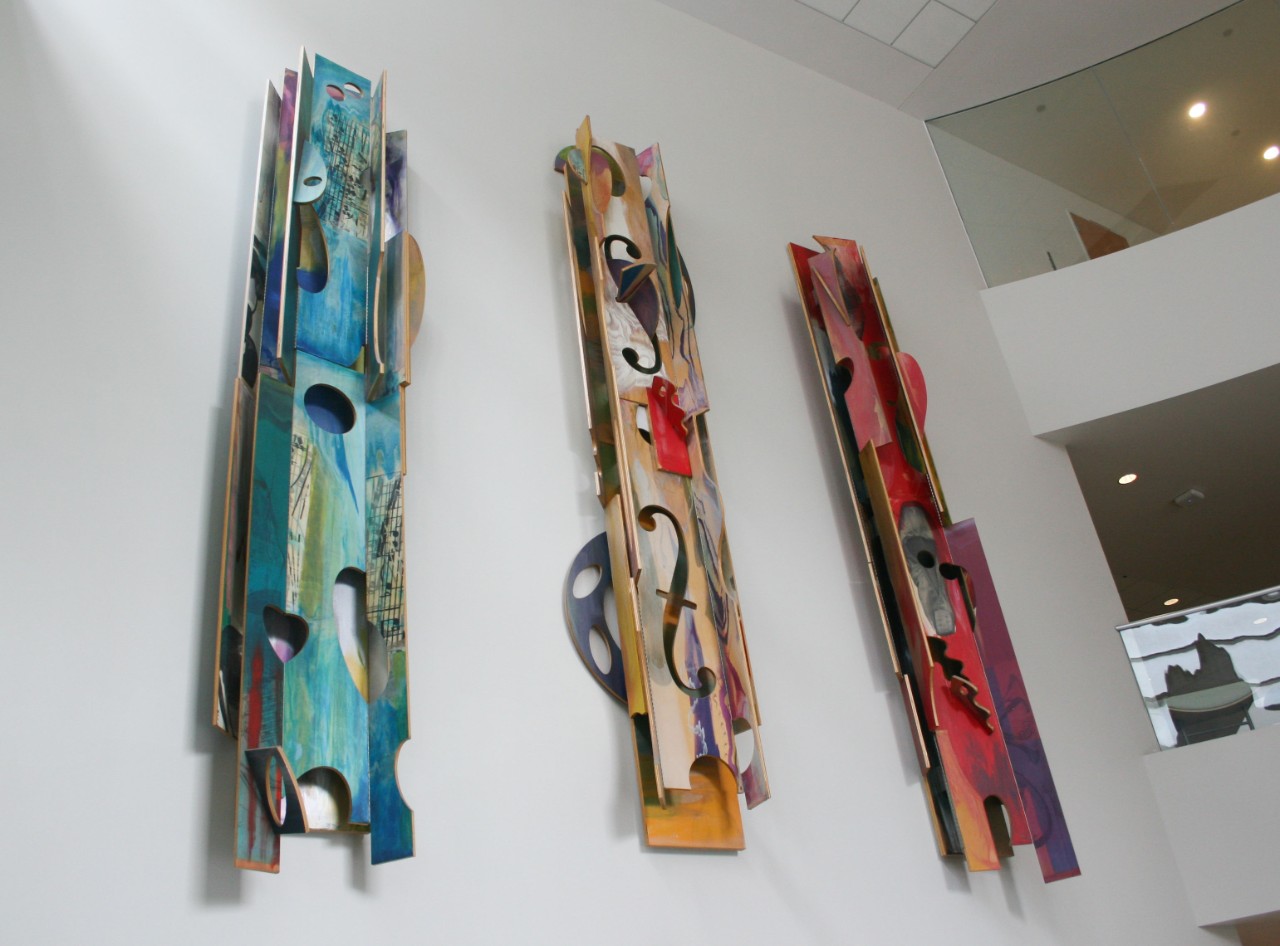 Throughout the vividly painted surfaces of The Three Muses are images of music, musical instruments, and dance slippers to suggest the activities that fill the College Conservatory of Music. The Three Muses is mounted above eye level, suggesting the celestial domain of the greek goddesses. 
Light Mast by James Carpenter, 1999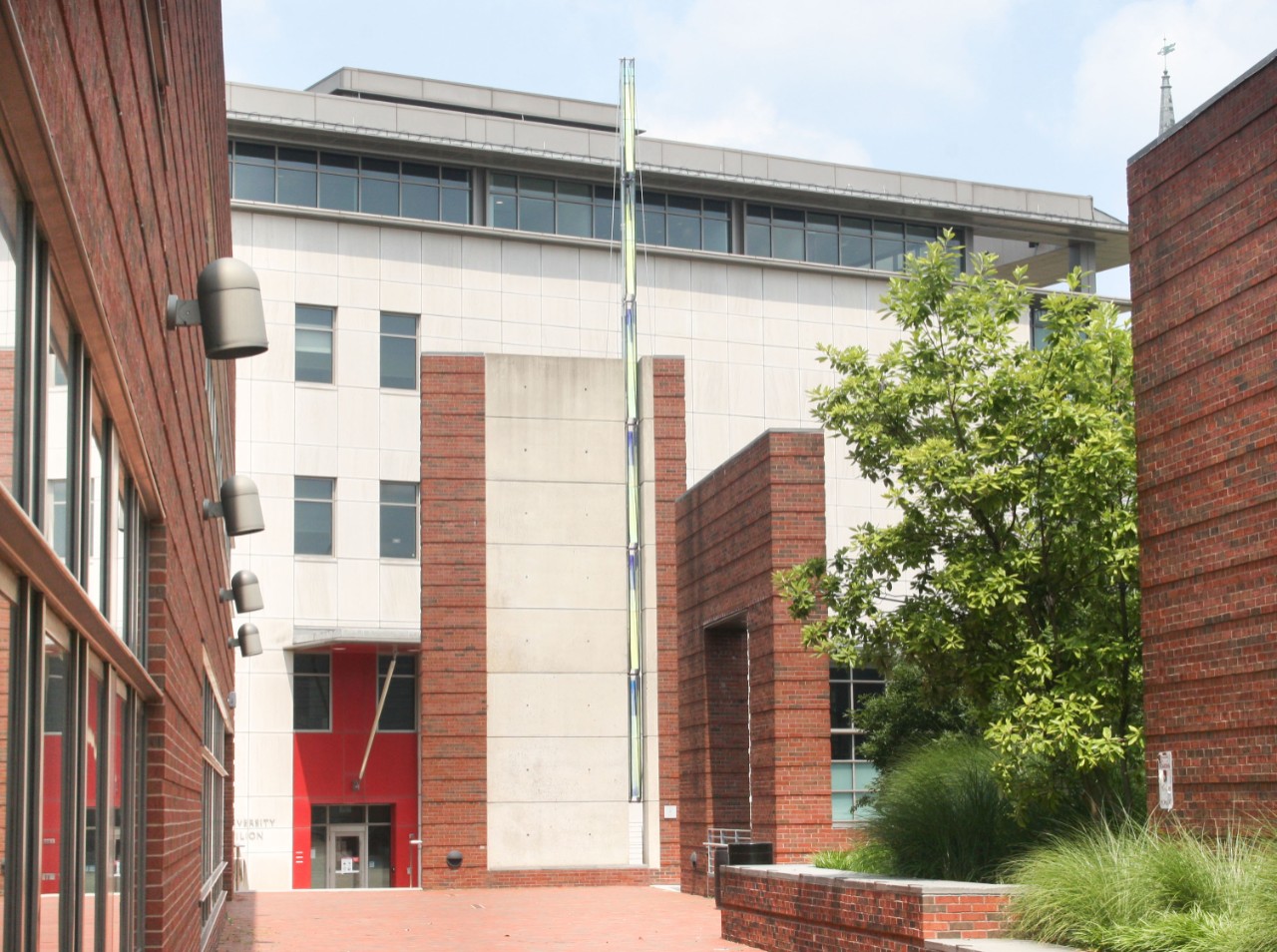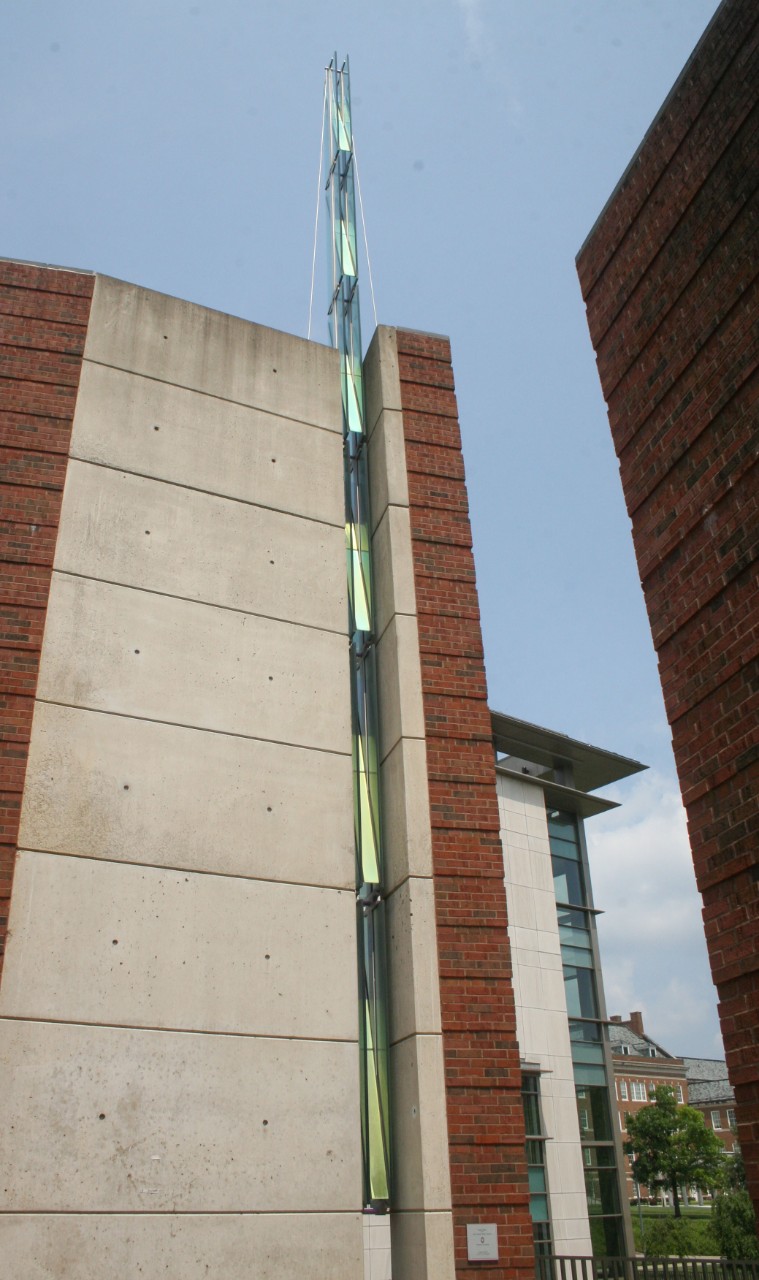 This luminous glass tower marks the entry to the College Conservatory of Music. The tower forms a vertical shaft of light acting as a visual marker, day and night. The tower is essentially a union of structure, optics and lighting. The pretensioned glass mast is composed of diffuse and transparent sheets of glass. All glass in the sculpture is laminated for safety and provides both a structural and optical function.
Figura-Prima by Magdalena Abakanowicz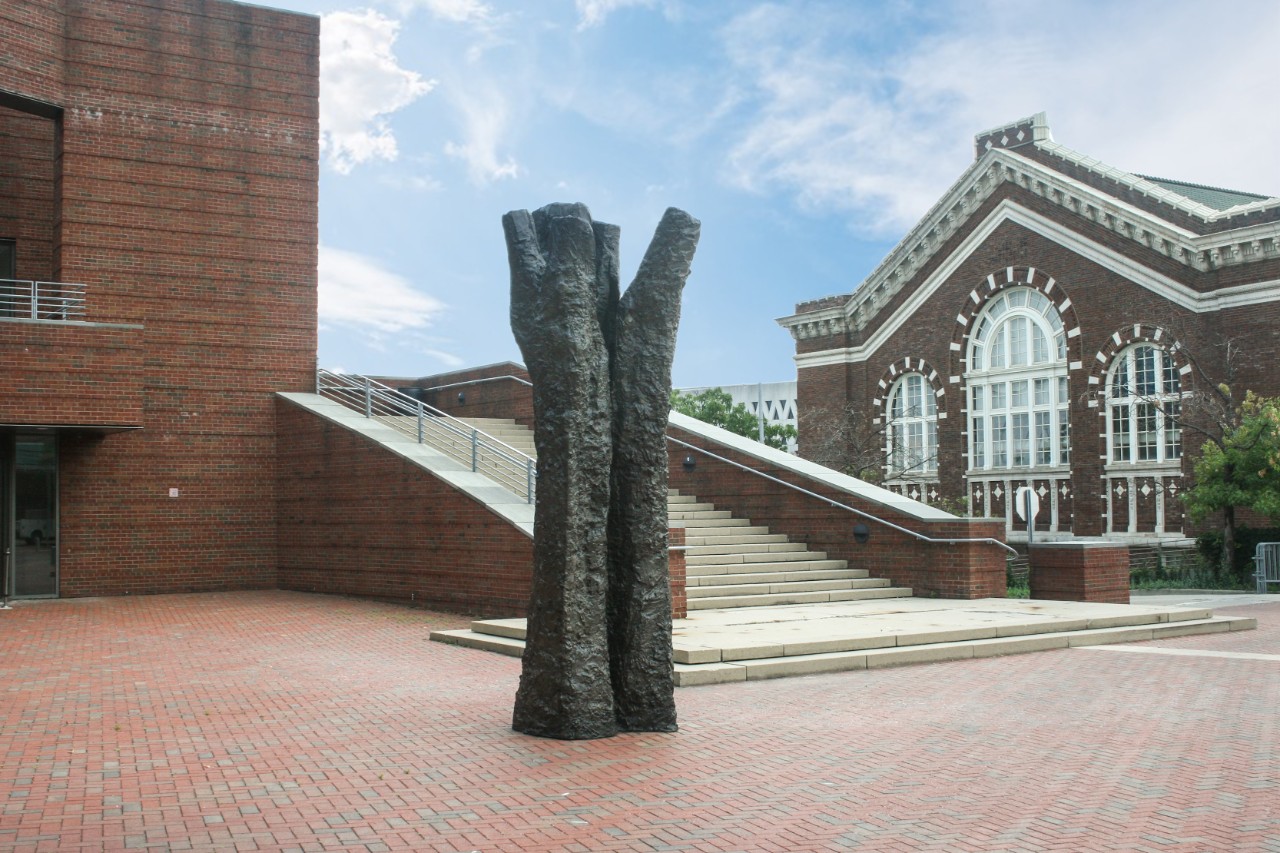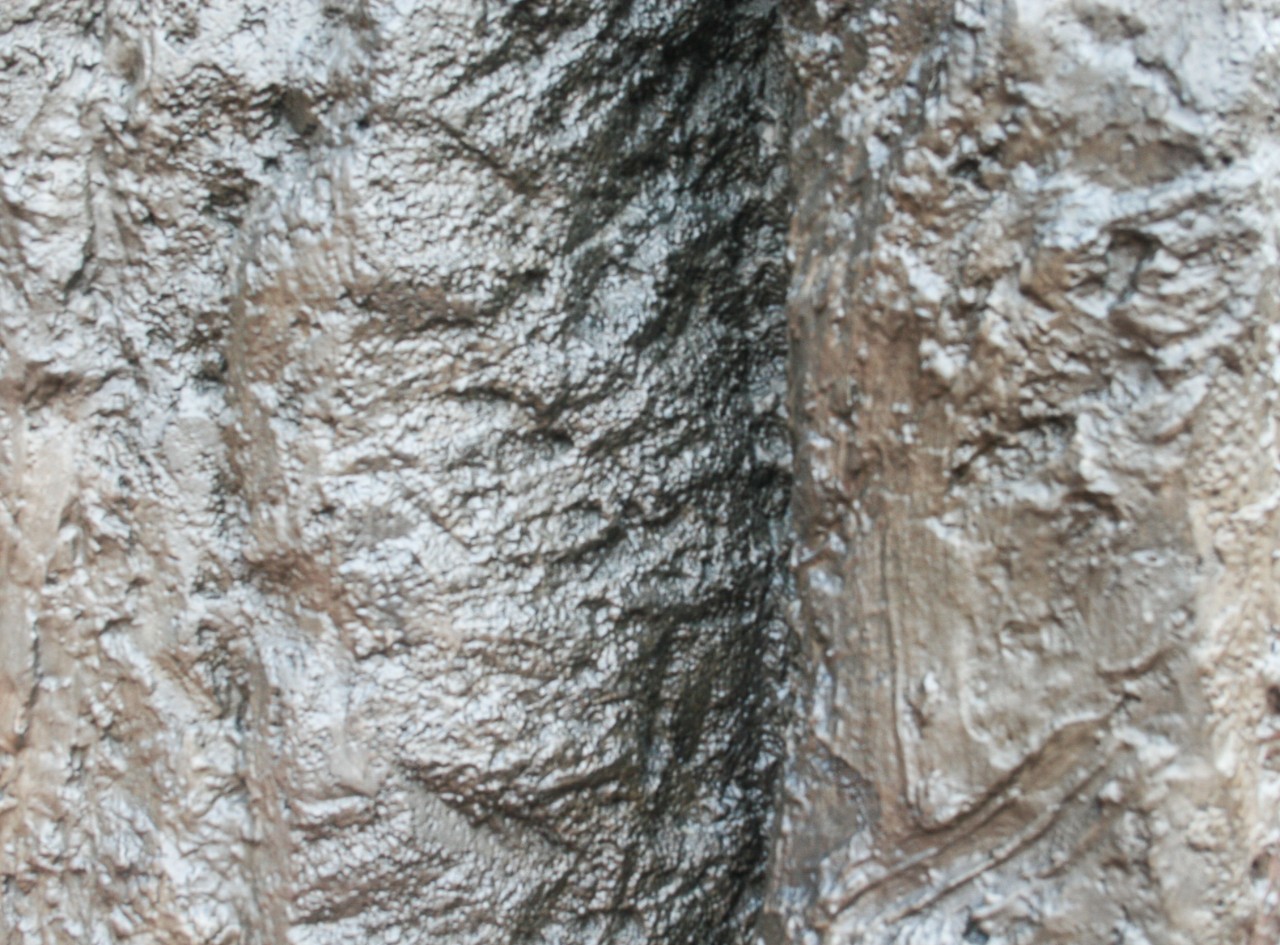 Abakanowicz is known for works that are evocative of nature. One of the artists imposing tree sculptures, Figura-Prima, marks the front entrance to Mary Emery Hall. It is a part of a series of similar forms called "Hand-Like Trees". 
Florence Nightingale Bust By Father Jerome Cox of Italy, 1996, Bronze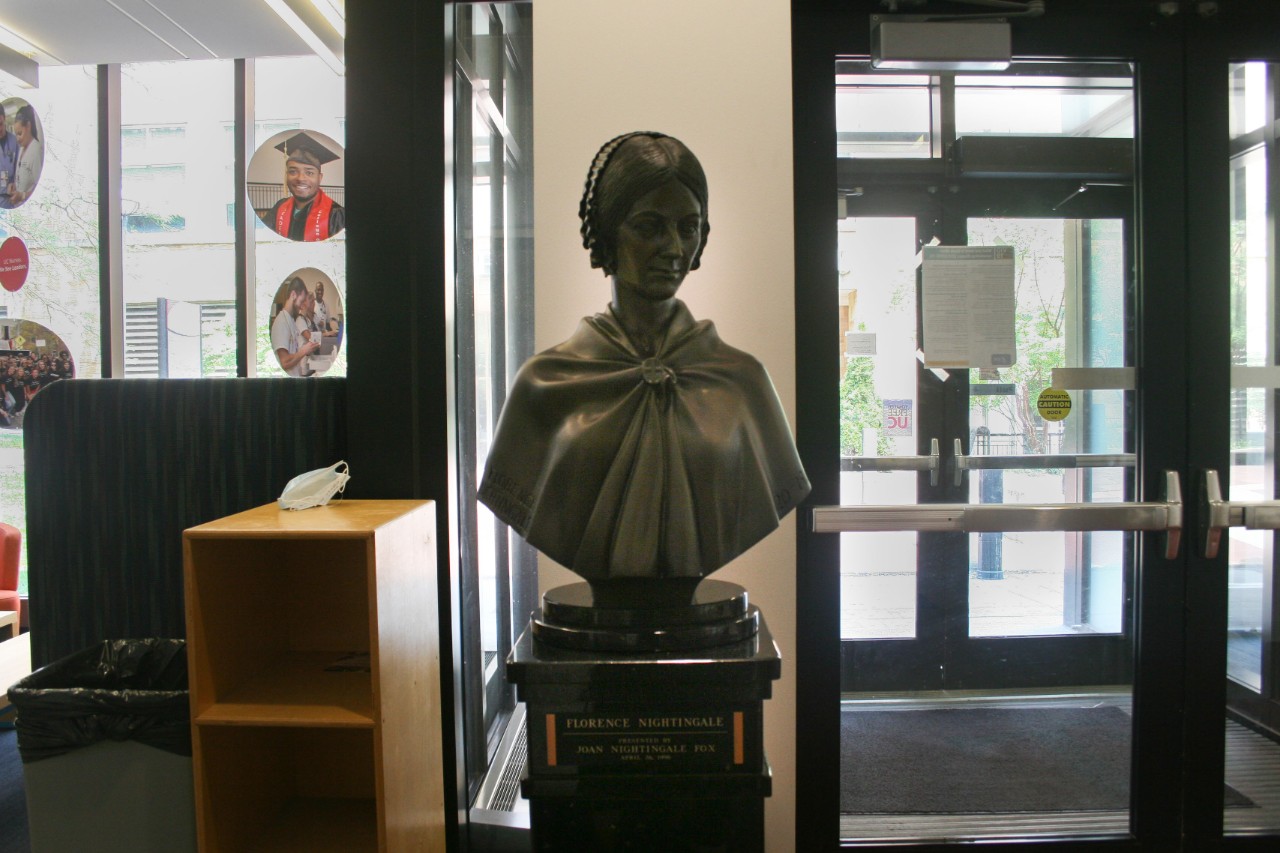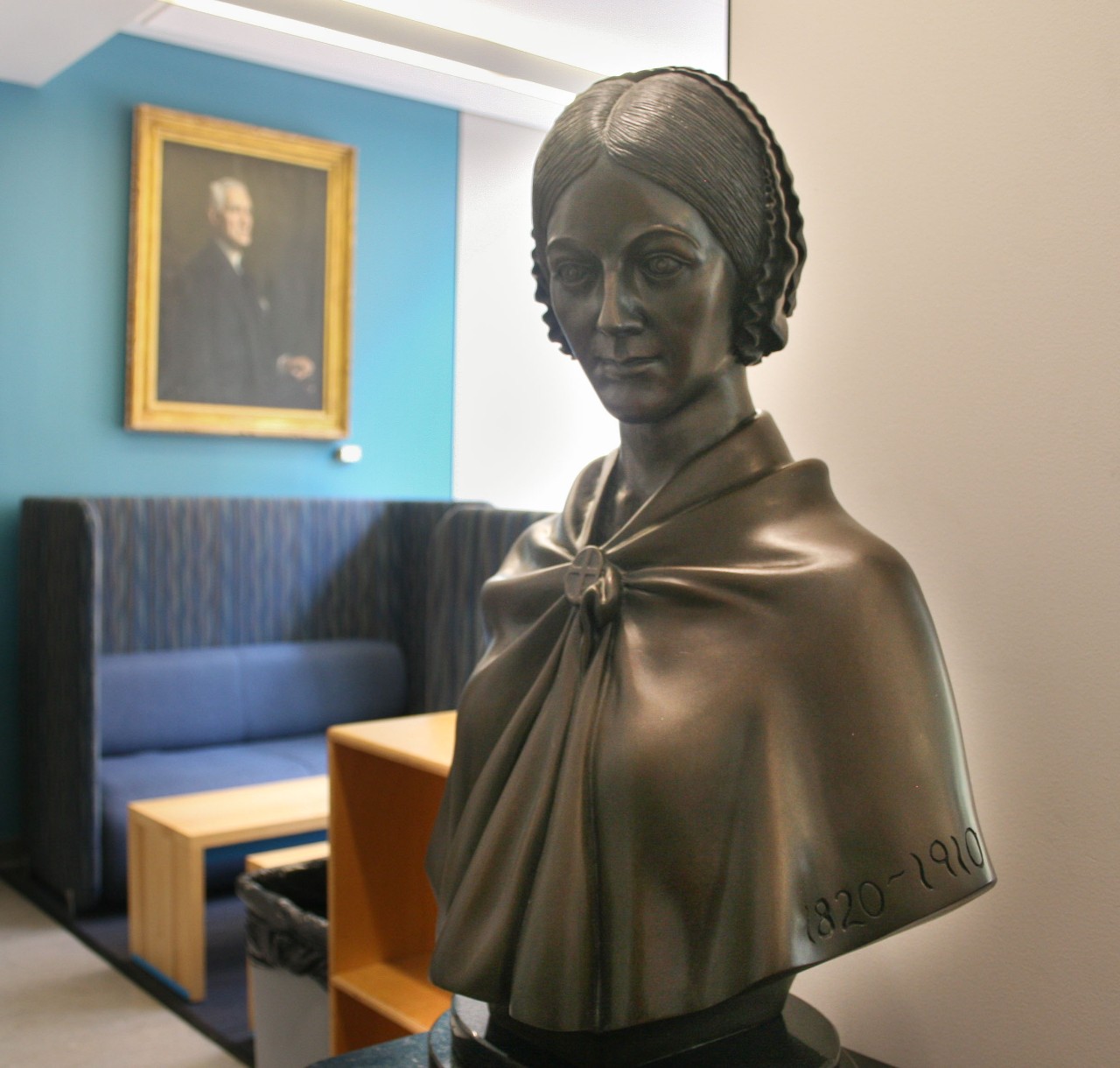 Gift of Florence Nightingale's great-grandniece, Joan Nightingale Fox and created by Father Jerome Cox. Cox was an esteemed sculptor and art educator known for his commissioned bronze sculptures throughout the US and Europe. The Florence Nightingale Bust is located Proctor Hall as a celebration of Nightingales contributions to sanitation and social reform earning her the title as the "founder of modern nursing."
Progression by Albert Paley, 1999 (dedicated in 2019), white painted steel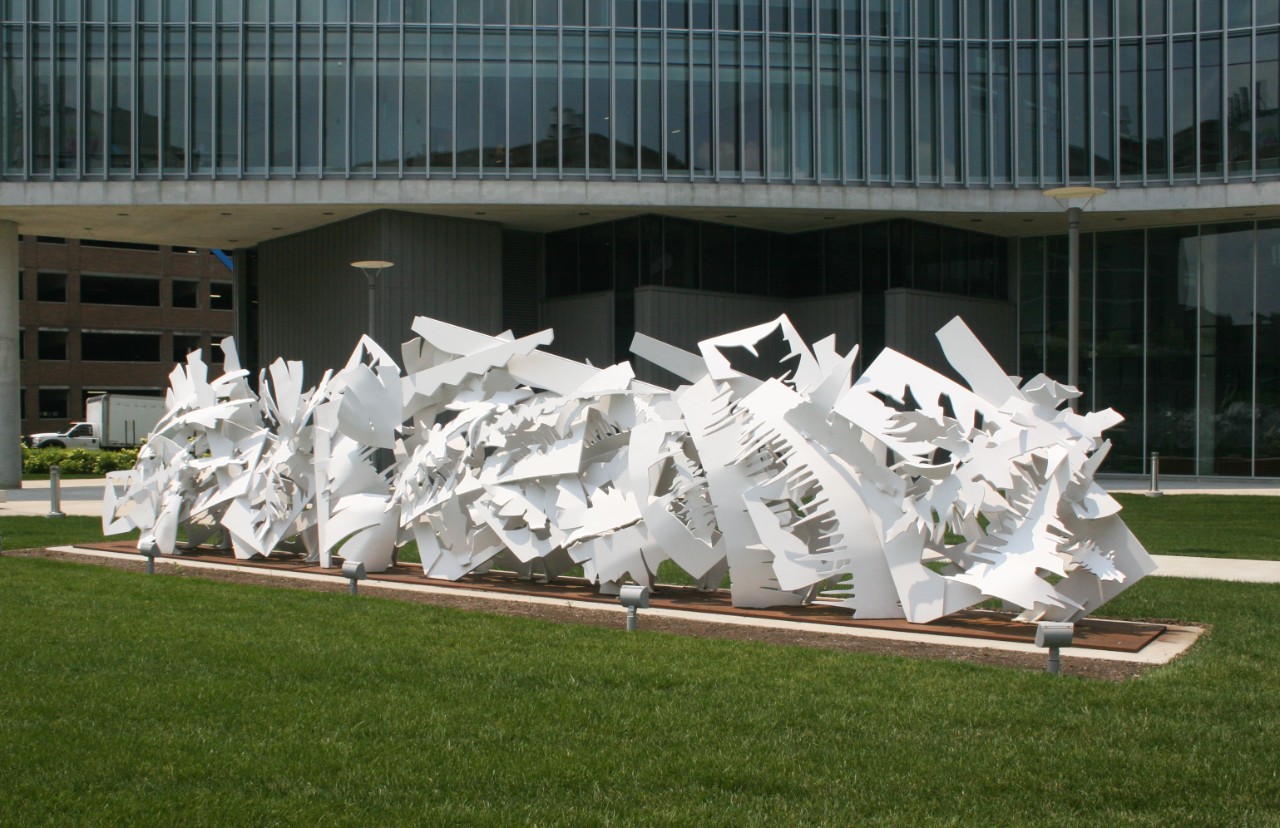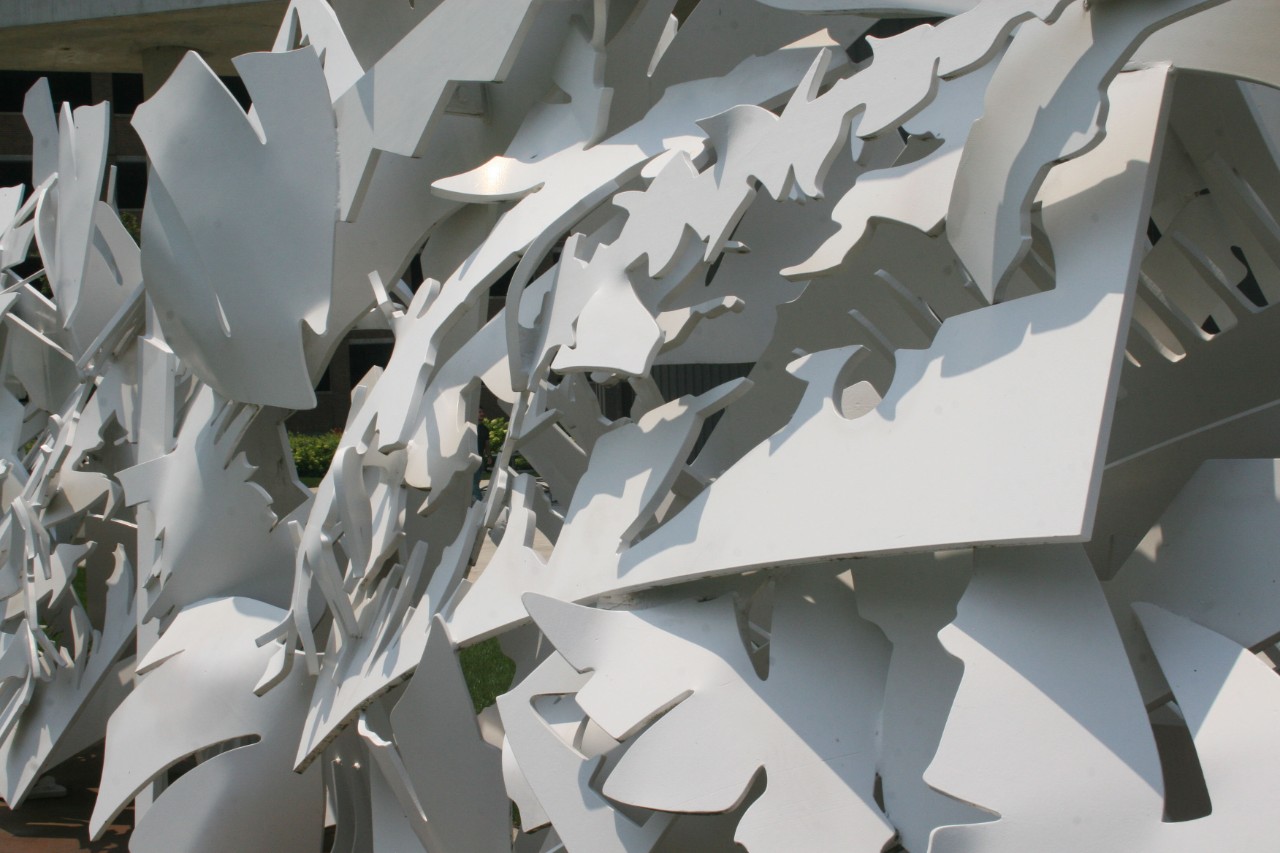 Paley completed 13 sculptures—including "Progression"—which were created specifically for his Paley on Park Avenue exhibition. The sculptures were installed in New York City between 52nd and 67th Streets and were on view from June 14 through Nov. 8, 2013. During a dedication ceremony for "Progression" hosted at the University of Cincinnati's College of Allied Health Sciences on Aug. 22, 2019, Paley shared that all his work is meant to add to viewers' experiences and encourage discussion and examination of personal meaning. Whether displayed in a massive metropolis or on a medical campus, his sculptures should bring attention to a location and moment in time.
Super Twister by Alice Aycock, 2013, Aluminum and Steel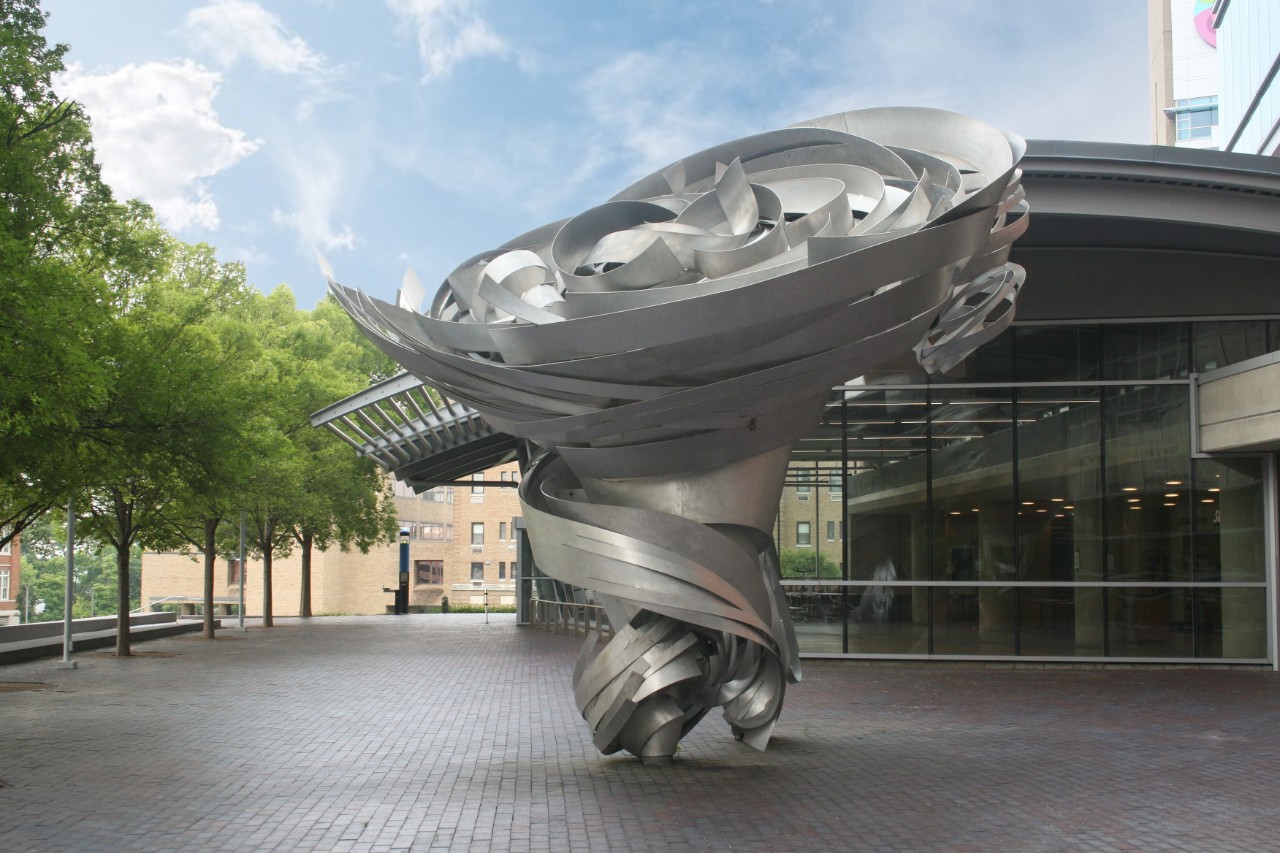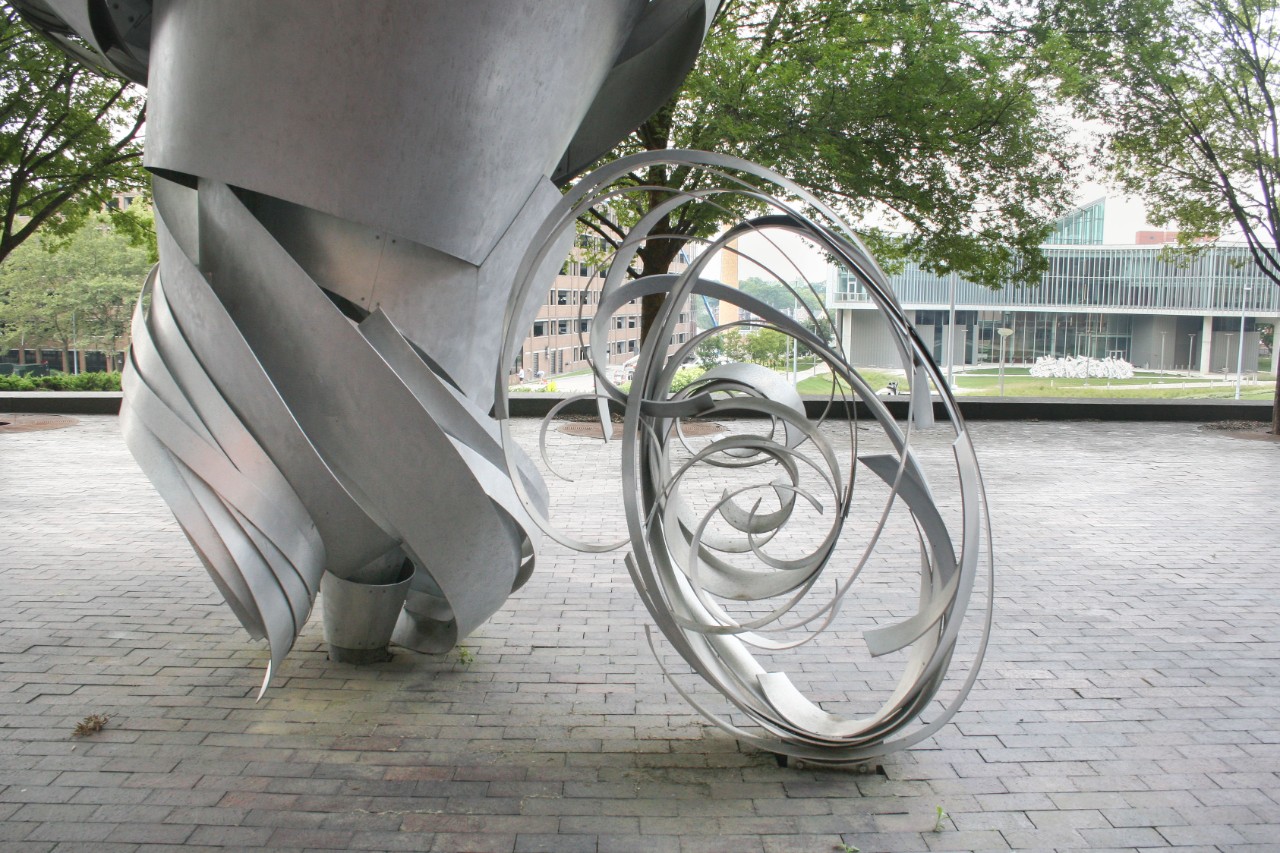 Created for the University of Cincinnati CARE building, Alice Aycock brings science and art together to represent the fury of intellectual activity that takes place within the walls of the building. In hopes of breaking down the dualities between the two disciplines, the sculpture represents chaos through its contradiction to traditional grid systems of intersecting lines. The metal strips build up in a chaos that simultaneously reflects the order that can be found within the building and the consistent movement forward. 
An Ethical Life by Sandra Gross and Leah Busch, 2016, Glass and Steel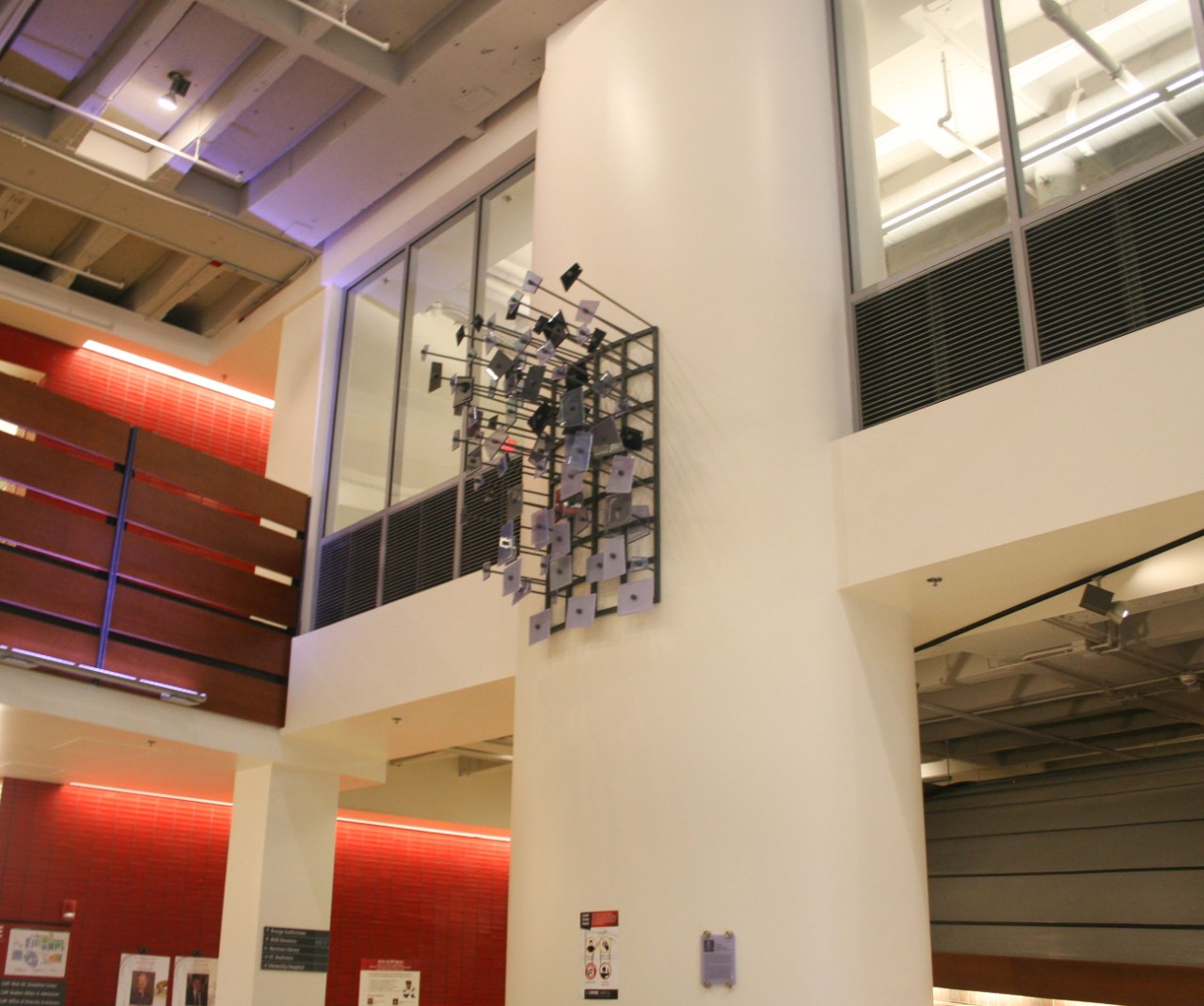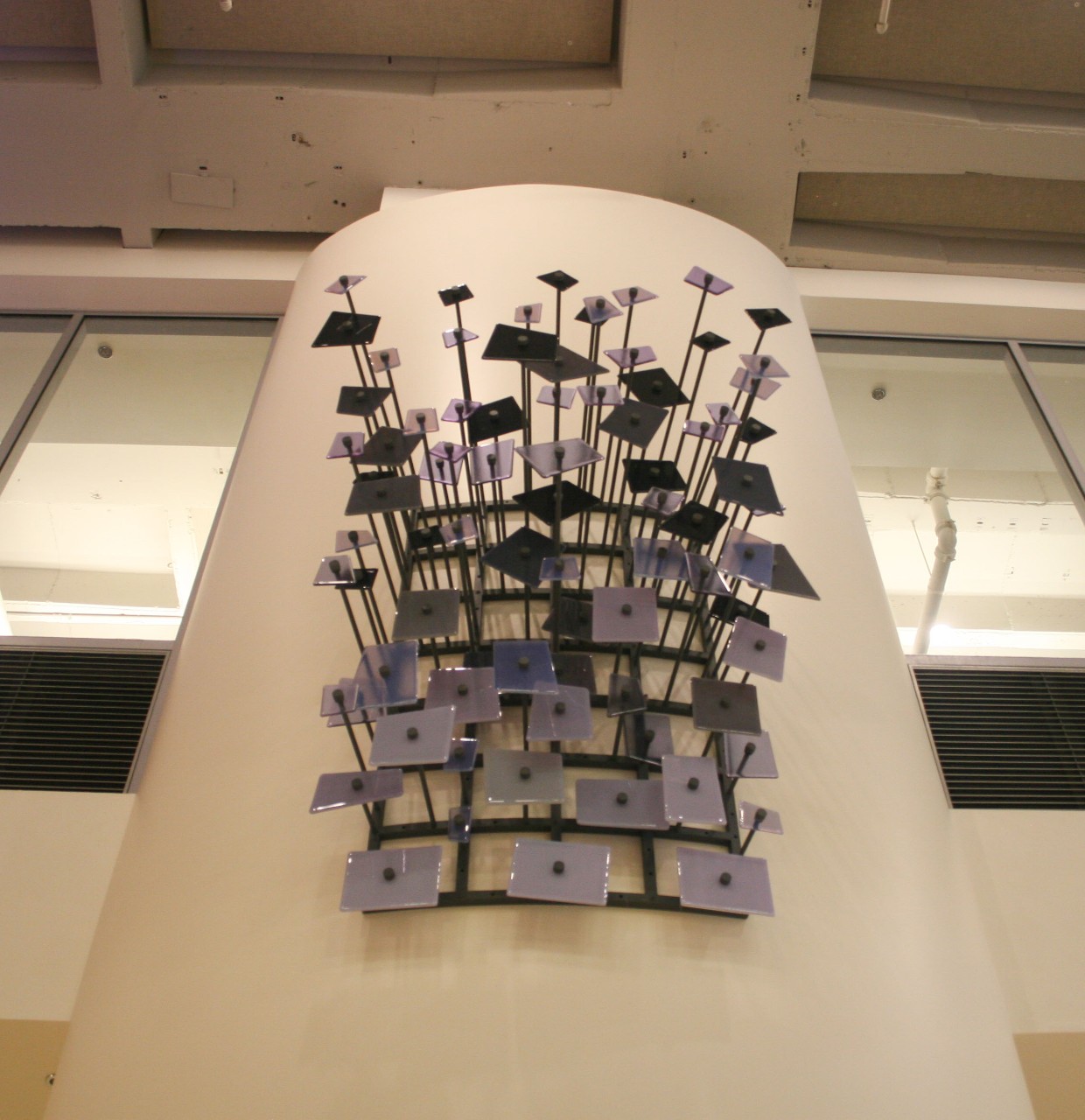 Created to honor Dr. John Hutton Sr., Sandra Gross and Leah Busch of Brazee Studios created this piece to honor Hutton's lifelong work in ethics and medicine leading to his outstanding contributions to the University of Cincinnati.
The Artist and His Model by Dana Saulnier, 1989, Oil Mixed Media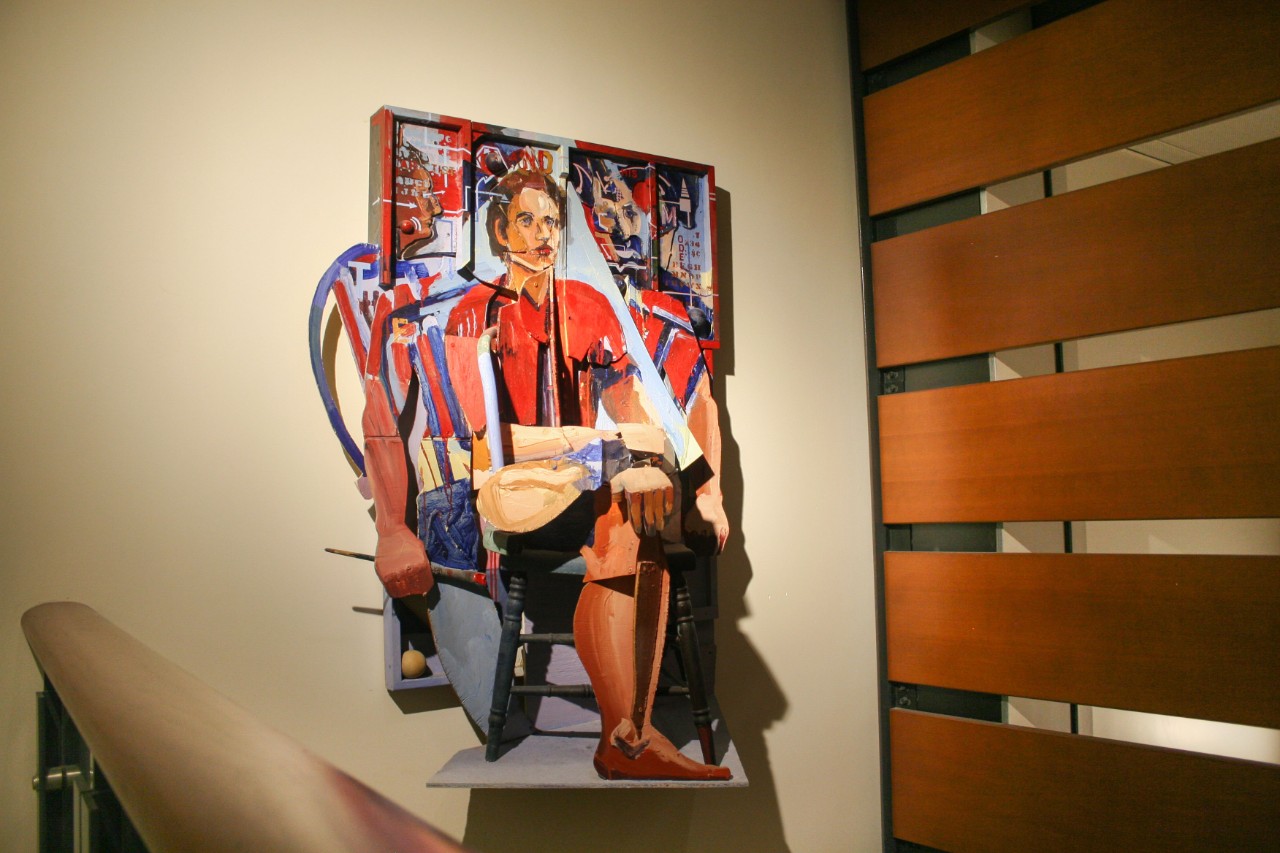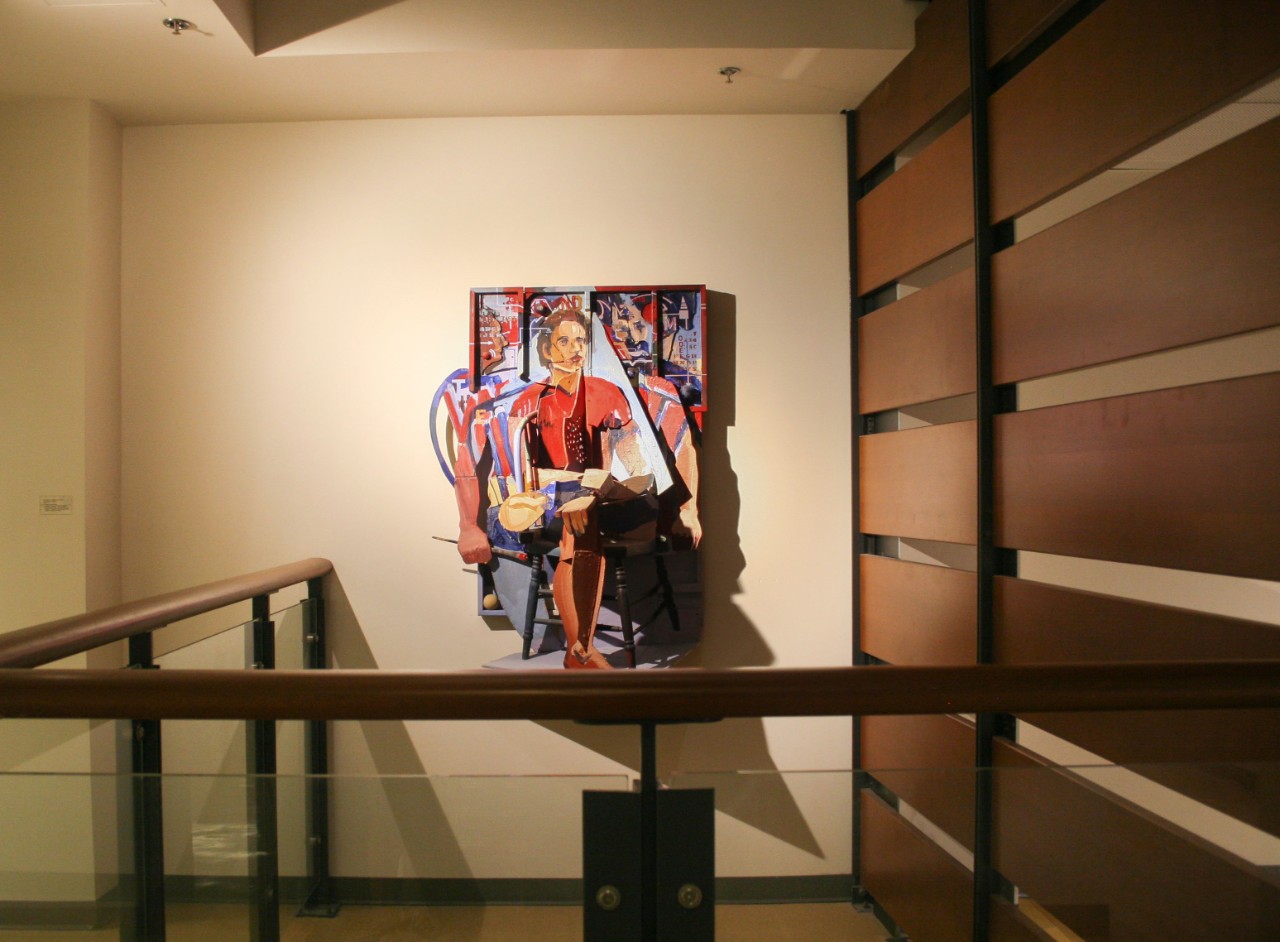 Depicting a seated young man in a moment of pondering, the Artist and His Model, presents an anatomical feel in which the figure is disjointed, with additional figures in the background. Local artist Dana Saulnier uses mixed media to represent the human body in both two and three dimensional forms.
Untitled by Joel Shapiro, 1995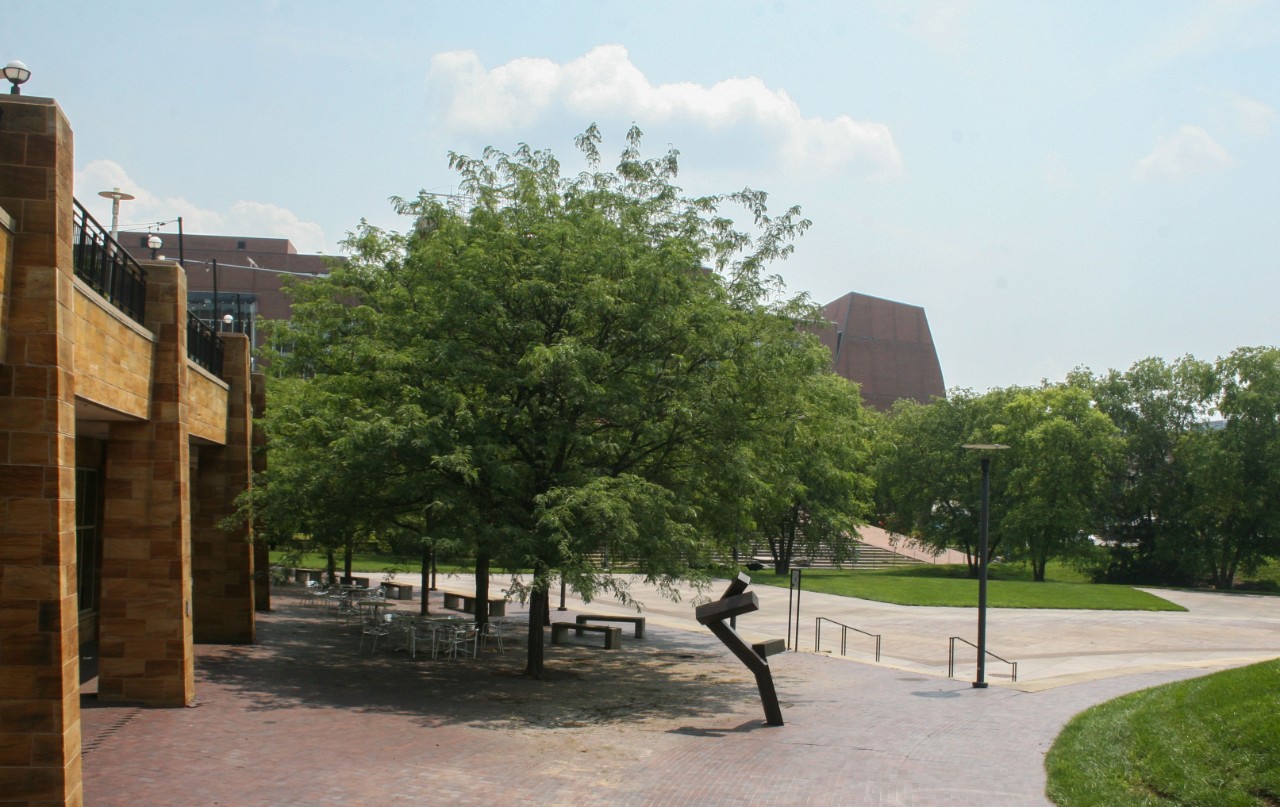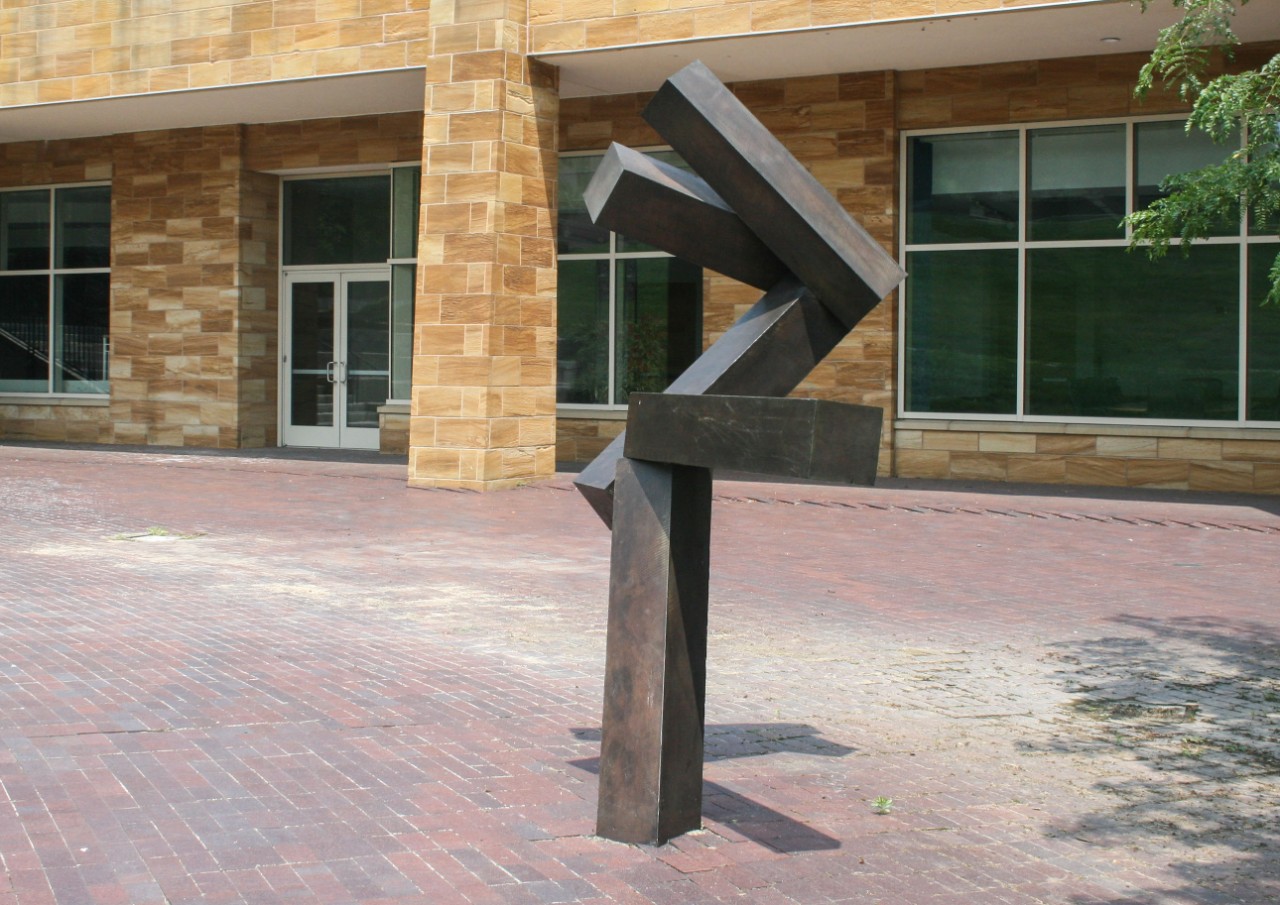 Shapiro creates abstract geometric sculpture that elicits a sense of movement and engages viewers' physical and psychological relationships with space. In his investigations of the expressive possibility of form and color in space, the artist suspends elements from the ceiling, wall, and floor, exploring the projection of thought into space without the constraint of architecture.