Bachelor of Science in Urban Studies
"Connecting People, Places, and Processes"
The Bachelor of Science in Urban Studies is a four-year multidisciplinary academic program that focusing on the past, present, and future of cities. This program uses a broad range of electives, project-based coursework, and internship options to give students hands-on, real-world experiences to prepare them to shape the future of urban life.
An Urban Studies degree prepares graduates for careers that help cities provide the civic, social, political, and cultural resources we all need to thrive. Students of urban studies explore physical cities, urban life, and the process of city growth. They may look at housing, healthcare, traffic, pollution, education, environmental sustainability, arts and culture, history, and other urban issues to help build our best urban future. The degree can be combined with certificates in Urban Planning, Urban Design, and Historic Preservation. When it comes to future employment, Urban Studies can be a solid foundation for careers in community organizing, non-profit leadership, city government, public administration, urban planning and design, environmental stewardship, policy analysis, social welfare, criminal justice, law enforcement, law, urban history, and urban education. Many also choose to pursue advanced degrees.
DAAP's Bachelor of Urban Studies program gave me the deep understanding of people and structures that make up cities necessary to effectively practice sustainability in my local community.
Urban Studies Student
Apply to our Bachelor of Science in Urban Studies Program Today
The University of Cincinnati's Bachelor of Science in Urban Studies program offers students a blended approach which bridges the visual, spatial, and analytical skills essential to high quality design with the inquiry, research, and writing of the humanities. The major allows students to utilize the unique features of DAAP, the University and the city at-large.

Interested in learning more? Request more information today!
Connect with our Urban Studies Program Coordinator: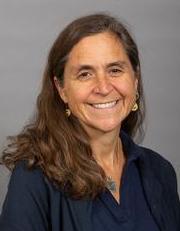 Anne Delano Steinert
Asst Professor - Research, A&S History
301B ARTSCI
Anne Delano Steinert studies public history and the history of the built environment with a focus on late-nineteenth and early-twentieth century Cincinnati. She is the founder of Cincinnati's Over-the-Rhine Museum and curator of the Look Here!, Schools for the City, and Finding Kenyon Barr exhibitions. At UC she has taught United States History II, Local History Research Methods, History of American Cemeteries, Introduction to Historic Preservation Planning (DAAP), History of Cincinnati, and Oral History Workshop. She has also taught The History of Housing in America at Xavier University. Steinert was co-creator, with Dr. Tracy Teslow, of the New Deal Neighbors oral history project. Steinert's dissertation, Standing Right Here: The Built Environment as a Tool for Historical Inquiry explores the built environment as a rich source for historians as they develop and investigate questions about the past.