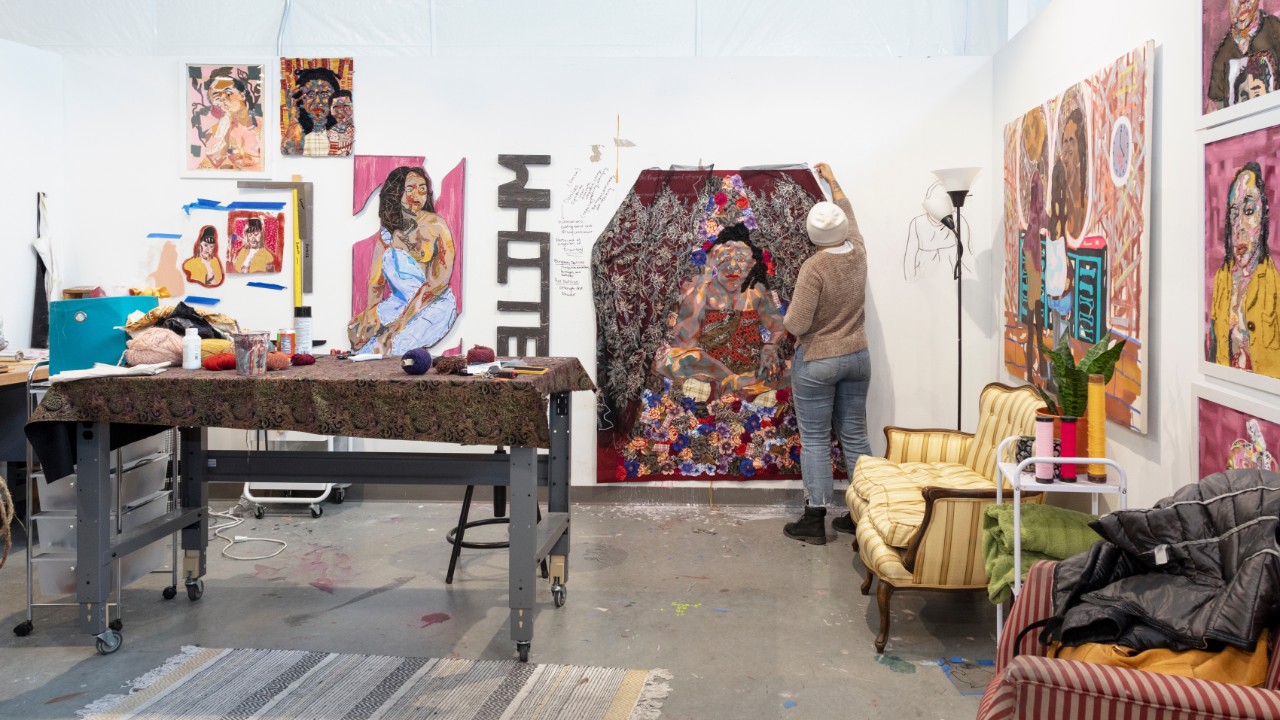 Art lives here.  

We prepare students to sustain careers as artists and scholars who will boldly change society for the better.
We champion equity and inclusion and the role of the visual arts in the greater community. We teach institutionally overlooked and repressed histories and challenge our students to deepen their understanding of diverse viewpoints and perspectives.
We provide courses in a broad range of subjects, access to state-of-the-art maker and lab facilities, libraries and galleries and the resources of a world-class research university.  Our students of fine art, art history, and art education learn from multi-faceted histories, practices, and philosophies of the visual arts. 
Our internationally recognized faculty, scholars, and visiting artists ensure that academic study in the arts will have a transformative effect on the lives of our students.   
We champion sustainable careers in the arts by offering three semesters of experiential learning or co-operative education to our BFA students.
Cincinnati's vibrant art scene serves as an extension of the classroom, offering exhibitions, research sites, public artworks, and student internships at art museums and other institutions in order to create an educational environment that supports both reflection and action.
Commitment to Diversity, Equity and Inclusion
The School of Art champions a culture of inclusiveness.  We recognize that different ideas, perspectives, and backgrounds create a stronger and more impactful educational environment.  We are unified in our commitment to excellence and social responsibility, which go hand-in-hand with empowering students, staff, and faculty to share their experiences and ideas. We acknowledge that to be engaged, you must feel valued, and that diversity drives innovation.
The School of Art provides a student-centered, multi-faceted encounter with the history, practice, and philosophy of the visual arts.  It champions equity and inclusion and the role of the visual arts in the greater community. We are committed to the development of fundamental skills and knowledge in studio practice, theory, history, culture, and research coupled with in-depth, advanced studies in contemporary practices. We are housed within the renowned College of Design, Architecture, Art, and Planning widely known for a unique learning experience where experiential learning, cooperative education and an exhilaration for dynamic practice and research ensures that academic study will have a transformative effect on the lives of our students. Fine Art undergraduate students engage in 3-semesters of experiential learning or co-operative education.  

Rather than requiring students to declare a studio concentration, we offer a cross-media curriculum that encourages students to focus on the development of their work through contact with internationally recognized faculty and visiting artists.  Our School engages with the thriving and growing city of Cincinnati through exhibitions, public artworks and student internships at art institutions, firmly supporting the Urban Pathway of UC's Next Lives Here strategic direction. 
The School of Art offers degrees in:
Studio facilities include:
Laboratories for wood, metal, ceramics and plastic
Foundry
Fully-outfitted photography area with traditional black/white, color, and digital printing facilities
Lithography, etching, screen printing laboratory
Computer Graphics Center that offers state-of-the art computers with extensive software libraries
State-of-the-art Rapid Prototyping Center for 3D printing, computer controlled milling, and laser cutting
Experimental technology laboratory that houses additional 2D and 3D input and output equipment in an environment that encourages exploration and the development of new processes
The School of Art hosts the Elise Zeller Sauer Fund for Fine Art and the Agnes Croll Blackburne Visiting Artist Lecture Series that enables our students to interact with nationally and internationally recognized artists.
Our students find themselves steeped in a rich academic and creative environment both on and off campus - from signature architectural buildings on campus to an active and growing art scene with international programming at the Contemporary Art Center, the Cincinnati Art Museum, and the Taft Museum of Art. Additionally, Cincinnati boasts an active local art scene with many artist-run spaces with dynamic, challenging programming.
As part of the College of Design, Architecture, Art, and Planning, the School of Art programs are accredited by the National Association of Schools of Arts and Design (NASAD).
School of Art
College of Design, Architecture, Art, and Planning
6431 Aronoff
University of Cincinnati
PO Box 210016
Cincinnati, OH 45221-0016
P 513-556-2962
F 513-556-2887
For more information email:
Emily A Paolucci
,
Program Director of Administration for the School of Art and the School of Planning