Evidence-Based Design and Design Research
The Master of Design (MDes) is a emphasizes systematic approaches for applying research methods to study, define, propose, prototype, and evaluate design projects that respond creatively to complex & open challenges. We prepare our students to take leadership roles in their work after graduation.
The Master of Design (MDes) program is an accredited, multidisciplinary STEM experience with a curriculum that is rooted in evidence-based design and design research.
The MDes program exists across multiple fields of design, including User-Experience (UX), Communication, Industrial, and Fashion Design. Students from multidisciplinary backgrounds develop systematic solutions to complex problems through rigorous research protocols, research methods for exploration, validation in the design process, and dissemination of research. MDes is considered a "terminal" degree in the United States, necessary for teaching positions at the college level.
The MDes program was one of the few I found that created space for me as a non-traditional designer to explore my interests in customer experience (CX) using design methodologies. The program's interdisciplinary design requires students to explore other disciplines, work collaboratively and practice systematic thinking over a singular product or service development.
James Avant, 2nd Year MDes
Apply to our Master of Design Program Today
The University of Cincinnati's Master of Design program features an multidisciplinary experience and a proven curriculum. Interested in learning more? Request more information today!
Connect with our MDes Graduate Program: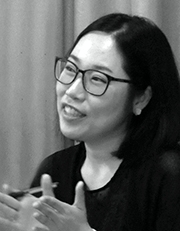 Heekyoung Jung
Master of Design Program Director , DAAP School of Design
4418 Aronoff Center
With a background in Human-Computer Interaction Design, Heekyoung Jung specializes in the design of information and product systems that simplify human experience with engaging user interfaces and empower human through creative and reflective practice. Her work extends to applying design as an exploratory and provocative method to investigate and reimagine the entangled relationship between humans and technology. She aims to cultivate aesthetic awareness through design research and education by unraveling entangled perspectives in complex system design, revealing hidden tensions, and visualizing invisible values. Her research interests include but are not limited to:
Creativity support for systematic form-making centered on aesthetics and values,
Enhancing the expressiveness of human-computer interfaces through sensory integration,
Development of use cases for human-machine collaboration,
Linking design theory and practice by connecting the changing paradigms in HCI research.
Heekyoung Jung publishes and reviews papers for ACM Conferences on Human Factors in Computing Systems (CHI), NordiCHI, Designing Interactive Systems (DIS) and Tangible, Embodied, and Embedded Interaction (TEI), Design Studies, and the International Journal of Design. Her recent projects are updated 
here
.