Welcome to DAAPcamps Day Camps for Summer of 2021!
DAAPcamps began in the summer of 2011.  It has grown each summer and now hundreds of students join us from all over the country and internationally to explore the disciplines at DAAP. The Camp Leads are comprised of faculty and professionals in the individual industries of Fashion Design, Industrial Design, Graphic Communication Design, Architecture and Interior Design, Fine Art and Digital Film-Making.

For the Summer of 2021, we are slowly getting back to in-person environments in our lives and this year, Day Camps will be our only in-person option for camp as there will be no residential offerings.  Therefore, we have brought our standard residential camp offerings into the Day Camp format as well. Studios are comprised of a combination of hands-on work, visits with professionals, individual and team problem-solving and design initiatives and more. Lunches are "pack your own" and gives the group an opportunity to walk to outside venues on campus with Camp Student Workers for a relaxed lunch experience while also getting to learn more about the world-renowned UC campus!
The camps run Monday through Friday on the week designated below and timing is from 9am until 5pm and Middle School runs 9:30am-4:30pm daily.
Come spend the week with us!
This year's DAAPcamps In-Person Day Camp Offerings are:
Held the Week of June 21-25 
For: Rising 11th and 12th Grade Students
Camp Lead: Stephen Slaughter
Do you love buildings, inside and out? Are you interested in designing structures and interior spaces? Then the Architecture & Interior Design DAAPcamp is the perfect place for you to be this summer! This camp mixes hands-on design projects, discussions with working architects and interior designers, plus individual attention from UC faculty and current or recently-graduated DAAP architecture students, all while giving you a taste of college life. So join us, and create a unique experience exploring the worlds of Architecture and Interior Design.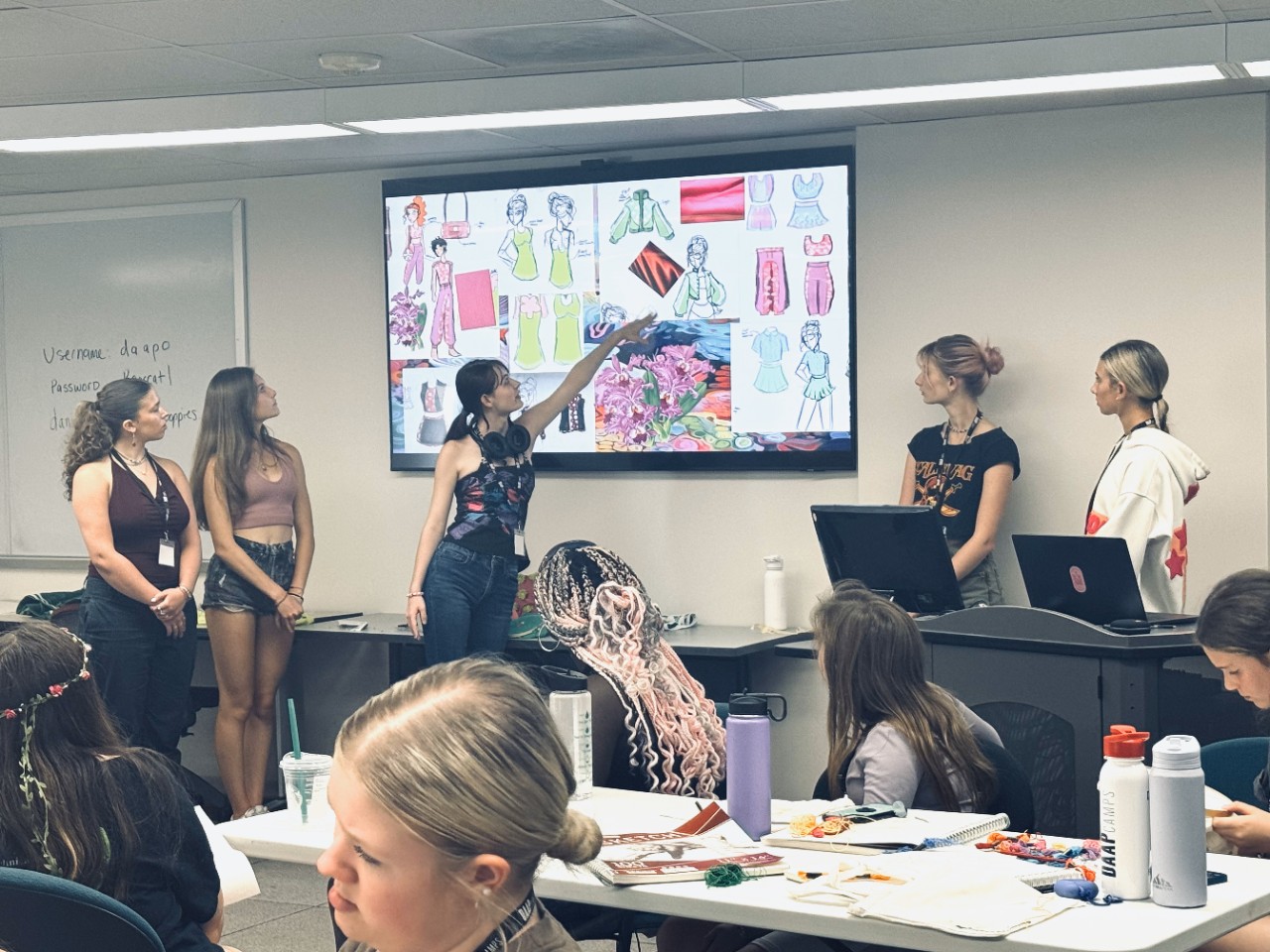 Held the Week of June 21-25
For: Rising 9th, 10th, 11th, 12th Grade Students
Camp Lead: Mike Gasaway
Do you dream of making a movie? Are you always creating videos with your phone? Join us and receive hands-on instruction by UC instructors, such as Camp Lead Mike Gasaway, Creative Animation Director for Jimmy Neutron, the movie!  You will learn from real-world experience as they explain the world of movie-making using the latest equipment and technology. (Very different than your phone!) Learn the full process of making a narrative motion picture, from screen-writing to post-production as you work together on a short motion picture to be screened at the end of Camp Week!
Held the Week of June 7-11
For: Rising 9th, 10th, 11th, 12th Grade Students
Camp Leads: Stephanie Wood and Calle Evans
If you find yourself "noticing" fashion—sketching ideas, being inspired by color and fabric, always thinking "I have an exciting idea for a look that has never been created!"—then an education and career in Fashion Design is for you!  DAAPcamp is the place to explore the Fashion Design process through an immersive week-long experience that investigates fashion theory, conceptual development and technical realization. Learn the tools required of contemporary fashion designers as you develop and craft creations that showcase your unique design voice as the Future of Fashion.
Held the Week of June 21-25
Intended for: Rising 9th, 10th, 11th, 12th Grade Students
Camp Lead: Edward-Victor Sanchez
This is an intensive drawing, painting, and sculpture studio where campers will develop artistic skills and express their own individual creativity as they work from their imagination and copy works of great masters. Campers will go to diverse sites on campus to draw and paint and will have the opportunity of talking with working artists. Along with expanding their skills in tone, color and proportion, they will learn about major art movements throughout history.  
Held the Week of June 7-11
Intended for: Rising 10th, 11th, 12th Grade Students
Camp Lead: Patti Bresler
Learn the fundamentals of type, photography, color, imagery and motion so that you can connect your ideas and messages to people. Meet award-winning graphic designers  and learn how to use the tools of design to make your own and collaborative 2D and digital media projects. Students will utilize DAAP's facilities and studios to create unique graphic projects. Introduction to Adobe suites software Illustrator and Photoshop.
Held the Week of June 21-25
Intended for: Rising 9th, 10th, 11th, 12th Grade Students
Camp Lead: Josh Haldeman
This program is designed to afford discovery and/or enhancement of the student's understanding of the field of industrial design as well as the opportunities that the world-renowned Industrial Design program at DAAP has to offer. Through this course, students will get a sampling of the full DAAP experience, including: Live Q&A with DAAP faculty, staff and students, Tours of the DAAP library, studios, labs, shops, open spaces, and more, tutorials and demos from UC ID alumni currently working in the field, Professional design office tours from around the country, Lectures from a variety of design leaders and other industry experts, and social interaction and project/problem-solving with other like-minded participants.

Students will use these resources and more to complete a real-world design challenge that will culminate in the creation of a physical real-world product. This challenge will walk you through the steps of a design process, including: Identifying and defining problems, conducting design research, brainstorming ideas, creating 2D sketches and 3D models, evaluating ideas through testing, creating your physical product and presenting your solution. 
Held the Week of June 7-11
Intended for: Rising 6th, 7th, and 8th Grade Students
Camp Lead: Edward-Victor Sanchez
Very often the beginning of an interest in a creative academic or career pursuit has it's seeds planted in Middle School. Pure creativity and joy come from expressing oneself through artistic activities and projects. The DAAPCamps Middle School Day Camp is for rising 6th through 8th-graders and features a variety of projects that expose the campers to various mediums and techniques. The Middle School Day Camp runs from 9:30am until 4:30pm and keeps campers engaged and inspired. This camp will promote conversations and teamwork among the participants and will give you the opportunity to receive personal feedback on how to develop and enhance your craft and skills. Our Camp Crew for Middle School are in tune with this stage of creative exploration and will motivate and encourage campers to explore and experience! Bring your friend, sign up for Middle School Day Camp!