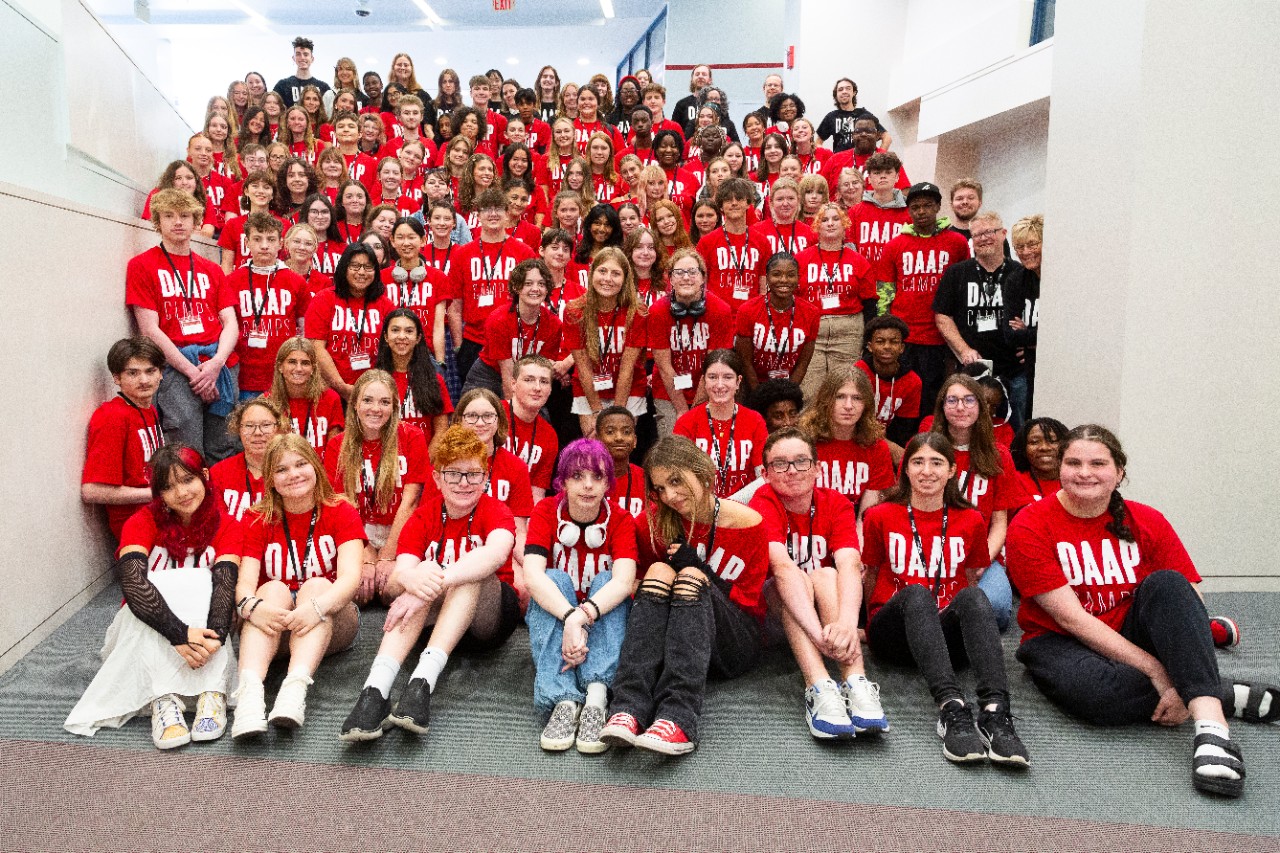 DAAPcamps began in the summer of 2011. It has grown each summer and now hundreds of students join us from all over the country and internationally to explore the disciplines at DAAP.  The Camp Leads are comprised of faculty and professionals in the individual industries of Fashion Design, Industrial Design, Shoe Design, Graphic Communication Design, Architecture and Interior Design, Fine Art disciplines, and Animation and Digital Film-Making.

For the Summer of 2023, we are once again offering in-person camps! Studios are comprised of a combination of hands-on work, visits with professionals, individual and team problem-solving and design initiatives and more.  Come spend the week with us!
*Registration for DAAPcamps 2023 is now closed.
If you have registered for a Middle or High School Day Camp please complete the linked Day Camper Forms before Monday, May 22, 2023: REQUIRED DAY CAMPER FORMS
Please also note, lunches must be brought from home during Day Camps and are not provided by the camp. 
The Week of June 12-16, 2023, 9am-5pm daily
For rising 9th, 10th, 11th and 12th grade students
High school day camps give another opportunity for rising high school freshmen, sophomores, juniors, and seniors to have a closer look at the skills utilized in various creative careers. Day DAAPCamps are offered in Digital Movie-Making, The Art and Business of Fashion, Drawing Intensive, City Transformers (Urban Planning), and Textile Design (new subject-matter is considered on an annual basis and we will update if added). 
Each camp is predominantly hands-on studios but also includes fieldtrips, speakers, and more. Grab a friend and come spend the week with us!
**Lunches are brought from home each day.
Join us for a week-long adventure investigating and experiencing the excitement of the fashion industry. Experience what it is like to dream up an idea for a fashion-related product or business, and then translate it into a viable opportunity. Learn about the "inside" of the business from professionals in trend research to creative marketing to social media influencing and fashion events. Express your personal style creativity with the Business of Fashion.
Camp Lead: Calle Evans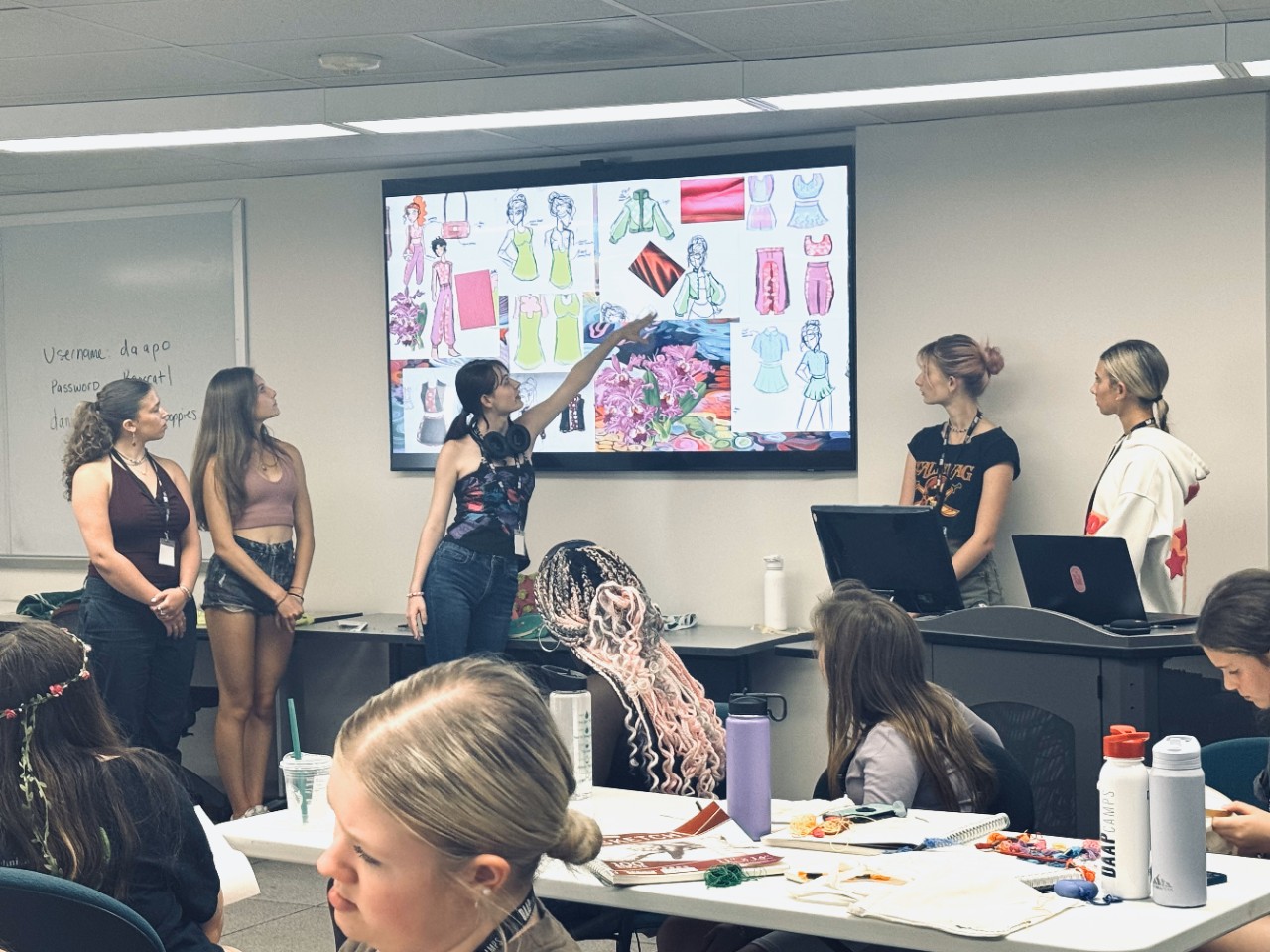 Do you want to make a difference in the world? Did you know that more than half of the world lives in urban areas? Join us and fellow urban transformers for a week-long exploration of our cities and how they work, how they can change, and what is your role in it! Visit public parks and gardens. Meet community leaders, activists, and practitioners. Explore Cincinnati. Create your own maps and city models using digital and 2D and 3D media at the Urban Transformers Day Camp.
You'll learn what it takes to change positively your community and create livable and sustainable cities. Change the world with us!
Camp Lead: Danilo Palazzo
Do you dream of making a movie? Are you always creating videos with your phone? Join us and receive hands-on instruction by UC instructors, such as Camp Lead Mike Gasaway, Creative Animation Director for Jimmy Neutron, the movie!  You will learn from real-world experience as they explain the world of moviemaking using the latest equipment and technology. (Very different than your phone!) Learn the full process of making a narrative motion picture, from screenwriting to post-production as you work together on a short motion picture to be screened at the end of Camp Week!
Camp Lead: Mike Gasaway
Whether your passion is graphic design, architecture, interior design, fashion, animation, or any other design discipline, excellent drawing skills will be your constant companion. This camp will provide you with the opportunity to explore a wide range of drawing experiences, including cast drawing, figure drawing, drawing with color, and master copies. No prior experience is needed. All work produced during your week in the Drawing Intensive will be geared toward supplementing your portfolio for future school or scholarship/award applications that may be in your future. Come Draw With Us!

Camp Lead: Samantha Haring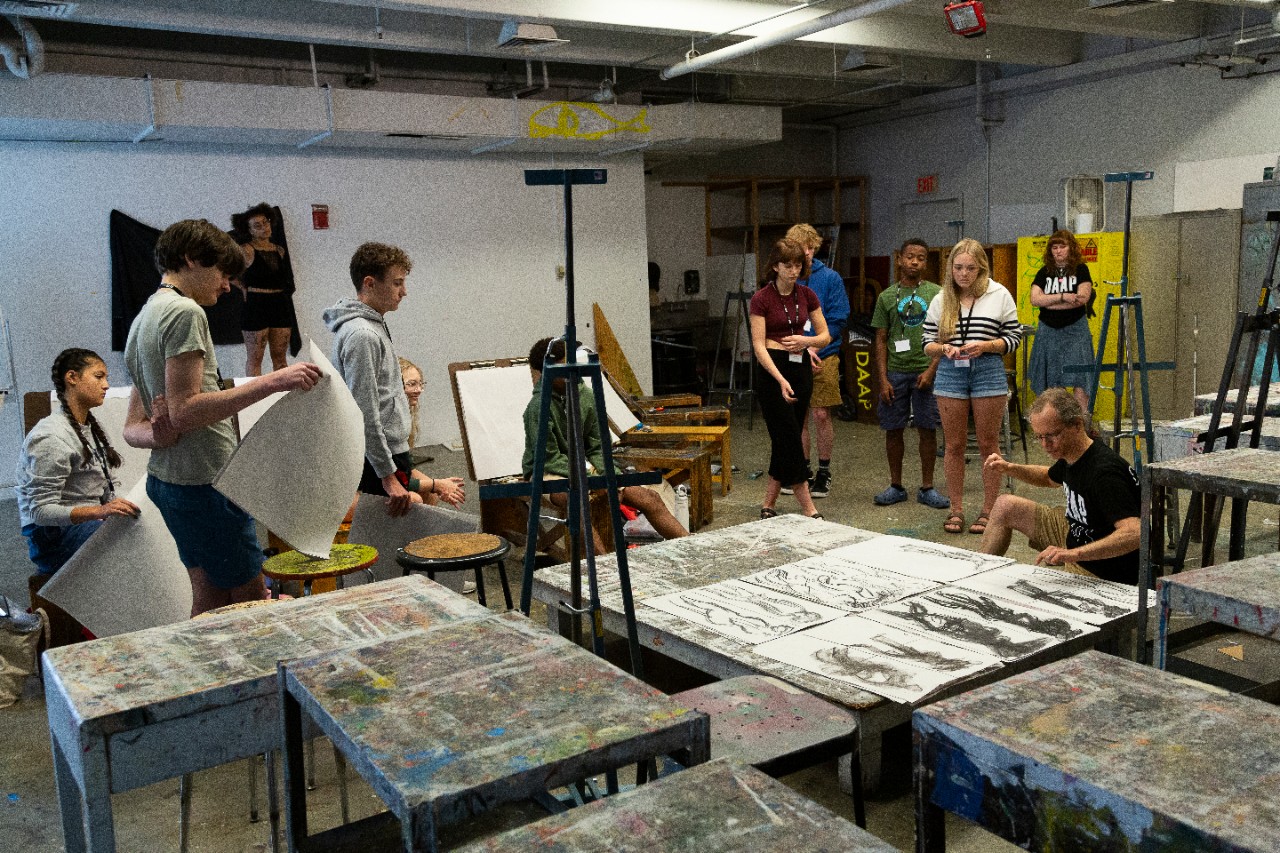 The Textile Design Day Camp gives campers the opportunity to explore an array of both hands-on and digital methods of textile design applications, including fabric weaving, knitting, surface design and printing, dyeing, embroidery and more! Campers will learn the basics of textile studies and will also have exposure to the DAAP Fashion Textile Innovation and Knitting Labs. Throughout the week they will learn the basics of taking an idea and translating in into an original textile creation, coming away with a new set of textile design skills and exploring career opportunities along the way!
Camp Lead: Stephanie Wood
The Week of June 12-16, 2022, 9:30am-4:30pm daily
For Rising 6th, 7th and 8th Grade Students
Very often the beginning of an interest in a creative academic or career pursuit has its seeds planted in Middle School. Pure creativity and joy come from expressing oneself through artistic activities and projects. The DAAPCamps' Middle School Day Camp is for rising 6th through 8th-graders and features a variety of projects that expose the campers to various mediums and techniques.  The Middle School Day Camp runs from 9:30am until 4:30pm and keeps campers engaged and inspired.  This camp will promote conversations and teamwork among the participants and will provide the opportunity to receive personal feedback on how to develop and enhance craft and skill. Our Camp CREW for Middle School are in tune with this stage of creative exploration and will motivate and encourage campers to explore and experience! Bring your friend, sign up for Middle School Day Camp! 
**Lunches are brought from home each day.
Camp Lead: Edward-Victor Sanchez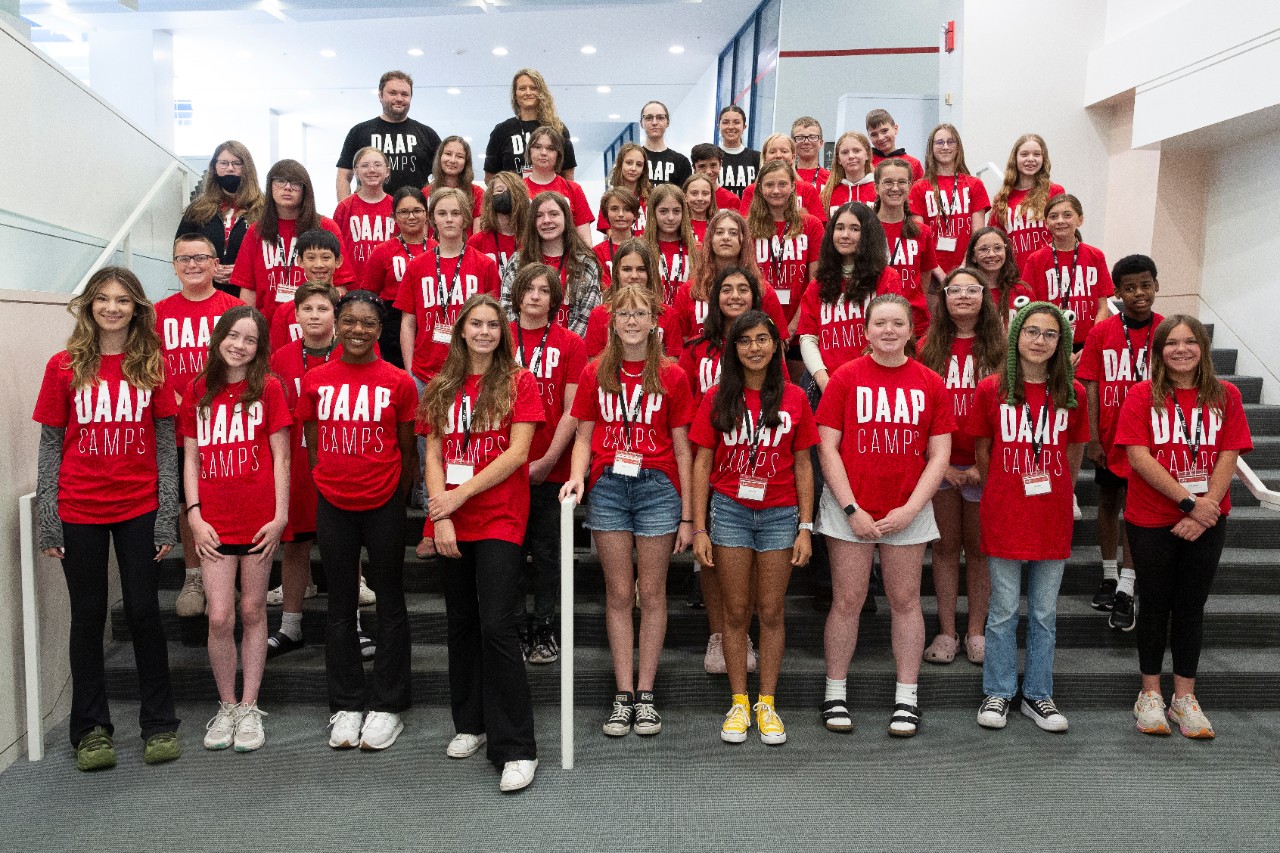 The Experience DAAP Sampler Camp
June 12-16, 2022, 9am-5pm daily
For rising 9th, 10th, and 11th grade students
The DAAP Experience is a sampler camp for students just wanting an overview and a short dive into of the various disciplines offered at DAAP, including some of the foundational aspects that underscore all curriculum. Each day will be divided into morning and afternoon sessions and each session will include an overview, a discussion with a professional in the field, a Q &A and a hands-on experience if it is applicable.  You will also experience foundational aspects such as drawing, sketching, problem-solving individually and in small groups.  Come prepared for insights and discovery.  Disciplines discussed will include Graphic Design, Industrial Design/Shoe Design, Fashion Design, Urban Design, Interior Design, and more.  Remember, we are only highlighting these topics in a few hours each.  If you feel that you want to dig deeper and understand at a deeper level, please sign up for one of the virtual or in-person camps in a specific subject or discipline of design.  We are looking forward to launching this new sampler camp this summer! 
** Lunches are brought from home each day.
Camp Lead: Daily guests/leads are teachers or professionals in each field explored
C.A.M.P.  Cincinnati Architecture Mentoring Camp
July 9 – July 15, 2023
For rising 8th and 9th grade students
C. A. M. P. is a unique opportunity for middle school students that is separate from DAAPcamps. Architects design the world in which we live, work, and play in and they affect our daily lives in many ways. This camp is a great way to experience what life would be like as an architect or interior designer. The week-long camp experience is for students who will be entering 8th or 9th grade next fall and runs during the day, Monday through Friday, with an exhibit of work and celebration on Saturday.  
During the camp, students will explore the creative process of designing buildings through hands-on group projects incorporating drawing exercises and model-building activities.  These will be organized and facilitated by UC's School of Architecture and Interior Design faculty, students, and area architects.  The students will have the opportunity to tour architects' offices and visit some great buildings on UC's campus and throughout Cincinnati.
The C.A.M.P. is pleased to be able to present this unique experience in partnership with the local chapters of the American Institute of Architects, National Organization of Minority Architects, and the University of Cincinnati's School of Architecture and Interior Design.  The C.A.M.P. program was formed in 2006 to improve diversity in the field of Architecture and receives generous funding support from the local architecture community and committed individuals.
The program partnership this summer will be with The Cincinnati Zoo and Botanical Gardens.  We hope you can join us!
Camp Lead: Melanie Swick
To find out more about the C. A. M. P. opportunity and to apply for acceptance, please visit: Cincyarchcamp.org