DAAP Directory: School of Design
< Back to list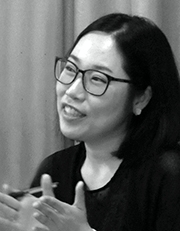 Heekyoung Jung
Title: Assistant Professor
Office: 4418 Aronoff Center
Tel: 513-556-2056
Email: heekyoung.jung@uc.edu
Web: hkjung.com
Heekyoung Jung is assistant professor of Interaction Design in the School of Design at University of Cincinnati, USA. She has worked on theoretical foundations of digital form and materiality as core concepts of interaction design in her dissertation, and published related design studies at ACM TEI and NordiCHI. As interaction designer and researcher, currently she is teaching various interaction design studios for screen-based, system-oriented, and tangible forms of interactions with focus on inspiring form-making process, streamlined information navigation, and engaging user experience. Her research is extended to front-end design of information systems at a variety of workplaces including warehouse, airport and hospital.
Education
Ph.D., Indiana University , Bloomington, IN, USA, 2011 (School of Informatics with a focus on human-computer interaction design).
MS, Korea Advanced Institute of Science and Technology, Deajeon, South Korea, 2005 (Interaction Design).
BS, Korea Advanced Institute of Science and Technology, Deajeon, South Korea, 2003 (Industrial Design).
Research Information
Research Interests
interaction design; information application/system design; product use case development; interface and navigation design; exploratory prototyping for various digital media including web, mobile, and wearable; research through design; 
Research Support
(Collaborator), Choi, Soo-Shin; Jung, Heekyoung, Smart+Safe Lift Truck Experience, Crown Equipment. (Safe & Smart Lift Truck Experience), $60,000.00. 08/15/2013 to 04/30/2014. Status: Active.
(PI), Jung, Heekyoung, In Flight Communication Redesign, Live Well Collaborative, Inc.. (LWC In Flight Redesign), $31,340.00. 12/01/2013 to 12/01/2014. Status: Awarded.
(PI), Jung, Heekyoung, Design and Evaluation of an Interactive Application to Enhance Self-Reflection on the Mind and Body Association, UC's University Research Council. (URC Interdisciplinary Awards AY2016-17), $10,000.00. 05/01/2017 to 04/30/2018. Status: Active.