DAAP Directory: School of Architecture and Interior Design
< Back to list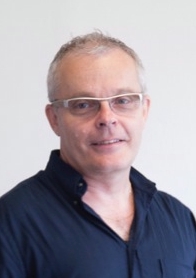 Udo Greinacher
Title: Professor, SAID Niehoff Professor for Film and Media Studies
Office: 7280A Daa Addition
Tel: 513-556-1128
Email: udo.greinacher@uc.edu
Web: http://urbancurrents.net
Professor Udo Greinacher teaches film, future and urban design courses in the School of Architecture and Interior Design at the University of Cincinnati. Born and raised in Tuebingen, Germany, he holds a professional degree in architecture from the Hochschule für Technik Stuttgart and a Masters Degree in architecture from the University of California at Berkeley. He has lectured on urban and cultural issues throughout Europe and the United States, and has participated and placed in several international and national urban design competitions in America and in Germany. His latest research investigates urban futures and the use of scenario building for design.

Grants and Awards
Cincinnati Preservation Association, Production Grant for Modern Architecture in Cincinnati Video (2013)
University of Cincinnati Faculty Development Grant for Observing Scenario Development in Action (2012)
Pogue-Wheeler Travel Fellowship for Documentation of Modern Architecture (2011)
Ohio Humanities Council, Catching Stories Oral History Institute (2011)
Sinclair Lewis Conference Committee Travel Grant for The American Village in a Global Setting (2005}
AIA Cincinnati, Honor Award for Unbuilt Cincinnati, Exhibition (1999/2000)
AIA California, 2nd place (honorable mention), Housing the Next Ten Million, International Competition (1999)
University of Cincinnati DAAP Outstanding Teaching Award (1998)
Pogue-Wheeler Traveling Fellowship for Can Fictional Characters and Mythical Sites Save Downtown (1998)
University of Cincinnati Research Grant for Ethnic Enclave: Chinatown and the Rejuvenation of the American City (1994)
The Fence Competition, Los Angeles; First Prize in International Design Competition (1993)
Urban Design Competition, Lahr, Germany; Fourth Place in National Design Competition (1988)
Fulbright Scholarship for architectural studies in the United States (1988)

Selected Works
"Cinci-Selfie," exhibition at the WashParkArts Gallery, Cincinnati, July 2014
"that line which is earth's shadow," digital media collaboration with Ellen Ruth Harrison (composer), August 2014
"FUTURE +living: A Scenario-Based Graduate Design Studio," published in Globalizing Architecture, ACSA 2014
"James Bond - a True Modernist?" published in Rob Weiner, Jack Becker, and Lynn Whitefield, eds., James Bond in World and Popular Culture: the Films are Not Enough! (Newcastle upon Tyne : Cambridge Scholars, 2010)
50 from the 50's: Modern Architecture & Interiors in Cincinnati, by Udo Greinacher, Elizabeth Meyer, Susan Rissover, Patrick Snadon, and Margo Warminsky (LuLuPress, 2008)
"Suburban Superiority: Hollywood's Depiction Of The Central City," published in Getting Real: Design Ethos Now, ACSA 2006
"Urban Renewal," published in Encyclopedia of Life Support Systems, (UNESCO, 2005)
"The City (1939)," published in Archipelagos: Outposts of the Americas, ACSA 2003
"The Creative Destruction of Manhattan," book review, published in Urban Morphology vol. 6(1), 2002
"Ethnic Enclaves: New Urbanism and the Inner City," published in Hemalata C. Dandekar, ed., City, Space and Globalization: An International Perspective (Ann Arbor: University of Michigan, 1998)
"Fear and Dreaming in the American City: From Open Space to Cyberspace," published in Nan Ellin, ed., Architecture of Fear (New York: Princeton Architectural Press, 1997)
"The New Reality: Media Technology and Urban Fortress," published in the Journal of Architectural Education, Feb.1995.
"The Fence," International Design Competition for Baldwin Hills, South Central Los Angeles; 1993. Published in Competitions vol.
Research Information
Research Interests
Urban Design, Landscape Design Film Space, Animation Future Living / Future Cities Competitions