School of Architecture and Interior Design Directory
< Back to list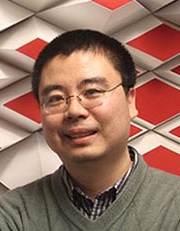 Ming Tang
Title: Assoc Professor
Office: 7215 Aronoff Center
Tel: 513-556-1856
Email: tangmg@ucmail.uc.edu
Ming Tang, RA, NCARB,  LEED AP (BD+C), is an Associate Professor at School of Architecture and Interior Design, University of Cincinnati. He is a registered Architect, the founding partner of TYA Design. The firm has won numerous design awards, including, the first prize of d3 Natural System, IAAC self-sufficient housing contest, and Chichen Itza lodge museum design.

Before he teaches at the University of Cincinnati, he led the Electronic Design program ( Digital Design + Computation) at the Savannah College of Art and Design and was a professor in the Architecture Department. He has worked with Michigan State University's M.I.N.D Lab, University of Southern California's Institute for Creative Technologies, and China Architecture Design & Research Group. He holds Master of Architecture Degree from Tsinghua University, Maser of Art Degree in Digital Media and Technology from Michigan State University, and Maser of Final Art degree in Interactive and Game Design from Savannah College of Art and Design. His research includes parametric design, digital fabrication, building information modeling, performance driven design, virtual reality, and Geographic Information System. He published in various international conferences, journals, and books. He is the author of the book Parametric Building Design with Autodesk Maya, published by Routledge in 2014.
Research Information
Research Interests
Parametric Architecture & Urban design Building Information Modeling & Integrated Project Delivery Digital Tectonics & Fabrication Geographic Information System aided Urban Design Digital design and computation Spatial simulation Real time visualization & Virtual Reality Interactive design Scripting, programming and algorithm Mathematical form Database and web based collaboration
Research Support
(PI), Tang, Ming, Magic School Bus for Computational Cell , UC's Research Support. (URS AHHS and IR Advancement Grants AY 2017-2018), $8,550.00. 07/01/2017 to 12/31/2019. Status: Active.
Publications
Published Books
Ming Tang (2014). (In Press). Parametric Building Design with Autodesk Maya. Routledge. [Link]