School of Design Directory
< Back to list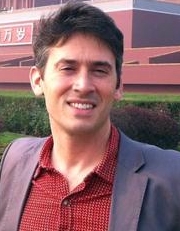 Raphael A. Zammit
Title: Associate Professor of Practice
Office: 5280D Aronoff Center
Tel: 513-556-4210
Raphael Zammit joined the University of Cincinnati in 2009 after a 13 year career in automotive design working internationally (Germany, Spain, Korea) and domestically (California, Michigan). 
As an Associate Professor of Practice he served as the Coordinator of the Industrial Design Program from 2011 to 2014 and is currently the lead faculty for the Transportation Design studio courses. He is responsible for leading the senior capstone project, organizing the graduation show and interviews, as well as conducting industry sponsored projects throughout the curriculum.

His teaching, research, and expertise are in vehicle design, conceptual visualization, aesthetic messaging, and form development. In these areas he has presented, published, exhibited, and juried competitions nationally and internationally and holds a design patent for work created in collaboration with Boeing and the Live Well Collaborative.

Professor Zammit began his career in automotive design in Stuttgart, Germany where he designed for Porsche A.G. and taught Transportation Design at the Fachhochschule Fur Gestaltung, Phorzhiem. He then worked in Barcelona, Spain for the Volkswagen / Audi Group's advanced concept studio. After 5 years in Europe he returned to the Los Angeles area to work for Hyundai's California studio (with brief stints designing in Korea) before joining General Motors' advanced concept studio in North Hollywood. He also spent time designing for General Motors in Detroit, Michigan where he contributed to the revival of the Chevrolet Camaro and the creation of the Global Brand Studio. There he was responsible for leading a team to clarify and enhance the branding strategies for Chevrolet, Cadillac, Buick, Pontiac, GMC, and Hummer.

He holds a BFA in Product Design from the University of Michigan (1994), BS in Transportation Design from the Art Center College of Design (1995), and an MFA in Digital Sculpture from the University of Cincinnati (2014).
Education
Master of Fine Art, University of Cincinnati School of Art, Cincinnati, OH, 2014 (Digital Sculpture).
Bachelor of Science , Art Center College of Design , Pasadena, CA, 1995 (Transportation Design).
Bachelor of Fine Art, University of Michigan School of Art & Design, Ann Arbor, MI, 1994 (Industrial Design).
Research Information
Research Interests
Aesthetic Messaging & Form Development Conceptual Design & Visualization Transportation Design Strategic Design Fine Art
Research Support
(Collaborator), Chamberlain, Peter; Choi, Soo-Shin; Zammit, Raphael, LWC: Urban Transportation 10S, Live Well Collaborative, Inc.. (LWC-Urban Transportation 10S), $28,118.00. 03/01/2010 to 09/30/2010. Status: Closed.
(PI), Zammit, Raphael, The Door to Door Journey; Boeing Studio, Live Well Collaborative, Inc.. (LWC-Boeing WQ11), $50,974.00. 12/01/2010 to 06/10/2011. Status: Closed.
(PI), Zammit, Raphael, Environmental Tire Design, Hankook Tire Co., Ltd.. (SRS 007800), $20,000.00. 12/01/2011 to 08/31/2012. Status: Closed.
(PI), Zammit, Raphael, Hankook Tire 16US Sponsored Studio, Hankook Tire Co., Ltd.. (Hankook Tire 16US Sponsored Studio Agreement), $35,000.00. 05/01/2016 to 04/30/2017. Status: Active.