School of Art Directory
< Back to list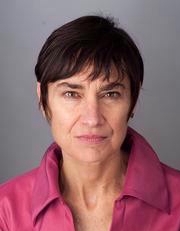 Kate Bonansinga
Title: Director, School of Art
Office: 6431E Aronoff Center
Tel: 513-556-5132
Email: kathryn.bonansinga@uc.edu
Web: http://daap.uc.edu/academics/art.html
Professor Bonansinga was founding director of Stanlee and Gerald Rubin Center for Visual Art at The University of Texas, El Paso where she curated many exhibitions and established an undergraduate minor in museum studies and taught courses in curatorial practice.  She is in interested in museums as dynamic sites for learning, in the impact of art in gallery and non-gallery settings, and in the current methods that artists employ to make a difference in society and culture.  Bonansinga is the author of "Curating at the Edge:  Artists Respond to the U.S./Mexico Border" (University of Texas Press, 2014) and of a chapter in "Born of Resistance," edited by Scott Baugh and Victor Sorell (University of ArizonaPress, publication date TBA).  She curated "Staged Stories: 2009 Renwick Craft Invitational" at the Smithsonian American Art Museum, and since 2002 has served as a national art peer for the General Services Administration's Art-in-Architecture program.
Education
MA, University of Illinois, Urbana Champaign, 1991 (art history).
MBA, New Mexico State University, Las Cruces, 2009 (business).
BA, University of Michigan, Ann Arbor, 1983 (economics).
Research Information
Research Interests
Placed-based contemporary art Contemporary art and museum practice
Experience & Service
Work Experience
Director, School of Art, College of Design, Architecture, Art and Planning, University of Cincinnati, Cincinnati, Ohio.
Founding Director, Stanlee and Gerald Rubin Center for the Visual Arts, University of Texas at El Paso, El Paso, TX.
Director of Unversity Art Galleries, University of Texas at El Paso, El Paso, TX.
Curator and Director, Hoffman Gallery and Instructor of Art History, Oregon College of Art and Craft, Portland, Oregon.
Graduate Fellow, Krannert Art Museum at University of Illinois, Urbana Champaign.
1987 to 1989, English Instructor, Japanese Ministry of Education, Kitakyushu, Japan.
1983 to 1987, Special Publications Manager, Production Controller, Assistant to Journals Manager, University of Chicago Press at the Univeristy of Chicago, Chicago, IL.