DAAP Directory
< Back to list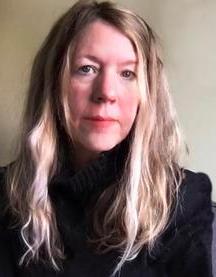 Denise R Burge
Title: Associate Professor
Office: 6431 Aronoff Center
Tel: 513-556-2962
Email: denise.burge@uc.edu
Professor Burge holds an MFA from Virginia Commonwealth University (1991). She teaches courses that range from seminars on film theory to fiber art.  She works in a variety of media, including drawing, film, and quiltmaking. Her quilt work has been widely commissioned and collected, and was included in two Quilt National exhibitions. For this work she has been awarded multiple Ohio Arts Council grants, a Joan Mitchell Foundation award, and residencies at the Headlands Center for the Arts and the Fine Art Work Center in Provincetown. In 2006 she formed a collaborative animation group called "The Dozens". Their work premiered at the Fringe Festival in Edinboro, Scotland, and has been in several national and international film festivals. She recently formed the collaborative group "Maidens of the Cosmic Body Running".  They exhibited at the Contemporary Art Center in Cincinnati (2011) and at New Harmony Indiana (2014) in celebration of their biennial.  
Education
Masters of Fine Art, Virginia Commonwealth University, Richmond, Virginia, 1991 (Painting and Printmaking).
Bachlor of Fine Arts, University of North Carolina , Greensboro,NC, 1987 (Painting and Printmaking).
Research Information
Research Interests
Drawing Foundations Seminar Courses
Honors & Awards
DAAP Outstanding Service Award, 2000 to 2001.
Experience & Service
Work Experience
2000 to Present, Director, MFA Program, University of Cincinnati, Cincinnati, OH.
1996 to 2007, Foundations Studio Coordinator, University of Cincinnati, Cincinnati, OH.
1998 to Present, Associate Professor, University of Cincinnati, Cincinnati, OH.
1995 to 1999, Freelance Illustrator, Brutal Gift Studios.
1992 to 1998, Assistant Professor, University of Cincinnati, Cincinnati, OH.
Additional Information
http://www.maidenprojects.com
http://www.myoriginaldirt.com

SOLO AND TWO-PERSON EXHIBITIONS

2014
 The Gazr In U, New Harmony, Indiana
2013
Vibrational Natures, Hobohaus Gallery, Cincinnati, Ohio
2011
Do You Know the Shape of Desire?, Aisle Gallery, Cincinnati, Ohio--also St. Edwards  University, Austin Texas
 Good Vibrations, MuseumGallery/GalleryMuseum, Cincinnati, Ohio
 Stirring, two-person exhibition with Dominic Guarnaschelli, 930 Art Center, Louisville,  Kentucky
 Majr Gazr, Contemporary Art Center, Cincinnati, Ohio
 Ditch Freeze, two-person exhibit with Rose McCormick, Ditch Projects, Springfield,  Oregon
 Denise Burge: Original Dirt, Elmhurst Art Museum, Elmhurst, Illinois
2008
 This Feeling of Nature, Aisle Gallery, Cincinnati, Ohio
 On the Point of Crystal Time, DeVos Museum, Marquette, Michigan
2007
 Solo Exhibition, Bruce Gallery, Edinboro University, Edinboro, Pennsylvania
 Screening of Video Work, Contemporary Arts Center, Cincinnati, Ohio
2006
 Solo Exhibition, And/Or gallery, Dallas, Texas
 Two-Person Exhibition, with Jacob Semko, Hanover College, Hanover, Indiana
2004
 Procession of the Great Destroyer, two-person exhibition with Tracy Featherstone, Warsaw   Project Space, Cincinnati, Ohio
2003
 Anthem, Weston Art Gallery, Cincinnati, Ohio
 With Reverent Hands, Massillon Museum, Massillon, Ohio
 View from the Car and other Stories, Southern Ohio Museum of Art, Portsmouth, Ohio-- also, Mount St. Mary's University, Emmitsburg, Maryland
 Your Mud Is Alive, Fine Arts Work Center, Provincetown, Massachusetts
 Love Me and Despair, Linda Schwartz Gallery, Cincinnati, Ohio
2001
 Ecstatic, Linda Schwartz Gallery
2000
 Sabbatical Exhibition, 840 Gallery, University of Cincinnati 
1998
 8 x 10, Antioch University, Yellow Springs, Ohio
 New Work, Transylvania University, Lexington, Kentucky
 New Work, (juried), A.R.C. Gallery, Chicago, Illinois
 Solo Exhibition, Acme Art, Columbus, Ohio
 The Space Between, (juried), University of Alabama, Huntsville, Alabama